At a recent meeting in Chongqing municipality, deputy mayor Huang Qifan cut short a lower official who was reading from a prepared document: "There's no need to use these bureaucratic clichs on this occasion. It's totally unnecessary." After that, the others skipped at least half of their speeches.
I wish I had the good fortune to be a witness to such a dramatic moment. It was tense, reported a local newspaper, as all those officials who were to report to Huang must have gone through a lightening fast process to readjust their speaking style - to be concise and to the point.
It would be great if the whole bureaucracy in the nation could be infused with a strong incentive to "cut the waffle".
Officialese is by no means a patently Chinese phenomenon, but it may be more serious here. As far as I know, there is no law or regulation stipulating that an official has to use a jargon-rich, stilted language. However, catchy phrases appearing in official discourse quickly deteriorate into banality.
I am sure there are officials with personal and colorful speech patterns, but they do not often get broadcast to the masses. Gradually, people assume that you would have to speak in a certain way - usually pompous - to be an official. I bet if CCTV showed a senior officeholder using humor and original figures of speech, it would push the Chinese language into a whole new arena of dynamism.
I guess there are occasions you have to couch your real meaning under layers of verbal blankets, for example, a diplomatic meeting. Then, your audience is equally trained to receive your message and will be able to strip away the layers immediately when deciphering what you mean.
As for ordinary people, they will be so overwhelmed by the tons of clichs that they may be left more perplexed than enlightened. For a newspaper reporter, it is frustrating to sit through hours of prattle just to get to the gist of a speech; and for a television reporter, catching a usable soundbite is just as hard as locating a media darling.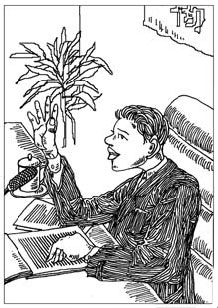 Many bureaucrats are addicted to jargon-laden texts to the point they mistake reading for speaking. A decade ago, I was consulting for a tourism bureau in southern China and asked to prepare a PowerPoint presentation for the boss. Instead of a few pointers, much of his speech was crammed onto the slides - against my advice. The speaker suffered more than I did - he was essentially turned into an elementary school kid who was tested for his ability for memorization the moment he looked away from the screen.
That brings us to the next point: officials should be encouraged to use their own language, and in doing so, have leeway for errors. During a local congress meeting in Wuhan, Party secretary Chen Xunqiu encouraged officials to "speak the truth" and to "omit ceremonial words and cut to the point". To facilitate this, he suggested television reporters turn off their cameras so that people would not worry about saying "the wrong things".
This may not be the ideal way, but currently it is practical. If it is constantly on the minds of speakers not to veer from the official jargon, their hands are tied, which will further restrict their ability to find creative solutions to unique problems. Of course, that deprives us of the positive role models who match their decisive actions with verbal fireworks.
E-mail: raymondzhou@chinadaily.com.cn
(China Daily 01/26/2008 page4)