马蹄铁有什么作用
[ 2007-11-12 15:58 ]
你见过马蹄铁吗?就是那种弯弯的像月牙一样的铁块。这块铁可以保护马儿的蹄子,马儿穿上了马蹄铁,就好像我们人类穿上了鞋一些。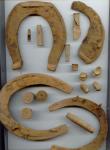 All animals with hooves in the wild are able to take care of their own feet. If the hoof becomes too long, herd animals, such as horses, know it's time to move on to new ground. As they travel to another area, they wear their hooves down on the abrasive earth. Once they have trimmed their hooves down, they stay in the new area until their hooves need another trim. Wild horses know when to move and when to rest, so that their feet stay in the "comfort zone".

If wild horses can take care of their own hooves, why do we need to put shoes on our riding horses? Horses, like people, need to wear shoes for one reason-protection. The ground is very abrasive and wears the hoof down if it is not protected. Once we take horses out of the wild, they are not able to take care of their own hooves by traveling from one place to another. We may ride our horses on different types of ground that wear down the hooves at different rates. The type of work that we ask our horses to do may wear down their hooves faster than they can grow back naturally.

It was not long after the horses were tamed and used to help humans do their work that ways to protect the hoof became important. Native Americans made moccasins out of hides and tied them around their horses' feet. If Native Americans had enough horses, they would rotate them, so that some horses would be ridden and some could rest and have their hooves grow longer. Today, farriers help protect horse's feet by choosing the right kind of shoe for the type of work required of the horse.
abrasive: 有磨损力的
(来源:coolquiz.com 英语点津 Annabel 编辑)