蝙蝠如何休息
[ 2008-01-30 17:30 ]
蝙蝠为什么总是倒挂着休息?它们那么吊着不累吗?它们这个姿势起飞容易吗?这种会飞的哺乳动物总是有很多让人捉摸不透的地方。下面这篇小文章将试着为你解答这些问题。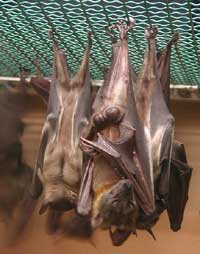 During the day, bats hardly move at all. Instead, they pass the time hanging upside down from asecludedspot, such as the roof of a cave, the underside of a bridge or the inside of a hollowed-out tree.

There are a couple different reasons why bats roost this way. First of all, it puts them in an ideal position for takeoff. Unlike birds, bats can't launch themselves into the air from the ground. Their wings don't produce enough lift to take off from a dead stop, and their hind legs are so small and underdeveloped that they can't run to build up the necessary takeoff speed. Instead, they use their front claws to climb to a high spot, and then fall into flight. By sleeping upside down in a high location, they are all set to launch if they need to escape theroost.

Hanging upside down is also a great way to hide from danger. During the hours when mostpredatorsare active, bats congregate where few animals would think to look and most can't reach. This allows them to disappear from the world until night comes again.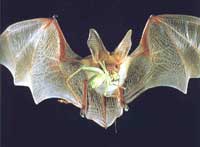 Bats have a unique physiological adaptation that lets them hang around this way without exerting any energy. If you want to clench your fist around an object, you must contract several muscles in your arm, which are connected to your fingers by tendons. As one muscle contracts, it pulls a tendon, which pulls one of your fingers closed. A bat'stalonsclose in the same way, except that theirtendonsare connected only to the upper body, not to a muscle. To hang upside down, a bat flies into position, pulls its claws open with other muscles and finds a surface to grip. The weight of the upper body pulls down on the tendons connected to the talons, causing them to clench. The talon joints lock into position and the bat's weight keeps them closed.

Consequently, the bat doesn't have to do anything to hang upside down. It only has to exert energy to release its grip, flexing muscles that pull its talons open. Since the talons remain closed when the bat is relaxed, a bat that dies while roosting will continue to hang upside down.

seclude: 隔离

roost:歇息

predator:食肉动物

talon:爪

tendon: 肌腱
(来源:coolquiz.com 英语点津 Annabel 编辑)
我想了解更多 趣味百科知识