美国马里兰州首府安纳波利斯有一个习俗,每年春季的第一天,这里的居民就会带上自己冬天的旧袜子走到室外,并以焚烧袜子的方式庆祝春天的到来。焚烧袜子对当地人来说意味着不久天气回暖就可以赤脚穿鞋而不被冻着。
这种传统始于上世纪80年代中期。当时,安纳波利斯船厂的一名船工因整个漫长的冬季都在修理船只而疲惫不堪。于是,他脱下臭袜子放在油漆罐里燃烧,并一边喝着啤酒,一边期盼温暖的春天来临。安纳波利斯海事博物馆馆长杰夫·霍兰德说:"游船的主人总是在冬季把船送来修护,以便整个夏季都能乘船出游,因此,船工们要在漫长的冬季为修船而忙碌。"
A 'kinder, gentler spin' on sock-burning ritual
New pairs for needy tossed into sail boat at Inner Harbor
Encouraged by bright sun and 70-degree temperatures, Marylanders shed socks Saturday to celebrate the first day of spring.
In keeping with a 30-year tradition, sailors at the Eastport Yacht Club in Annapolis burned their socks at a waterside gathering.
"We got about 375 people, and they are tossing in their socks. One fellow even tossed in his jeans," Susan Nahmias, a member of the club, reported by phone as she watched the proceedings.
"It is a fun way to say spring is here," explained Fred Hecklinger a founder of the yacht club.
Meanwhile at the docks of the Downtown Sailing Center in the Inner Harbor, sailors put a twist on the tradition and donated pairs of new socks to the Helping Up Mission in East Baltimore. More than 700 pairs of new socks that would later be donated were tossed in one of the club's sail boats.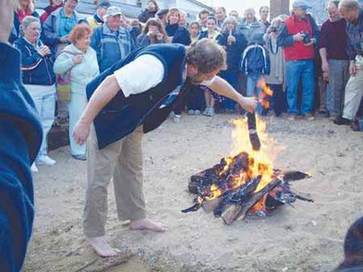 "We always need socks," said Barry Burnett, director of the East Baltimore Street mission which cares for 400 men who are poor or homeless. Each time a new man enters the mission, he is given several pairs of socks, Burnett said. Some men from the mission were on hand at the Inner Harbor.
Allie Robinson, deputy director of youth outreach programs for the center, said the club made the switch in sock rituals "to do something to help people and celebrate spring at the same time."
The news that there would be no sock-burning disappointed some Baltimore sailors, Robinson said. To alleviate their frustrations, she built a pinata shaped like a sock, and stuffed it with candy.
"They can 'sock' the pinata," Robinson said.
Alicia Tyrell, a sailing instructor at the Baltimore center, had participated in sock-burnings in other years in Annapolis.
"There is something to be said for kicking off your socks," she said. "But this is less pyromaniacy, and a kinder, gentler spin on socks."
In Eastport, the hosiery was incinerated Saturday afternoon in a large heated tub, Nahmias said.
According to Annapolis lore, the sock-burning practice was initiated in the late 1980s by Bob Turner, then the manager of the Annapolis Yacht Yard. In a telephone conversation Friday, Hecklinger recounted the oft-told story of the origin of the ritual.
Turner had spent a long, difficult winter repairing other people's boats, Hecklinger said.
To welcome the first day of spring, and relieve some of his frustrations, Turner took off his socks, put them in a paint tray, doused them with lighter fluid and set them ablaze. He toasted the arrival of spring with a cold beverage.
(Agencies)
相关阅读
(中国日报网英语点津 Julie)