美国服装公司近日推出新款裤袜,模特穿上后看上去就像是一双没有剃毛的"毛毛腿"。据评价紧身裤袜是本季度主打的"混搭风"物品,每双零售价22.5美元。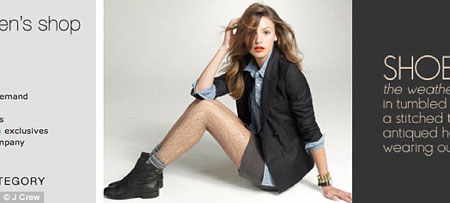 Super hairy: J Crew's lace tights range replicate the texture and appearance of extremely hairy legs(www.dailymail.co.uk)
Trendy tights that appear to make legs look HAIRY take internet by storm
Has clothes company J Crew found its inner feminist?
At first glance, this picture on its website of the model with what looks like hairy legs could be the handiwork of a mischievous graphic designer - or maybe the model just needs to find a working razor.
In actual fact, they are J Crew's latest lace tights range - which, from a distance, appear to replicate the look of very hairy, unshaven legs. The tights are in fact in a lacy fawn pattern. But the shapes and texture of the pattern make the overall effect from a distance something quite different from what, presumably, J Crew intended. The tights are certainly attracting plenty of attention on the internet - but sadly for all the wrong reasons. Blogs lambasted them as J Crew's "hilarious" new "hairy tights".
The tights are described on the store's website as "an essential ingredient in the season's textural mash-up". They are retailing for $22.50.
Established in the U.S. in 1983, J Crew specialise in candy-coloured, classic, preppy styles. The company has garnered a huge amount of publicity in recent years. Most recently Michelle Obama admitted to being a fan and dressed her daughters in J Crew for her husband's presidential inauguration.
Britons were previously only able to indulge their J Crew habit during sojourns in the States, but the launch of net-a-porter.com in May meant they could get their fix far closer to home.
The online store carries a collection of more than 90 different J Crew designs — including dresses, jumpsuits and statement jewellery.
相关阅读
(来源:dailymail.co.uk  编辑:Julie)