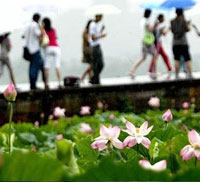 Tourists view lotus flowers in rain at the West Lake in Hangzhou, capital of East China's Zhejiang Province, July 5, 2006. Lotus in the West Lake are in full blossom. [Xinhua]
If you are seeking happiness in China, Hangzhou is the place to go as the capital of Zhejiang Province topped a magazine poll of more than 3 million citizens rating the country's "10 happiest cities".
Shenyang, capital of Northeast China's Liaoning Province, finished runner-up in the poll conducted by Oriental Outlook magazine, followed by the Zhejiang Province cities of Ningbo and Taizhou. Zhuhai and Zhongshan, both in South China's Guangdong Province, were fifth and sixth, respectively. Qingdao, in eastern Shandong Province, was the seventh.
Shanghai, the country's commercial hub, ranked eighth, followed by the national capital Beijing. Chengdu, capital of southwestern Sichuan Province, rounded out the list.
The poll conducted by the Shanghai-based magazine was carried out in early November under the administration of the Xinhua News Agency, the China Association of Mayors and the China Population Welfare Foundation. It asked people to name the city where it was easiest to get a sense of happiness.
People could vote via text message, the Internet or by filling out a questionnaire.
A total of 35 cities were picked from the country's 269 cities as candidates in April, according to statistics released by the National Bureau of Statistics and local government work reports.
Employment, income, social security, housing, medicare, environment and education, as well as the intensity of work pressure and relations between individuals and individual and society, were the major indices for selecting the happiest cities, according to the organizing committee.
Meanwhile, Dalian in Liaoning Province, is named as the best-mannered city. Shenzhen is the city with most rapid development. Tianjin, the municipality directly under the Central Government, is the most secure city. And Changsha is regarded as the city with "the most happiness of entertainment."
点击查看更多双语新闻

(China Daily/Xinhua)
去哪里寻找幸福?杭州应该是最理想的去处。据一家杂志对300多万人开展的一项民意调查显示,浙江省省会杭州荣登中国"十大最具幸福感城市"排行榜之首。
该项由上海《瞭望东方周刊》开展的调查表明,辽宁省省会沈阳为第二大"最幸福城市",其次是浙江省的宁波和台州。广东省的珠海和中山分别位居第五和第六;山东省的青岛名列第七。
中国商业中心上海名列第八,其次是首都北京。四川省省会成都位居第十。
该项于本月初开展的调查是在新华社、中国市长协会和中国人口福利基金会的共同监督下进行的。调查要求人们投票选出他们心目中最具幸福感的城市。
投票方式包括发手机短信、登录网站及填写调查问卷。
据国家统计局及地方政府工作报告公布的统计数据,于今年四月启动的初选共从269个城市中筛选出了35个城市。
据活动组委会介绍,此次最幸福城市评选的主要依据包括:就业、收入、社会治安、住房、医疗保障、环境、教育、工作压力、社会成员的关系及个人与社会的关系等。
此外,大连被评为"举止最文明的城市",深圳被评为"发展速度最快的城市";天津被评为"最安全的城市",而长沙则是"最具娱乐幸福感的城市"。