科技巨擘微软公司2月1日宣布,它已向雅虎公司提交收购报价,计划以446亿美元的现金和股票将其收购。微软公司CEO史蒂夫·鲍尔默表示:"我们一直很尊敬雅虎,该交易可以推动我们为消费者、发行商和广告客户提供更好的解决方案,也有助于提升我们在网络服务市场的竞争力。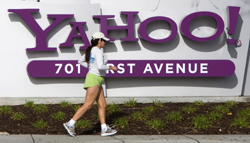 A woman jogs in front of Yahoo! headquarters in Sunnyvale, California, February 1, 2008. [Agencies]
Yahoo Inc confirmed on Friday it has received an unsolicited bid from Microsoft Corp to acquire the company.
Microsoft Corp offered to buy the popular Web portal for $44.6 billion in cash and stock, seeking to join forces against Google Inc in what would be the biggest Internet deal since the Time Warner-AOL merger.
Yahoo said in a statement its board will evaluate the proposal "carefully and promptly in the context of Yahoo's strategic plans and pursue the best course of action to maximize long-term value for shareholders".
Microsoft offered to buy Yahoo for $31 per share, a 62 percent premium over Yahoo's closing stock price on the NASDAQ on Thursday. Yahoo shares jumped to $30.75 in premarket trading.
Yahoo said the online advertising market is growing rapidly and expected to reach nearly $80 billion by 2010 from more than $40 billion last year. The company said the market is "increasingly dominated by one player", referring to Web search leader Google.
"We have great respect for Yahoo, and together we can offer an increasingly exciting set of solutions for consumers, publishers and advertisers while becoming better positioned to compete in the online services market," Microsoft Chief Executive Steve Ballmer said in a statement.
Yahoo has been losing market share to Google and warned earlier this week it faces "headwinds" this year, forecasting revenue below Wall Street estimates.
On Thursday, Yahoo disclosed that Nonexecutive Chairman Terry Semel was leaving the board, ending its formal ties with the former chief executive, who is credited with reviving the company but then losing touch.
Semel, replaced as CEO last June, had faced heavy criticism for failing to move faster to meet both rival Google's challenge in Web search and advertising and, more recently, the rise of social networking sites such as MySpace and Facebook.
US stock futures jumped on the Microsoft news, which offset a disappointing earnings report from Google late on Thursday.
(Agencies/China Daily)
(英语点津Celene编辑)