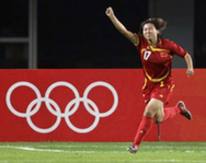 Gu Yasha of China celebrates after scoring during their women's first round Group E soccer match against Argentina at the Beijing 2008 Olympic Games in Qinhuangdao August 12, 2008. [Agencies]
The Chinese women's football team downed Argentina 2-0 on Tuesday, topping the Group E and roaring into the quarterfinals at the Beijing Olympics.
Han Duan, who missed last match against Canada due to her left leg muscle strains, opened the scoring for China. She headed the ball towards the net in a melee, which hit defender Maria Quinones and deflected into the net.
The goal was considered as Maria's own goal.
The whole Chinese team was inspired by the long-waited score. Only two minutes later, Han struck the ball from the penalty area but it was warded off by the goalkeeper. Midfielder Bi Yan then converted the ball into the empty net. However, Bi was offside when she rushed onto the ball.
China replaced defender Zhang Na with striker Lou Jiahui in the second half, and strengthened their attackings. The Steel Roses soon dominted the match, and created a wave of strikes at Argentina's goalmouth, while Argentina could make only a few counterattacks which were warded off by the defense line.
Gu Yasha secured the winning for China in the 90th minute after being substituted for only two minutes. She coolly sent Xu Yuan's low cross from the right wing into the net with her right foot.
"I am very satisfied with our striker duo Han Duan and Xu Yuan," Chinese head coach Shang Ruihua said in the post-match press conference.
"We wanted to play this game in our own style - controlling the ball and making quick passes - and our players did perform as we expected," he said.
The best chance for Argentina came in the 42nd minute in the first half, when striker Ludmila Manicler was put clear through. However, her one-on-one shot was denied by the goalkeeper Han Wenxia.
"If you watched South Americans play, like Argentina and Brazil, you will know what 'talent' means," Shang praised his opponent. "They have a very good sense about controlling and timing. This Argentina team has improved a lot since last year's Women's World Cup."
"The key factor we wanted to do (in this tournament) is to change our image in last year's World Cup," Argentina's head coach Jose Carlos Borrello said. "That is our main objective and we did it."
China will take on Japan in their quarterfinal match in Qinhuangdao this Friday.
(China Daily)