北京时间2月9日上午,第51届格莱美音乐奖在洛杉矶落下帷幕。现场星光熠熠,乐坛精英聚首一堂,百余个奖项颁出。摇滚与乡村音乐的跨界组合罗伯特•普兰特和阿丽森•克劳斯获得了含金量最重的最佳制作和最佳专辑奖,还包揽了最佳流行合唱和乡村合唱奖,这对跨国组合的5项提名中全部命中,成为本届格莱美奖最大的赢家。年仅20岁的阿黛尔打败了美国本土万人迷乔纳森兄弟,获得了本年度的"最佳新人"。获提名最多的Hip-Hop歌手李尔•韦恩在综合类大奖中一无所获,只在说唱类奖项中拿到了4项大奖,而提名数仅次于李尔•韦恩的酷玩乐队最终捧得了包括"年度最佳单曲"在内的3项大奖。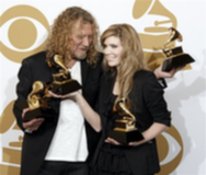 Robert Plant (left) and Alison Krauss hold their album of the year and best pop collaboration with vocals awards backstage at the 51st Annual Grammy Awards on February 8. (Agencies)
In the end, Grammy voters came to their senses.
While they zigged in a commercial direction, towards Lil' Wayne, in their nominations, they zagged back to the creativity of Alison Krauss and Robert Plant for the final, top prizes.
True, the starry pair's album, "Raising Sand," might not have been a career-defining work - for either of them.
But it had daring and a fine mood on its side. Before they twinned their voices for these rare songs, few listeners would have imagined bluegrass chanteuse Krauss and post-Zeppelin yowler Plant in the same city, let alone in the same studio. Yet they found a bracing mean in their mutual love of spooky folk.
Going back to such Zep songs as 1971's "Gallow's Pole," Plant showed a keen interest in acoustic roots music.
Obviously, Krauss has long worked her way around that territory.
Never, though, had she mined the particular, spectral sound the two forged together, with key help from longtime Americana producer T-Bone Burnette. If "Raising Sand," and its shadowy songs, fully deserved to steal the headlines at last night's show, the precise categories it snagged weren't always on point.
The album cut "Please Read the Letter" won for Record of the Year (a prize awarded for the sound and production of the piece), while Coldplay's "Viva La Vida" took the trinket for Song of the Year (a prize keyed to the composition).
It should have been reversed. "Letter" has greater strength as a piece of songwriting, "Vida" more power as a shimmering production. Voters did themselves proud, however, in their choice of Best New Artist.
The pleading vocals of Adele mine more emotion than any of the other candidates, with the possible exception of roiling R&B singer Jazmine Sullivan. Certainly, the one-named British star deserved the nod over the country slickness of Lady Antebellum, the retro-fitted pop of Duffy, and the teen dream goofiness of the Jonas Brothers.
Adele's song "Chasing Pavements" also richly deserved its place in the Best Female Pop Vocal slot. Another gratifying moment came with the Best Hard Rock Performance nod going to The Mars Volta.
They're guitar-oriented music's most forward thinking band. Satisfying as well was Kings of Leon nabbing the gold in one of the wordiest categories: Best Rock Performance by a Duo or Group with Vocals.
You could quibble that the Kings' album actually rated as last year's best. But that's a minor carp.
Considering the goofy list of nominations this year (with particular head-scratchers crowding the Song of the Year slot), it looks like, once again, the Grammys dodged their own bullet.
(Agencies)