美国《福布斯》杂志上周五公布了好莱坞明星妈咪最卖力工作排行榜,麦当娜以1.1亿美元的收入高居榜首,瑞茜•威瑟斯彭和格温妮丝•帕特洛分别以2400万和2000万的收入位列二、三名。参与此次排行榜评比的女星都至少有一个孩子,其参与评比的收入包括专辑销售、薪资、票房收入及代言费等项目。排行榜工作人员表示女星的代言收入占其收入的很大一部分。进入该榜前五名的明星妈咪还有茱莉亚•罗伯茨和莎拉•杰西卡•帕克,二人均因不俗的票房成绩和片约收入而分列第四、五位。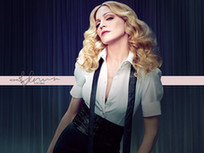 Madonna topped Forbes' list of Hollywood's hardest working mothers, followed by actresses Reese Witherspoon and Gwyneth Paltrow. (More photos)
With earnings of $110 million in 2008, Madonna topped Forbes' list of Hollywood's hardest working mothers, followed by actresses Reese Witherspoon and Gwyneth Paltrow.
The pop singer and mother of three, who was recently turned down in her bid to adopt a second child from Malawi, grossed $105 million on her tour and sold nearly a million albums in the United States. Madonna also signed several lucrative endorsement deals last year, according to Forbes.com.
"She had an incredible year in 2008," said Lauren Streib who helped to compile the list that was released on Friday.
"She had the top tour of any musician...The tour sold out around the world. So it wasn't surprising as much as it is a commentary on how successful her year was," she said.
Witherspoon, who earned an estimated $24 million last year, was second on the list, followed closely behind by Paltrow with $20 million in earnings.
In addition to her film career and raising daughter Ava and son Deacon, Witherspoon, who is divorced from actor Ryan Phillippe, is also the international spokeswoman for the cosmetics company Avon.
Paltrow's role in the blockbuster comic book film "Iron Man," which earned $580 million worldwide, and her endorsements for Estee Lauder and shoe and handbag maker Tod's propelled her to the third spot.
Streib said the list is based on estimated earnings of Hollywood mothers with at least one child. Earnings include album sales, salaries, box-office grosses and endorsements and licensing deals.
She added that for many of the women on the list endorsement deals are a significant part of their earnings.
"I think this is something that has been going on for decades now. We are seeing less and less models and more and more celebrity spokespeople. It is a big part of the business of being a celebrity," she added.
Mother of three Julia Roberts, who returned to the big screen in a starring role in the film "Duplicity," captured the fourth spot on the list, while actress Sarah Jessica Parker, who has a son with husband Matthew Broderick, rounded out the top five.
Angelina Jolie, who has six children but still earned $14 million last year, came in sixth, followed by model and television presenter Heidi Klum, who is pregnant with her fourth child.
Best actress Academy Award winner Kate Winslet, who has two children, and singer and mother of three Faith Hill also made the list, which is posted at www.forbes.com.
相关阅读