Foot the bill? 买单
中国日报网 2019-04-09 11:26
分享到微信 Reader question:
Please explain "foot the bill" in "Mexico won't foot the bill for Trump's border wall."

My comments:
It is well known that American President Donald Trump wants to build a border wall between the United States and Mexico in order to stop illegal immigration and wants the latter to pay for the cost of construction.
Mexico won't pay for it.
That's what "Mexico won't foot the bill" means exactly.
"Footing the bill" is an expression that literally means that you run your eye through a bill – a printout listing all charges for goods and services – from the top of the column all the way down to the bottom (foot) and then pay for it.
At the foot of the bill, of course, is the total amount. Foot, as in foot of a hill, refers to the bottom.
Hence the expression "footing the bill", meaning, paying the bill. It implies that you're paying the full bill, the whole bill. In other words, everything.
I find this further helpful explanation from WritingExplained.org:
This expression dates back to the early 1800s.
Foot can mean the bottom of something, such as the bottom of a mountain. In this idiom, it refers to the bottom of a column of prices on a bill.
Originally, footing the bill meant to add up the prices of different items on a bill and find the total cost. This total cost appears at the lowest part of the bill, or in other words, the foot of the bill.
Over time, this changed to mean covering the cost. Nowadays, this expression often implies covering a large bill, especially for someone else's expenses, such as a son or daughter's wedding.
Needless to say, building a border wall between the US and Mexico is going to cost a lot. The total expenses will amount to a large bill. And Mexico is not going to foot the bill.
Quite rightfully so, too, if you ask me.
Anyways, without getting involved any further in Trump's troubles with Mexicans, let's read a few media examples of people footing the bill for something, either willingly, rightfully or otherwise:

1. Millionaires and billionaires will enjoy their private flights much more this winter season following the GOP's tax reform plan. The recently passed tax bill will provide the biggest wins for America's richest citizens, according to expert analysis. Some of these benefits will happen gradually or in subtle ways. Others, however, are much more obvious.
One of these examples is the way the bill solidifies existing exemptions for owners and leasers of private jets. Not surprisingly, it is commercial passengers who will continue to foot the bill for the one percent's expensive habits.
This is hardly what middle-class Americans expected when the GOP promised to deliver unprecedented tax relief for working families. Republicans in Congress should have honored that pledge when they voted for tax reform and required the wealthiest few in our country to pay for their own luxury travel.
Owning a private aircraft is one of the great rewards of financial success. I am fortunate enough to partly own two twin-engine turbine airplanes that I use to fly around the country. However, I can't sympathize when I hear some of my fellow private aircraft owners complain about government regulations that affect jet-setters. Flying in a private plane is a privilege, and I am acutely aware of how lucky I am. In this context, complaining about fees and maintenance costs is absurd.
Private jet owners — who have lined the pockets of politicians for years through generous donations — pay pennies compared to what commercial passengers are charged in federal taxes. For example, according to a report from the progressive think tank Institute for Policy Studies, commercial fliers pay a number of taxes and fees on their tickets, ranging from the 7.5% federal ticket tax to the $4.50 Passenger Facility Charge. Meanwhile, private and corporate jet owners only pay a $0.218 per gallon tax for jet fuel or a $0.193 per gallon tax on gasoline.
Despite our shared reliance on critical resources like the Air Traffic Control (ATC) system, commercial airlines pay 95% of all taxes to the Federal Aviation Administration's trust fund, totaling $14.85 billion of the $15 billion collected last year. Meanwhile, private and corporate jets use 15.6% of ATC resources but pay only 1.55% of all taxes into the trust fund. In effect, regular commercial fliers are subsidizing private jets to the tune of more than $1 billion a year.
Consider the costs of a flight from New York to Los Angeles. A CEO in a private jet will pay a paltry $525 in fuel taxes, according to a review by Bloomberg, while commercial passengers traveling the same route would be on the hook for $3,900. That's because the private jet is only charged the fuel tax, while the commercial flier has to pay the fuel tax, passenger fee, excise tax, and other taxes and fees. By the time both land, the private jet owner will owe 87% less in taxes for the same cross-country flight.
The upshot: Private jets pay a tenth of airline taxes despite flying the same routes.
- The private plane tax loophole is so egregious even millionaires like me want to close it, by Stephen Prince, NBCNews.com, January 16, 2018.

2. A Pennsylvania lawmaker has introduced legislation that could have parents footing the bill if their child bullies another kid at school. State Rep. Frank Burns' bill gives parents three strikes.
The first time a child bullies someone, the school is required to inform his or her parents how the school handled the situation. Parents would have to take a class on bullying and attend a bullying resolution conference the second time. The third time, parents would receive a court citation and pay up to a $500 fine.
In a statement issued Monday, the Democrat says bullying can lead to physical assaults and suicide.
- Pennsylvania lawmaker Frank Burns proposes fining parents $500 for child's bullying, CBSNews.com, March 13, 2018.

3. THE ex-fiancé of Jeff Bezos' new love Lauren Sanchez has claimed he dumped the glamorous TV anchor after finding out she had cheated on him - and that she never returned the ring.
Former American football star Anthony Miller, 53, who enjoyed a four-year-long relationship with the stunning brunette, told Sun Online: "I couldn't really trust her."
He added: "She gets around. She was cheating on me with other guys."
"I found out when I looked in her diary, and I found out more after I broke up with her."
However sources close to the couple hit out at the claims, said Anthony cheated on Lauren with a stripper - and blasted him as a "opportunist" for speaking out about their relationship over 20 years after they split.
TV reporter and helicopter pilot Lauren has reportedly being having a secret affair with Amazon's billionaire boss - the world's richest man - for the past eight months.
The Amazon CEO, 54, and wife MacKenzie, 48, were forced to reveal their 25-year marriage was over in a joint statement when the National Enquirer obtained a slew of sexy texts and pictures of the pair.
Anthony said he met Lauren at the 1996 Super Bowl in Tempe, Arizona.
He said as Lauren's career took off and she became a high flying TV reporter for Fox Sports News a string of top American sports stars began pursuing the Latina beauty.
Anthony was a highly-paid star for American football legends the Denver Broncos, and admits outsiders assumed that he was the one playing the field.
But the former NFL player quipped: "I thought: What are you talking about me? Why aren't you talking about her?"
…
Although Lauren was financially successful when they were together, Anthony also claims she was "frugal" and expected him to foot the bill for everything – however sources again said these claims were false.
"She's very frugal, really kind of cheap," he claims.
"She wanted me to pay for everything. She was making good money back then, reporting for Extra and on Fox Sports News, but she didn't like paying."
- 'BITTER EX' Jeff Bezos' new lover Lauren Sanchez cheated on me… then kept the engagement ring, claims her NFL star ex-fiancé Anthony Miller, TheSun.co.uk, January 15, 2019.
本文仅代表作者本人观点,与本网立场无关。欢迎大家讨论学术问题,尊重他人,禁止人身攻击和发布一切违反国家现行法律法规的内容。
About the author: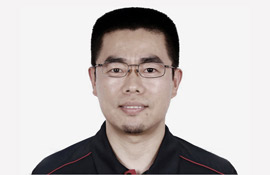 Zhang Xin is Trainer at chinadaily.com.cn. He has been with China Daily since 1988, when he graduated from Beijing Foreign Studies University. Write him at: zhangxin@chinadaily.com.cn, or raise a question for potential use in a future column.
(作者:张欣 编辑:丹妮)
中国日报网英语点津版权说明:凡注明来源为"中国日报网英语点津:XXX(署名)"的原创作品,除与中国日报网签署英语点津内容授权协议的网站外,其他任何网站或单位未经允许不得非法盗链、转载和使用,违者必究。如需使用,请与010-84883561联系;凡本网注明"来源:XXX(非英语点津)"的作品,均转载自其它媒体,目的在于传播更多信息,其他媒体如需转载,请与稿件来源方联系,如产生任何问题与本网无关;本网所发布的歌曲、电影片段,版权归原作者所有,仅供学习与研究,如果侵权,请提供版权证明,以便尽快删除。