Playing the victim? 扮演受害者角色
中国日报网 2019-08-06 11:20
Reader question:
Please explain this sentence, particularly "playing the victim":
News reports and our social media feeds are filled with stories of people who seem to get ahead by playing the victim.

My comments:
In other words, there are a lot of people who succeed (get ahead) by playing the victim card, by pretending to be the victim, in order to win, for example, more sympathy, support and help.
More, that is, than they actually deserve.
To play the victim is literally play the role of the victim, victim being the person who suffers from any unfortunate event, such as a robbery, a car accident or an earthquake.
To play the victim is to play the role of the victim as if you were an actor playing such a role in theater.
In the theater, of course, the audiences understand that this is just a play, a show, an act. The audiences understand that none of it is real.
Similarly, the person who plays the victim in real life is often not the real victim. He or she just wants to play the victim card, as one plays one of his cards in a poker game, in order to gain an advantage.
It's a form of cheating, more or less.
For example, a young man who is tried in court for robbery may play the victim by talking incessantly about how poor his family was, how his father beat him as a boy, how he was bullied in school, how he had no friends etc. and so forth. In so doing, he may be able to win more sympathy from the judge and jury and may in consequence get a shorter sentence or be able to walk free – scot free.
There are many forms of playing the victim, of course, but the important thing to remember is that it is a pretend game. The victim player pretends to be the fall guy, the scapegoat, the whipping boy or even the martyr. But it's an act. It's not true – not all true, at any rate.
Let's illustrate the point by using actual media examples:

1. It's been over a week, and the jerk is just digging himself a deeper hole.
Quentin Tarantino on Tuesday tried to walk back his "murderers" slander — even as he played the victim.
"All cops are not murderers," he told The Los Angeles Times. "I never said that."
In fact, he pretty much did.
He waltzed into Union Square for an Oct. 24 rally against police brutality and announced, "When I see murders, I do not stand by . . . I have to call a murder a murder, and I have to call the murderers the murderers."
This, just four days after the actual murder of a New York cop, Det. Randolph Holder.
And Tarantino didn't bother to condemn that murder — or the murderer.
"I'm not a cop-hater," he insists. Funny: Ever since the rally, Tarantino has refused to apologize even for his gruesome timing. People (like him!) had to come in from out of town for the rally, you see; it would be a burden to reschedule.
Like a Hollywood gazillionaire couldn't afford an extra New York trip, to spread his smears at a more politic time.
He's facing calls for a boycott of his upcoming movie, and pressure from his producer to say he's sorry. Instead, he's pretending he's the one being smeared.
His critics' message is "very clear," he told the Times. "It's to shut me down. It's to discredit me. It is to intimidate me."
Because, he claims, we're not having enough national discussion of police brutality. (Guess he doesn't watch the news.)
- Tarantino hits a new low by playing the victim, NYPost.com, November 3, 2015.

2. A man accused of killing his business partner, his wife and two children in Fallbrook more than eight years ago murdered the family so he could steal their money, prosecutors argued Monday.
Chase Merritt, 61, is charged with four counts of murder. His trial began Monday in San Bernardino Superior Court.
Merritt's business partner, Joseph McStay disappeared from his home in Fallbrook in 2010 along with his wife and two young sons. Their whereabouts remained a mystery until 2013 when a motor-cross rider came across their remains in shallow graves in the desert in Victor Valley in San Bernardino County.
In opening statements, prosecutors said Merritt killed the family for financial gain, hacking McStays' Quickbooks account and writing three checks totaling around $15,000 for himself. According to search warrants filed in the case, Merritt also owed McStay $30,000, which he had borrowed to pay a gambling debt.
"He misled investigators. He talked in circles and he played the victim," said San Bernardino County Deputy District Attorney Sean Dougherty.
Prosecutors allege Merritt beat the four members of the McStay family to death with a sledgehammer and then hid their bodies in the high desert. They said they will present cell phone evidence during the trial that places Merritt at the location in the desert where the bodies were buried.
- Business partner faces death penalty in murder of Fallbrook family of 4, Fox5SanDiego.com, January 7, 2019.

3. Donald Trump likes to play the victim. He tries to bully people, but should they stand up to him, POTUS calls them his enemy. Then, he does the equivalent of "Mommy, they're being mean to me." He must have been a tough child to raise. No wonder his parents sent him off to military school, which was often the last desperate means in his era for parents to try to handle an out-of-control child.
He worked himself up to a tantrum in front of the most powerful woman in the U.S. The president's actions were so erratic that House Speaker Nancy Pelosi came away saying that she would pray for Donald Trump and pray for the United States. Even though Trump ran to a press briefing immediately after and announced he would not govern until the Dems quit investigating him, he blamed the other party for halting government:
'THE DEMOCRATS ARE GETTING NOTHING DONE IN CONGRESS. ALL OF THEIR EFFORT IS ABOUT A RE-DO OF THE MUELLER REPORT, WHICH DIDN'T TURN OUT THE WAY THEY WANTED. IT IS NOT POSSIBLE FOR THEM TO INVESTIGATE AND LEGISLATE AT THE SAME TIME. THEIR HEART IS NOT INTO INFRASTRUCTURE, LOWER…..'
- Trump Acts A Fool On Twitter During Bizarre Pre-Dawn Freakout, BipartisanReport.com, May 24, 2019.
本文仅代表作者本人观点,与本网立场无关。欢迎大家讨论学术问题,尊重他人,禁止人身攻击和发布一切违反国家现行法律法规的内容。
About the author: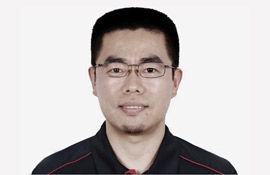 Zhang Xin is Trainer at chinadaily.com.cn. He has been with China Daily since 1988, when he graduated from Beijing Foreign Studies University. Write him at: zhangxin@chinadaily.com.cn, or raise a question for potential use in a future column.
(作者:张欣 编辑:丹妮)
中国日报网英语点津版权说明:凡注明来源为"中国日报网英语点津:XXX(署名)"的原创作品,除与中国日报网签署英语点津内容授权协议的网站外,其他任何网站或单位未经允许不得非法盗链、转载和使用,违者必究。如需使用,请与010-84883561联系;凡本网注明"来源:XXX(非英语点津)"的作品,均转载自其它媒体,目的在于传播更多信息,其他媒体如需转载,请与稿件来源方联系,如产生任何问题与本网无关;本网所发布的歌曲、电影片段,版权归原作者所有,仅供学习与研究,如果侵权,请提供版权证明,以便尽快删除。