Swear by? 以某物起誓
中国日报网 2019-08-16 13:35
Reader question:
Please explain "swear by", as in "her loyal readers seem to swear by her advice".

My comments:
Probably we're talking about a female advice columnist here. Her readers seem to like her columns very much. They value her advice and take her words seriously.
To swear is literally to make an oath or a solemn statement or promise. People usually do this by invoking the name of someone holy – or at least someone holier than thou, I mean you and I. People, for example, often say they swear to or by the name of God, or Allah or a certain king or queen.
Obviously these are deities or people one reveres, respects, admires or treasures.
Hence and likewise, whenever people say they swear by something other than a deity or person, that something must be something they treasure and value as well.
Something they have great faith in. In our example, "her loyal readers" may treasure her advice like it's the gospel.
In other words, they, to use a similar expression, set great store by her words.
All right, here are media examples of various things people swear by:

1. You probably feel like you're always busy at work. But that doesn't mean that you're getting things done.
If you spend the majority of your time answering emails, checking social media, taking calls and attending meetings, you can easily leave the office feeling like you've got nothing to show for your hours. To help you feel more accomplished, bestselling management author and CNBC contributor Suzy Welch suggests implementing a productivity hack that many CEOs swear by.
It's called the "protected hour," and Welch tells CNBC Make It that she was introduced to this concept while working on an article with a well-respected CEO when she was the editor of the Harvard Business Review.
"One afternoon I called his office," she said, "only to have his assistant tell me he couldn't talk because it was his 'protected hour.'" Welch says his assistant didn't elaborate on what the phrase meant, so she asked the CEO to discuss the idea more in their next meeting.
"He told me that every single week he sat alone or with a trusted advisor to look at his calendar from 20,000 feet," she says, "assessing if he was spending his time with the right people, involved in the right activities, thinking about the right things and with enough of an eye to the future."
Welch says that the CEO told her that while his protected hour always seemed to occur at an inconvenient time, he was determined to stick to it, because it made him "1,000 percent more productive and effective in the long run."
Since then, she says she's asked many other CEOs if they have a similar habit, and the majority of them respond that they do.
"Which is why, even though I'm only the CEO of Suzy, Inc., about 10 years ago, I started putting a protected hour on my calendar," says Welch.
She says that she's seen first-hand how much of a difference this hour can make, and advises everyone to make it part of their own schedule.
"I know we're all so busy that the idea of sparing an hour just to ponder can seem impossible," she says. "But this hack has the power to save you days, weeks and even years of misplaced energy."
- Suzy Welch: This is the productivity hack that top CEOs swear by, CNBC.com, May 22 2018.

2. It's no secret that Kourtney Kardashian's physique and complexion have been looking particularly on point lately. And now, we officially know how she does it. While some celebrities claim their seemingly impossible post-baby abs are due to "chasing after their kids," Kourtney has made it clear that hers have not come so effortlessly. What has she been doing? We already knew she swears by organic, gluten-free food and careful portion control. But her true secret weapon for staying fit was going dairy-free.
"I keep hearing that [giving up dairy] is great for your skin," Kourtney told PopSugar. "And this new doctor who my kids and I have been seeing just said we all have allergies to it … So many people keep saying you're not really supposed to have dairy after you're a year old. … We do have it once in awhile, but in the last six weeks, we've had it, like, twice."
So, according to the strict gluten and dairy-free Kourtney Kardashian diet, what are some go-to meals? She's stated many times that her favorite snack is a Brazilian avocado pudding that she says she eats "every morning."
But one can't eat avocado pudding for every meal, and Kourtney admits she's had ups and downs with her diet. "I think dairy is the easiest to replace," she admits. "There are so many milk options and cheese options. That hasn't been as hard, but we're gluten-free too and that's really hard." But Kourtney says once you figure out exactly what's on and off the menu, it becomes easier to find good options. "I found some bakeries that make [gluten- and dairy-free] chocolate chip cookies," she says. "Different stuff so we're not totally missing out."
- Kourtney Kardashian Reveals Her Exact Diet (and It's Intense), Byrdie.com, October 10, 2018.

3. Athletes at the London Olympics drank it for peak overall performance, U.S. marathoner Ryan Hall downs a glass to boost his run time, even Auburn's soccer team swears by the purple things for a pre-video game elixir. We're conversing about beetroot juice, and science supports it, much too: Earlier studies have demonstrated that the juice can help slice minutes off your run time, make improvements to your tolerance in opposition to substantial-depth workout and increase blood and oxygen movement in their muscle mass. However, new analysis from Pennsylvania Point out University contradicts these conclusions, reporting that beet juice in reality does not boost blood stream, which begs the dilemma…
Is Beet Juice Really the Powerhouse Athletes Think?
"I use beet juice in my follow and I have athlete shoppers who swear by it. They see it is effective at improving upon their overall performance," states observed sporting activities nutritionist Barbara Lewin, R.D., founder of Sports activities-nutritionist.com who functions with elite and Olympic athletes.
The notion is this: Beetroot juice is packed with nitrates, which your entire body converts to nitric oxide, a molecule that boosts blood vessel dilation, rising your blood movement ability and reducing the volume of oxygen your muscular tissues require. "You're in a position to use oxygen more efficiently, so the notion is athletes have more ability, are equipped to run more rapidly, and are able to transfer extra proficiently," Lewin describes.
But in the new Penn Point out study, contributors who drank beetroot juice and then done forearm physical exercises did not see an increase in blood flow to their muscular tissues or a widening of their vessels. This is the 1st review to specifically measure the outcome of dietary nitrate on blood stream in energetic muscle mass, but in buy to make really exact measurements, scientists only looked at a hugely distinct set of situations: The study was completed on more youthful males, and only concerned a compact range of forearm workout routines.
"The younger you are, the healthier your vascular operate. As you age, your blood vessels are not as pliable or wholesome, so the effect on a 20-12 months-previous is not the exact same as on a 30- or 40-12 months-outdated," Lewin clarifies.
And the limited physical exercises of the study aren't what people tout the root juice for: "It's not like they are on the lookout at cyclists or runners," Lewin provides. In actuality, the examine authors contend this on their own: It's achievable that any blood circulation improvement from the nutritional nitrate would only be evident at a greater depth or fatiguing exercises—conditions inside of the muscle that favor the conversion of nitrite to nitric oxide, explained direct study author David Proctor, professor of kinesiology and physiology at Penn Condition.
- Why Endurance Athletes All Swear By Beet Juice, IG60.com, March 30, 2019.
本文仅代表作者本人观点,与本网立场无关。欢迎大家讨论学术问题,尊重他人,禁止人身攻击和发布一切违反国家现行法律法规的内容。
About the author: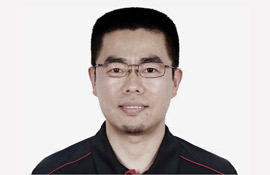 Zhang Xin is Trainer at chinadaily.com.cn. He has been with China Daily since 1988, when he graduated from Beijing Foreign Studies University. Write him at: zhangxin@chinadaily.com.cn, or raise a question for potential use in a future column.
(作者:张欣 编辑:丹妮)
中国日报网英语点津版权说明:凡注明来源为"中国日报网英语点津:XXX(署名)"的原创作品,除与中国日报网签署英语点津内容授权协议的网站外,其他任何网站或单位未经允许不得非法盗链、转载和使用,违者必究。如需使用,请与010-84883561联系;凡本网注明"来源:XXX(非英语点津)"的作品,均转载自其它媒体,目的在于传播更多信息,其他媒体如需转载,请与稿件来源方联系,如产生任何问题与本网无关;本网所发布的歌曲、电影片段,版权归原作者所有,仅供学习与研究,如果侵权,请提供版权证明,以便尽快删除。