Take your hat off?
中国日报网 2020-09-25 11:14
分享到微信 Reader question:
Please explain "take your hat off" in this sentence: "You've got to take your hat off to somebody when they're doing right, and I take my hat off to him."

My comments:
In this quote, the speaker says, to give credit where it's due, he takes his hat off by way of acknowledgement, of praise. In other words, the speaker wants to commend "him" for doing something right. Well done.
This expression, taking one's hat off, has its root in the traditional practice of people literally taking their hats off in various situations. First of all, people worn hats a lot more in the past than they do nowadays, especially in cold areas. When two men met in the street, they might say hello or they might greet each other by taking their hat off and slightly waving it in the other person's direction.
Or, for instance, when a man saw a woman, he took off his hat. That was good manners. Or people took off their hat when they were passing a funeral ceremony. Or everybody took their hat off when an anthem was played in a sports stadium.
Customs may have changed, but taking one's hat off as a gesture of respect or a sign of praise or thank-you has remained – in the metaphorical sense.
Hence, the saying "I take my hat off to you" whenever someone's done something we think remarkable and praiseworthy.
Okay, here are media examples of various situations where people want to "take their hat off":

1. Liberty Media Chairman John Malone believes Amazon will dominate the future and is the only company that has a chance to beat Netflix.
Netflix CEO Reed Hastings "has been successful in throwing Hail Mary passes and then growing into them. And I think he is going to continue doing that. He's got a great service. He's disintermediating the studio industry by going directly to the talent," Malone said in an exclusive interview with CNBC's David Faber Thursday at the Liberty Media annual investor meeting.
"The only outfit right now that has a chance of overtaking them would be Amazon."
The investor noted the cable industry missed its opportunity to compete with Netflix in the past and said "it's way too late" now. He added that in today's media world Netflix has the lead position due to its size and subscriber base.
The internet "makes scale even more important in the media business, where scale always was important. It's all about scale," he said. Netflix was "the first wave. And I think Jeff [Bezos] is gonna be the most disruptive. As [his] Death Star moves into striking range of every industry on the planet."
He explained that Amazon's business dominance is growing stronger. Malone said any company that sells products to consumers is at risk of being crushed by the e-commerce giant.
"If you're in the B2C business, if you're selling anything to any consumer anywhere on the planet, you gotta believe that Amazon is gonna have a look at that opportunity to commoditize you to use scale to serve the public," he said. Bezos is "reducing cost to the consumer and providing great convenience ... You just got to take your hat off and envy what he has built."
- John Malone says Amazon is a 'Death Star' moving in 'striking range of every industry on the planet', CNBC.com, November 16, 2017.

2. You've got to take your hat off to this government for achieving what the German Second World War U-boats never did. It has stopped Cunard from sailing.
In the war years, the liners Queen Mary and Queen Elizabeth sped to and fro across the Atlantic, carrying more than two million service men to fight a ruthless enemy. The ships were credited by Churchill for helping to shortening the fighting by a year.
And here we are, 75 years on, banned from going on any ocean cruise ships by the Foreign and Commonwealth Office because we might catch a virus that has proved harmless to more than 99 per cent of the population.
The result? Cunard, an iconic British brand loved by many but starved of cash because it can't sail, has not just cancelled all cruises on its three liners for the rest of 2020, but pulled the first months of 2021 as well. Queen Elizabeth will be the first one back in service, in March 2021, but sailing close to home instead of in Australia as originally scheduled (presumably because the Land Down Under, in a bid to be more neurotic than the UK, has banned visitors for goodness knows how long). Queen Mary and Queen Victoria will not sail until April and May, respectively.
Countless jobs will be lost, not just shoreside employees in Cunard's home port of Southampton (and in Australia), but the hundreds of crew, most from countries with no furlough scheme, who work on the ships. And then there is the hit for the UK economy. The Cruise Lines International Association says cruising is worth £10 billion a year to the UK. Cunard won't be responsible for generating all that, but it'll be raking in a good chunk.
- The Government has done what the German U-boats couldn't – it has stopped Cunard from sailing, Telegraph.co.uk, August 26, 2020.

3. How many times can President Donald Trump spread falsehoods about COVID-19? Well, to quote the great Cady Heron, "the limit does not exist." Yesterday, at a rally full of (mostly maskless) supporters in Ohio, Trump once again proved he's in his own reality when he explained that only older people and people with underlying conditions need to be concerned about the virus.
"It affects elderly people, elderly people with heart problems and other problems. That's what it really affects. In some states, thousands of people — nobody young," Trump said to the crowd. "Below the age of 18, like, nobody. They have a strong immune system, who knows? Take your hat off to the young, because they have a hell of an immune system. But it affects virtually nobody. It's an amazing thing."
Despite what Trump says about this "amazing thing," data has proven time and time again that no one is an exception — not even young people. Although it is more likely to be fatal to older people, as well as immunocompromised and disabled people, it's still taken a toll on younger people. Children under 18 currently represent approximately 10% of cases in the United States. Over 500,000 children have been diagnosed with COVID-19 in the U.S. alone, according to a report from the American Academy of Pediatrics.
"These numbers are a chilling reminder of why we need to take this virus seriously," said American Academy of Pediatrics President Dr. Sally Goza. "While much remains unknown about COVID-19, we do know that the spread among children reflects what is happening in the broader communities."
In August, the Centers for Disease Control and Prevention released a report that coronavirus cases among children under 18 had increased "steadily" since March. Between August 20 and September 3, there were 70,630 new child cases reported — a 16% increase in cases in just two weeks. Furthermore, cases have continued to skyrocket in many parts of the country as schools have re-opened, with many having to shut down again due to young students and teachers immediately getting sick. Despite this, on Monday, Trump repeated, "Open your schools, everybody open your schools."
- Let's Debunk Trump's Theory That COVID-19 Affects "Virtually Nobody" Under The Age Of 18, Yahoo.com, September 22, 2020.
本文仅代表作者本人观点,与本网立场无关。欢迎大家讨论学术问题,尊重他人,禁止人身攻击和发布一切违反国家现行法律法规的内容。
About the author: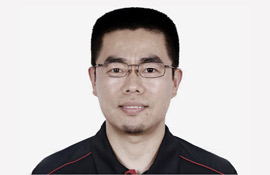 Zhang Xin is Trainer at chinadaily.com.cn. He has been with China Daily since 1988, when he graduated from Beijing Foreign Studies University. Write him at: zhangxin@chinadaily.com.cn, or raise a question for potential use in a future column.
(作者:张欣 编辑:丹妮)
中国日报网英语点津版权说明:凡注明来源为"中国日报网英语点津:XXX(署名)"的原创作品,除与中国日报网签署英语点津内容授权协议的网站外,其他任何网站或单位未经允许不得非法盗链、转载和使用,违者必究。如需使用,请与010-84883561联系;凡本网注明"来源:XXX(非英语点津)"的作品,均转载自其它媒体,目的在于传播更多信息,其他媒体如需转载,请与稿件来源方联系,如产生任何问题与本网无关;本网所发布的歌曲、电影片段,版权归原作者所有,仅供学习与研究,如果侵权,请提供版权证明,以便尽快删除。