Jazz pianist Cyrus Chestnut pays tribute to Elvis
[ 2007-12-07 09:42 ]
Jazz pianist Cyrus Chestnut got his professional start playing pop music, so it's no surprise that his latest album pays tribute to a pop icon, Elvis Presley. VOA's Doug Levine has more.
Cyrus Plays Elvis "Love Me Tender" is one of Elvis Presley's most-famous songs, and one that had Cyrus Chestnut laying the groundwork for his new release, Cyrus Plays Elvis.
Cyrus Chestnut has always admired Elvis Presley, but it wasn't until he sat down to record "Love Me Tender" that he realized there was something more to the Presley songbook. He says, "In that moment, I knew I had to research and record this music."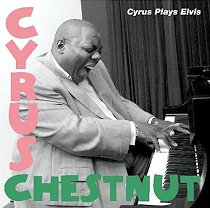 Cyrus discovered that he and Elvis had a lot in common, namely their love for blues and gospel. On Cyrus Plays Elvis, there are even traces of Latin music, swing and New Orleans funk on such classics as "Hound Dog."
Cyrus got started in music early. His father gave him his first piano lessons at age five. At age seven, Cyrus made his first public appearance at his local church. To supplement his musical training at the Peabody Preparatory Conservatory in Baltimore, Maryland, he played in various pop and jazz bands around town.
His career began in earnest after graduating from the Berklee College of Music. He worked with dozens of jazz greats, including Wynton Marsalis and Betty Carter, before embarking as a soloist in 1992.
Cyrus' passion for all styles of music has made him one of today's most versatile arrangers and pianists. With Cyrus Plays Elvis, it's easy to see why he is also considered one of today's most adventurous players.
(Source: VOA 英语点津姗姗编辑)