2008: China´s "Wedding Year"
[ 2008-01-04 10:14 ]
2008 is expected to be a banner year for China. Not only will the country hold its first-ever Olympic Games. It's also likely to see a record number of weddings.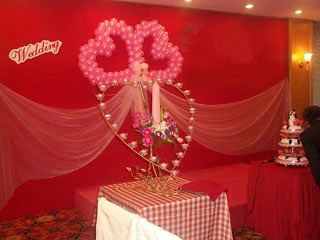 Many in the country are already dubbing 2008 the "Wedding Year."
A large number of couples are expected to tie the knot in 2008, a year regarded as auspicious not only for having the lucky number "8", but also for the Beijing Olympics.
In the capital alone, many hotels are already booked up with wedding reservations for the entire year.
Chen Yachun from Beijing Huangyuan Hotel said, "We started to take wedding reservations for 2008 in July of last year. In only a short time we became fully booked up. We have no more days left until November."
For this, Olympic fever is certainly responsible.
Zhang Wanhong from China Wedding Culture Society said, "People want to get married this year because it coincides with the Olympics. This is a once-in-a-life-time opportunity. A recent survey says there may be twice as many people getting married in 2008 than the year before."
As China is experiencing a marriage boom this year, experts say couples may consider holding their wedding celebrations away from major cities, where it's both less crowded and cheaper.
(Source: cctv.com 英语点津姗姗编辑)