President Obama Friday met with his top economic officials Friday telling reporters that he detects glimmers of hope for the U.S. economy, despite continuing stresses.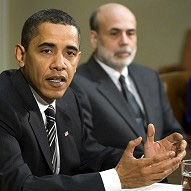 In his first economic meeting since returning from a week-long trip to Europe and the Middle East, President Obama called the White House session with his economic team a terrific conversation.
Mr. Obama cited the increasing number of homeowners seeking to refinance their mortgages, and said he sees glimmers of hope for the economy, but nonetheless, he noted that much more needs to be done. "The economy is still under severe stress. And obviously during these (Easter) holidays we have to keep in mind that whatever we do ultimately has to translate into economic growth and jobs and rising incomes for the American people," he said.
Mr. Obama made the comments after meeting with central bank chief Ben Bernanke, bank regulator Sheila Bair and his economic team headed by Treasury Secretary Tim Geithner and National Economic Council Chairman Larry Summers.
An increasing number of economists are now voicing optimism about the U.S. economy, believing that it may be turning the corner from what has been the deepest recession since the second world war. The current downturn began in December 2007. Economic growth is expected to be negative this year and the unemployment rate, currently at 8.5 percent, is expected to rise to perhaps 10 percent by year's end.
Despite the continuing problems, Mr. Obama said he is starting to see progress and he is convinced the economy will get back on track.
In London one week ago President Obama attended the emergency meeting of leaders of the world's 20 biggest economies. The G20 pledged to work cooperatively to promote global recovery and leaders said they would do everything necessary to make that happen. Both the United States and China have undertaken massive government spending to stimulate consumer demand and Japan this week announced new measures to do the same thing.
keep in mind: to remember(or bear in mind)(牢记)
translate into:转化为
voice:to give utterance or expression to; declare; proclaim(表达,表露)
turn the corner:to reach and surpass a midpoint or milestone(转危为安)
US homeless problem made worse by bad economy
US calls for coordinated global action to repair economy
Obama asks for patience with his economic plan
(Source: VOA 英语点津编辑)