Airbus announced Tuesday it had secured orders for 16 new A321 planes from Vietnam Airlines and another five A320 craft from budget Cebu Pacific airlines of the Philippines. The day before, Airbus said that Qatar Airways had also ordered A320 aircraft.
The announcements offered bright spots to the generally gloomy environment at the world's biggest air show that is clouded by the economic crisis. Indeed, the new orders contradicted earlier predictions by some aeronautics experts like Pierre Condom of France.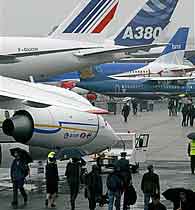 Condom told French radio that the mantra of this year's Paris show would likely be to maintain existing orders rather than to secure new ones.
But Airbus has already exceeded those expectations, leaving America's Boeing racing to catch up. The rivalry between the two aeronautics giants also took a new turn on Tuesday when Boeing accused Airbus of violating world trade regulations by seeking European government financing for its new A350 planes.
Boeing and Airbus have traded accusations over the years that each is seeking unfair government subsidies.
Still one Boeing executive sought to put a positive spin on the industry's future during an interview with France 24 news channel.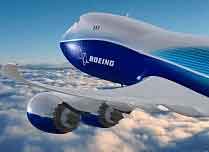 "The market is definitely very, very challenging today. Our airline customers are feeling the pain of the situation and of the environment but clearly we're starting to see some signs of stabilization in the market in terms of the economy," he said. "The market will stabilize. When it does stabilize it will begin to grow, when it begins to grow we'll see growth in our business again."
So far this year, Boeing - has taken orders for 73 planes, but with cancellations of 66, the net order intake is only 7 jets.
Airbus's order tally advanced to 56 on Monday after the Qatar Airways order. After cancellations, net orders to date total 35. Both plane makers are cushioned by order backlogs of around 3,500 planes.
The Paris Air Show ends Sunday - which still gives Boeing time to catch up to rival Airbus in securing new aircraft orders.
bright spot: 亮点,高兴的事
positive spin: 力挽狂澜,东山再起
Air France to replace speed sensors on Airbus jets
Air industry looks to long term for gains
Possible Air France debris located in Atlantic
(Source: VOA 英语点津编辑)