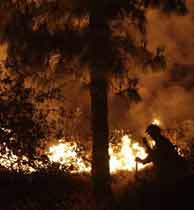 Several major wildfires continue to burn in California. The largest, north of Los Angeles, has scorched more than 49,000 hectares and destroyed at least 53 homes. Our correspondent reports that more than 12,000 homes are threatened, along with important communication sites and a historic astronomical observatory.
California Governor Arnold Schwarzenegger says eight major fires are burning around the state.
"Fires, fires, fires," said Arnold Schwarzenegger. "But we are very fortunate that we have the best and the most aggressive, best trained, most courageous firefighters in the world and that's why we are able to push back very heavily."
The largest fire has burned about 500 square kilometers of the Angeles National Forest, north of Los Angeles. Some 3,600 firefighters are attacking the flames in steep terrain, usingbulldozers, tractors and hand tools. They are also setting backfires to clear away dry bush, and using helicopters and airplanes to drop water and fire retardant.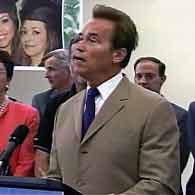 They got some help on Tuesday from slightly higher humidity as they worked to protect homes in hillside communities. Officials say they have carved out nearly 20 kilometers of fire lines to slow the advance of the flames.
Firefighters are working to protect communication and scientific facilities on Mount Wilson, which overlooks downtown Los Angeles. The site is home to transmitters for most of the city's television stations, as well as some radio stations, several mobile phone companies and police communication systems.
Firefighters are also working to protect the century-old Mount Wilson Observatory, where astronomer Edwin Hubble made important discoveries in the 1920s. The observatory houses two large telescopes and several university research programs.
Nathan Judy of the U.S. Forest Service says firefighters are trying to keep the flames from reaching the summit.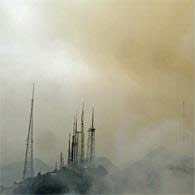 "If the fire burns aggressively up towards Mount Wilson, we could lose some of those tower sites," said Nathan Judy. "But we have inputted our folks in there, creating a fire break around that area to try to slow that fire."
Two firefighters died near Los Angeles on Sunday when their vehicle went off a smoky mountain road. Fourteen firefighters have been injured around the state.
Police continue to evacuate some foothill neighborhoods. Firefighters have so far protected most of the homes in the suburbs near Los Angeles, but scores have been lost. The structures, which included houses and mountain cabins, were mostly in isolated canyons.
A smaller fire northeast of the California capital, Sacramento, burned 60 structures Sunday. That fire is now 80 percent contained.
The Los Angeles blaze is still largely out of control. Firefighters say they are making progress, but they warn that it might not be contained for at least two weeks.
bulldozer: a heavy, driver-operated machine for clearing and grading land, usually having continuous treads and a broad hydraulic blade in front 推土机
retardant: any agent that retards or delays or hinders 阻燃剂
Evacuations grow as Los Angeles fire rages
Fires rage on, 500,000 evacuated
Death toll in California mudslide rising
(Source: VOA 英语点津编辑)