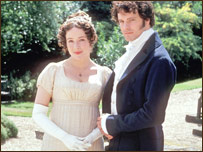 The BBC adapted Jane Austen's Pride and Prejudice for television
Even though she lived more than 200 years ago, the famous EnglishnovelistJane Austen has been in the news a lot recently.
The only knownportraitof Jane Austen is to be sold byauctionin New York this week, and is expected to fetch between £200,000 and £400,000.
Theoil painting, which experts believe was commissioned by the novelist's great-uncle in 1790, has beenhanded downfrom generation to generation and currently belongs to one of Jane Austen'sdescendants.
There has been somedoubtover theauthenticityof the portrait because some experts say the type of dress she is wearing in the painting is from the wronghistorical period.
However, otheracademicsand the auction house Christie's, who are selling the painting, say the picture is a"true depiction"of the writer.
This is not the first time Jane Austen's image has causedcontroversy. Earlier this year herpublisherswere criticised for giving her amakeoveron the cover of a book about her life.
The publishers made changes to asketchof Jane drawn by her sister. In the original picture Jane is wearing a cap, but in the new image the publishers have removed the cap, and addedmake-upandhair extensions.
Whatever she looked like, Jane Austen remains a Britishnational treasure. Her books, such as Emma, Sense and Sensibility, and Pride and Prejudice, remain widely-read and have been successfully adapted for television and cinema.
In fact, her work is still so popular that in a recentsurveyto mark World Book Day, the British publicvotedPride and Prejudice the nation's favourite read – ahead of Harry Potter and The Lord of the Rings!