UK's Biggest Scaredy Cat 英国最大的胆小鬼
Can I Come Down Now? 现在我可以下来了吗?
As one of nature's top predators, the tiger is not an animal that we would ordinarily think of as being chicken.
However, one tiger, which lives in an English zoo, turned out to be more cowardly than his keepers could ever have imagined.
Tanvir, a two-year-old Bengal tiger, got stuck at the top of a new 5m-high activity tower in his enclosure, after climbing it for the first time.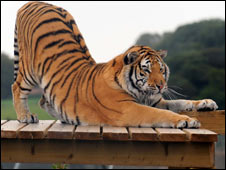 The branching tower had been designed to provide mental stimulation for Tanvir by testing his ingenuity, but after scaling the exercise structure in just a few seconds, he lost his nerve when it came to coming back down.
Tanvir went on to spend nearly two days at the top of the tower trying to pluck up the courage to attempt a descent.
A spokesperson for the zoo said that Tanvir had taken half an hour to come down from a smaller structure only 1.5m high previously, and that the taller tower had clearly been too much for him.
"Every time he gets to the edge, he looks out, puts a paw over, and thinks, 'no, I'm not doing it!'" said Samantha Cordrey.
In the end Tanvir's hunger got the better of his fear, and after almost 48 hours he made his way down in order to eat.
And what better way to put such a traumatic ordeal behind you than by tucking in to an entire pig's head?
It appears that Tanvir is none the worse for his experience, but it is not known if he will find the guts to go back up his exercise tower again.
The whole episode only serves to underline the difficulties faced by zoo staff in creating environments that will stimulate the animals living in enclosed spaces.
"It was made to challenge him but he's a bit of a wimp," said Tanvir's keeper.
Glossary 词汇表 (收听发音, 请单击英语单词)