Once spoken only by people in Guangdong Province, over the years, certain Cantonese phrases have made their way into the everyday vocabulary of Chinese people around the country.
Among the most popular expressions are maidan (foot the bill), shengmeng (alive), baodianhuazhou (have a very long chat over the phone), baoman (completely packed or filled up) and chaoyouyu (lay off).
Some Cantonese expressions have become so commonplace they have even been listed in the latest edition of the Xinhua Chinese Dictionary.
Si Qisheng, a Chinese linguistics professor with Guangzhou-based Sun Yat-sen University, attributed the increased popularity of Cantonese primarily to the influential effect of economic development in Guangdong and the Pearl River Delta regions.
It is there the dialect of Cantonese is widely spoken.
"Guangdong used to be China's pilot region for reform and opening-up.The province has been a vanguard for economic development," he said.
"Many migrant people nationwide, who have come to the province to work or do business, have developed a passion for the liveliness of Cantonese expressions.
"Many such people considered Cantonese fashionable and they dotted their dialect with some Cantonese expressions, even when they returned to their hometown, as a way to show off. In this way, Cantonese words have gained popularity nationwide."
Zhao Jizhou, also a Chinese linguistics professor with Sun Yat-sen University, said the popularity of TV in China has also contributed to the rising use of the Cantonese dialect.
"Hong Kong and Cantonese TV series, comic plays and crosstalks that parody how successful Cantonese businesspeople talk are among the forces that have made Cantonese expressions popular in other regions outside Guangdong," Zhao said.
Questions:
1. Many Cantonese expressions have been included in what?
2. Si Qisheng attributes the growing popularity of Cantonese to what?
3. A source in the story describes Cantonese as having?
   A. loveliness
   B. expressiveness
   C. liveliness
   D. calmness
Answers:
1. The latest edition of the Xinhua Chinese Dictionary.
2. The influential effect of economic development in Guangdong and the Pearl River Delta regions.
3. C.
(英语点津 Linda 编辑)
About the broadcaster: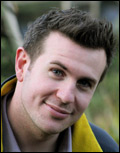 Marc Checkley is a freelance journalist and media producer from Auckland, New Zealand. Marc has an eclectic career in the media/arts, most recently working as a radio journalist for NewstalkZB, New Zealand's leading news radio network, as a feature writer for Travel Inc, New Nutrition Business (UK) and contributor for Mana Magazine and the Sunday Star Times. Marc is also a passionate arts educator and is involved in various media/theatre projects in his native New Zealand and Singapore where he is currently based. Marc joins the China Daily with support from the Asia New Zealand Foundation.