中东地区的首家只接待女性客人的酒店3月18日在沙特阿拉伯首都利雅得正式开业。这家新开张的名为"卢坦"的酒店拥有25个独立房间,此外还可以为女性客人提供150种不同类型的水疗(SPA)服务、会议设施以及优质的饮食。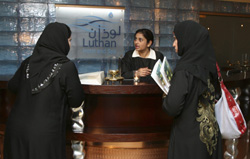 Saudi women speak to a Luthan hotel staff member during the opening ceremony of the first hotel in the country that caters exclusively to women, in Riyadh, on Tuesday. [Agencies]
For a country that goes to such great lengths to segregate unrelated men and women, it took

Saudi Arabia

a long time to hit on the idea of women-only hotels.
The kingdom's first hotel exclusively for females opened on yesterday, offering plush lodgings with a full-range of health and beauty facilities for ladies to pamper themselves away from the accusing eyes of a male-dominated society.
"Inside this physical structure, we are all women. We even have bell-women. We are women-owned, women-managed and women-run, from our IT engineer to our electrical engineer," Executive Director Lorraine Coutinho said during the hotel's opening.
"This is meeting a very big demand. There are women's hotels all over the world, from Berlin to the United States to everywhere," she said.
Saudi Arabia is one of the most conservative countries in the world, where tradition and clerics restrict women's movement, preventing them from meeting male friends in public, driving cars or employment in many jobs.
New rules announced in January allow women to stay in standard mixed-gender hotels without a male family member in tow, but bureaucracy and conservative family values mean few have been able to make use of their new-found freedom.
The Luthan Hotel & Spa is owned by a group of 20 Saudi princesses and businesswomen, but it was left to seven princes headed by Sultan bin Salman, a son of Riyadh's powerful governor, to officially inaugurate it on Tuesday evening.
"This meets the Saudi woman's need for a place to stay as she moves around her country," he told a large pack of male journalists who stomped around rooms delicately adorned with incense candles, rose-red fabrics and bas-reliefs of cherubs.
Prices range from 350 riyals ($93) per night to 979 riyals, with weekend "spa break" rates for around 2,000 riyals, though the hotel is located some distance from central Riyadh.
"This is a good response to those who always say women aren't taken care of here. Even in the West there are women's places where men can't go," said Mohammed al-Adhil, deputy head of Riyadh Chambers of Commerce.
The few female journalists who came along liked the hotel but not the fact that men dominated the opening ceremony. "It's a pioneering idea. There was a big need, since you don't need a 'mihrim' (male guardian) with you," said Iman al-Samra of al-Rai TV.
Another said dismissively: "You know what they're saying about this place, that it's the hotel for lesbians."
(Agencies/China Daily)
Vocabulary:
segregate:强制隔离,强迫(一个种族或阶层)与社会的其他种族或阶层分离
riyal: 里亚尔(沙特阿拉伯货币名)
(英语点津Celene编辑)