从北京市交通委获悉,7月20日实行单双号限行措施后,预计会有410万乘客转乘公共交通,加上运动员、奥组委官员、媒体人员、奥运观众等大批抵京,奥运赛事期间,北京公共交通日均客运总量将攀升至2110万人次。为保障市民和赛事相关人员顺利出行,市公交集团将在7月20日至9月20日期间分期开通34条奥运公交专线,其中7条专线将24小时运营。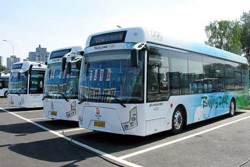 Lithium battery powered buses to serve the Beijing Olympic Games are ready for the Games with the completion of a recharge station at the Dreamworld (the Olympic Village) in Beijing on July 6, 2008. [Xinhua]
Thirty-four new bus routes will open in Beijing from this month to improve public transport to and from Olympic venues, a transport official said yesterday.
Wang Xinsheng, deputy general manager of the Beijing Public Transport Group, said at a news briefing that 10 of the routes, which will operate from July 20 to Sept 20, will be close to Olympic venues or run along the city's new roads.
The routes will have regular stops and seven of them will operate around the clock, he said.
The remaining 24 routes will be one-stop express services linking Olympic venues with other transit points. These will operate only on competition days to help people get to and from venues, Wang said.
About 1,500 buses will serve the new routes, half of which will provide easy access for disabled people. During the Paralympics, just 16 of the new routes will remain open, but all 600 of the buses running on them will be suitable for disabled people, he said.
The people of Beijing have been encouraged to take public transport as much as possible during the Games to ease congestion and reduce pollution. Also, a number of traffic control measures have been announced, including an odd-and-even license plate rule, which comes into effect on July 20, and will allow the city's 3.3 million private car owners to drive into the city only on alternate days.
As a result, the number of trips made each day on public transport is expected to rise 4.1 million to 21.1 million, Zhou Zhengyu, deputy director of the Beijing transport committee, told the briefing.
Commuters will be served by 21,712 buses, fleets of taxis and the new subway network, he said. Olympic officials, volunteers and reporters will be able to travel free of charge on buses and subways.
Also, the operating hours of 350 bus routes will be extended, he said.
"They will start at 5:30 am and end at 22:00 pm," he said.
Bus drivers and conductors have also been told they cannot take holidays during the Games, and their two-day weekends will be reduced to one day, Wang said.
To ease traffic congestion, the business hours of shopping malls will be staggered, Zhou said.
(China Daily)
Vocabulary:
traffic control measures:交通管理措施
odd-and-even license plate rule: (机动车)单双号限行
(英语点津Celene编辑)