More terra-cotta warriors to rise from earth
[ 2009-06-12 09:22 ]
Archaeologists will begin a third phase of excavation at the famous terracotta army site on Saturday, hoping to find more clay figures and unravel some of the mysteries left behind by the "First Emperor".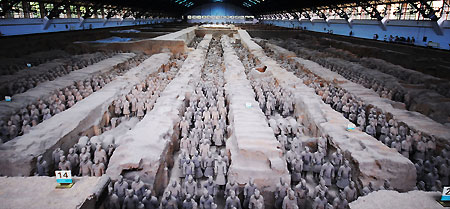 File photo shows ancient terra-cotta warriors in No. 1 pit of Qinshihuang mausoleum in Xi'an, northwest China's Shaanxi province. [CFP]
The excavation work will focus on a 200-sq m patch in the north-central part of the No 1 pit, the largest among three pits at the site.
Archaeologists hoped to find more clay figures of high-ranking officers, Liu Zhancheng, head of the archeological team under the terracotta museum in Xi'an, capital of Shaanxi province, was quoted by Xinhua News Agency as saying yesterday.
Related readings:


 3rd excavation to begin at terracotta site


 Ancient army of terracotta waits for 3rd dig-up


 Terracotta warriors feel the hit of crisis


 Terracotta army gets heroes' welcome


 Terracotta triumphs and terrors

Such high-ranking army officers are rare. The majority of the terracotta are archers, infantrymen and charioteers that the emperor hoped would help him rule in the afterlife.

The museum website said less than 10 such "armored generals" have been unearthed.

Liu also said the excavation will test preservation technology that the museum has spent decades developing to keep the undiscovered terracotta figures intact and retain their original colors.

In past excavations, richly colored clay figures were unearthed from the mausoleum of Qinshihuang (259-210BC), the first emperor of a united China, but once they were exposed to the air they began to lose their luster and turned an oxidized grey.

A museum archaeologist, who insisted on anonymity, said the museum has been cooperating with a cultural relic department in Germany for years trying to find a satisfactory technology to preserve the color of the terracotta, and has "made some headway."