8月18日,孟宪臣和孟宪有两兄弟在房山区一非法采煤点工作时被困井下。在营救人员和家人都已经放弃生还希望的时候,他们靠着坚强的意志,在被困130小时后自行爬出矿井,重见天日。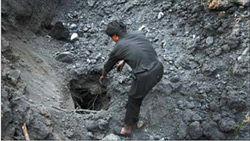 A worker points to the opening of a coal mine in Beijing's Fangshan District where the two brothers crawled out after 130 hour underground. [Beijing News]
Rescuers had given up hope and their families had given them up for dead - but two intrepid miners managed to crawl their way out of a collapsed tunnel after being trapped for almost six days.
Brothers Meng Xianchen and Meng Xianyou were trapped underground while working at an illegal mine in Beijing's Fangshan District late at night on August 18.
On August 20, rescue efforts were called off.
The team decided that the conditions at the site were dangerous and there was no sign that the two survived, An Fengyu, the director in charge of the rescue, was quoted as saying by Beijing News on August 22.
He said rescue work was very likely to cause another collapse, which would put rescuers in danger.
The official later admitted the rescue team of about 20 people didn't use the life-symptom detector at the site.
The miners' families were in despair, burning "ghost money" for "the decreased" at the entrance of the mine, located in the southwestern part of the capital. The wives passed out in shock, the report said.
The only people who didn't give up were the miners themselves.
When the collapse occurred, the two natives of Inner Mongolia were at the end of the tunnel and were not injured.
Trapped in a spacious place, they had sufficient air to breathe, and drank each other's urine, according to Beijing Times.
Their experience of underground work helped them dig a hole and crawl toward the entrance.
They never gave up hope as they always thought they would be rescued, Meng Qingyue, the son of one of the miners, was quoted as saying by Beijing News.
On Friday, after 130 hours underground, the two finally saw light at the end of the tunnel.
After crawling out, they collapsed and were rushed to hospital by miners nearby, the report said.
Doctors said the duo, both in their 40s, lost a lot of weight and their kidneys were damaged due to days without food and water.
"It is a miracle," Zhao Jie, the doctor who attended to the two miners, was quoted as saying. "They are able to speak coherently."
A district official said the mine was illegally operated by a local villager who fled after the accident.
(China Daily)
(英语点津 Linda 编辑)