8月29日,中国外汇交易中心公布,银行间外汇市场美元对人民币汇率的中间价为1美元对人民币7.5505元,再创汇改以来新高。有市场观察人士预测,人民币在接下来的几个月会继续缓慢升值。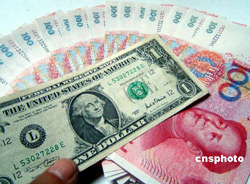 Yuan hits new high against greenback.
China's currency, the yuan, on Wednesday hit a new high against the US dollar for the second consecutive day after more than one month of downward adjustment, according to the Chinese Foreign Exchange Trading System.
The central parity rate of the yuan, also known as Renminbi (RMB), stood at 7.5505 yuan to one US dollar on Wednesday, gaining 40 basis points from Tuesday's reference rate of 7.5545 to the greenback.
It is the 56th time since the beginning of this year that RMB reached a new high against the US dollar. It climbed 2,582 basis points, or 3.365 percent, from 7.8087 yuan to one US dollar posted on the last trading day of 2006.
Compared with the same period of last year, the yuan was revalued 5.525 percent higher.
The accumulative appreciation since July 21, 2005, when China discontinued yuan's peg to the greenback, has reached 9.557 percent.
Market observers said the more-than-one-month-long downward adjustment of the Chinese currency was due partly to appreciation of the US dollar, as investors turned to safer US-dollar-denominated assets after the world financial regime was jittered by the subprime mortgage woes in the United States.
Mounting demand for foreign-currency-denominated loans at home also accounted for the downward revaluation of Renminbi, the observers believed.
In the coming months, the observers predicted, the yuan would continue to appreciate at a slower pace but move upward and downward within a bigger range.
Interest rate gap for US dollar at home and abroad and different interest rates for credit extension denominated by local and foreign currencies would be important factors behind the yuan's movement, the observers added.
On Wednesday, the yuan also gained ground against the euro and the British pound, but lost 799 basis points from the previous trading day to reach a central parity rate of 6.6206 yuan against 100 Japanese yen.
(Xinhua)
Vocabulary:
greenback:美元
appreciate:升值
(英语点津 Linda 编辑)