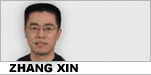 Scanning Salon.com, I came across a good example for explaining the idiom "read between the lines", which has been a topic I want to address for some time.

First, definition. To read between the lines is to guess someone's real feelings and meanings from something they actually write.

Political observers understand this perfectly. If, say, a politician is reported to have resigned because of "personal" reasons, you can often be sure that the said politician has just been removed from power, and perhaps brutally. He's the loser of the latest round of power struggle. In other words, the reasons are anything but "personal". Similarly, if someone has done the same for "health" problems, you can be certain they are NOT ill. He has no physical ailment but may develop one later – "health" problems may catch up with him soon if he can't successfully deal with the depression he suffers from being sacked.

Likewise, when a government spokesman says that the leadership is one of "unity and harmony", you can infer pretty safely that the leaders can't stand each other.

In diplomatic writing, we often see meetings between heads of governments described as "frank", "cordial" and so forth. Cordial means that the leaders are exchanging pleasantries only – telling each other what they want to hear. If the discussion is described as "frank", on the other hand, that means the leaders hate each other and are making sure the other person knows it. The Economist magazine, for example, routinely describes "frank discussion" as "a diplomat's word for a fallout," or fierce quarrels short of "trading blows" and "dispatching gunboats", also Economist terminologies. Next, the very "diplomat" may be expelled for involving in "activities deemed incompatible with his status", which is euphemism, usually for spying.

That's exaggerating it, I know. But, with media increasingly owned and controlled by fewer people and fewer interest groups, isn't it better to err on the side of caution? You'd better stay aware and alert of these things so as not to be taken for a ride. The public needs a healthy cynicism regarding TV, newspapers as well as anything from cyberspace. After all, propaganda does two things, usually simultaneously – it propagates some facts and ideas while it goes out of its way to hide others.

Anyways, the latest example I have concerns a Financial Times report about China. It is alarmingly titled "Chinese military hacked into Pentagon".

"Sounds like the 'China threat' is very much alive!", writes Andrew Leonard in his How The World Works column. Leonard read in between the lines of the FT report on Tuesday and saw the other side of the story, as is evidenced by the way he titles his article – "U.S. military routinely hacks into Chinese networks".

That's exactly what he read in between the lines of the FT report. Leonard says:
 How the World Works doesn't doubt that the dance between the world's preeminent superpower, the U.S., and the No. 1 contender for the throne, China, could someday turn into an ugly showdown. But the Financial Times' choice for a headline, "Chinese military hacked into Pentagon," could be accused of rhetorical alarmism, and not just because most of the information accessed during the attack appears to have been unclassified.
Later in the same article:
The PLA regularly probes U.S. military networks – and the Pentagon is widely assumed to scan Chinese networks – but U.S. officials said the penetration in June raised concerns to a new level because of fears that China had shown it could disrupt systems at critical times.
Scan? Scan? What does that mean?Is it the same as "probe"? Or could one even say, "The Pentagon is widely assumed to regularly hack into Chinese networks"?
And:
        An editorial in the Financial Times running along with its "scoop" even observes:
Yet it is probably also right to assume that the U.S. and other western governments are busy infiltrating the computer systems of foreign governments. It is therefore disingenuous to complain too vigorously when those same foreign governments become good at doing it back.
Infiltrating? Isn't that the same as "hacking"? Or, to be semiotically precise, "cracking"?
Yes, it's a fine world for the West to "infiltrate" Chinese systems because they're just "scanning". The world becomes dangerous (to the present international powers that be, that is) if countries like China begin to be "doing it back". Then the "scanning" becomes "hacking".
The real danger is a world to be run by a single voice. And the biggest danger is if you can't read between the lines.