一年一度的父女纯洁舞会在美国科罗拉多泉市(科罗拉多州)举行。舞会上,父亲们会阅读一份契约,发誓将尽力保护女儿的贞洁,并在承诺书上签名。纯洁舞会始于1998年,在科罗拉多州首先兴起,现在已经在全美普遍开来。这是一个令人难忘的仪式,父亲会签署诚信书,承诺给女儿生活的完整性和纯洁性。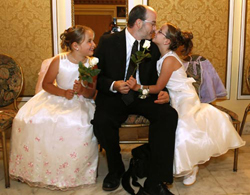 Father talks with his two daughters before the Father-Daughter Purity Ball was held in Colorado Springs.[yahoo.com]
In a "counter-cultural" event, fathers and daughters from across the America are gathering for the annual
Father-Daughter Purity Ball
in Colorado Springs.
Girls and young women ages 10 and older who attend make commitments to live a pure life before God and set personal standards for themselves.
Fathers also read covenants over their daughters and promise they will protect the girls' commitments and serve as positive role models of purity and spirituality. Their dedication is symbolized by commitment cards the girls sign during the ceremony and white roses laid at the foot of a cross.
"The dads or mentors commit before God to be a living example of purity," coordinator Mona McDonald said. "The daughters are going to try to do their best to honor their fathers' involvement in their life."
The first Father Daughter Purity Ball was held in Colorado in 1998 by a Christian group called Generations of Light, according to Ashley Ellingson, development coordinator for the Arizona Baptist Children's Services.
"A woman who worked at ABCS heard about these Purity Balls and thought they were a really neat idea," Ellingson said.
Mitch McDonald said he feels the ball has become an annual way for his daughters to spend a special evening with their father.
"What really makes me feel good is that I know my daughters are going to be going to dances for the rest of their lives, but the first time they were dressed in a formal, their dad was the first one to slow dance with them," he said.
"I've been able to tell both of my daughters how precious they are to me," he said. "Those are moments in time that are very important."
(Agencies)
Vocabulary:
Father-Daughter Purity Ball:父女纯洁舞会
covenants: 契约

commitment cards:承诺卡片
(英语点津 于楠 编辑)