昨天,320万年前的原始人"露西"骨骼化石的惟一复制品亮相上海世博会非洲联合馆埃塞俄比亚展区。"露西"被认为是"第一个直立行走的人类",是目前所知的人类最早祖先。1974年11月24日,美国古人类学家在埃塞俄比亚的阿法尔凹地发现了"露西",这具南方古猿阿法种的古人类骨化石保存40%的骨架,生前才20多岁,根据其骨盆推算生过孩子,距今320万年,被认为是年代最久且骨骼保存最完整的人类化石。"露西"真品被保存在美国休斯敦自然科学博物馆。已为"露西"骨骼化石展品讲解了25年的讲解员,专程来到上海为游客服务。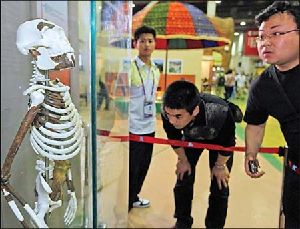 Two visitors stare at the replica of Lucy, a 3-million-year-old human skeleton fossil, on display in the Ethiopia section of the Joint Africa Pavilion on Thursday in Expo 2010 Shanghai. Photo by Yong Kai / For China Daily
SHANGHAI - Lucy, a 3-million-year-old human skeleton fossil, will be on display for the remainder of Expo 2010 Shanghai.
The skeleton is a replica and its display was opened to the public on Thursday in the Ethiopia section of the Joint Africa Pavilion.
The exhibit, created 30 years ago, contains the only replica of the skeleton in the world. It was preserved in the Ethiopian National Museum in Addis Ababa, the capital city of Ethiopia.
"It is equally as important as the original version, because it gives visitors at least a picture of what Lucy looks like," said Sisay Getachew Azage, commissioner general of the Ethiopia section. "It is a chance for the Chinese to know more about the origin of humans."
Donald Johanson and Tom Gray discovered Lucy in November 1974, making her the earliest known hominid, dating back 3.2 million years.
"Before Lucy was discovered, we thought the earliest that humans walked upright was 2 million years ago," said Teshome Regassa Feyissa, who is a specialist with 25 years of research experience in the Ethiopian National Museum. "The finding of Lucy also signifies that Africa is the cradle of human beings."
Feyissa said Lucy is the oldest, most complete skeleton, with 40 percent of her bones recovered, providing much more detailed information about human beings.
Feyissa will work in the Joint Africa Pavilion until June to tell visitors about Lucy in English. The section operators will try to find a Chinese speaker to translate.
Preserved in a transparent case, the skeleton is formed with black and white bones, with the black portion of the skeleton representing the parts that were discovered in 1974.
It is the third time the replica of Lucy has been presented at a World Expo. It was previously shown at the Hanover Expo in 2000 and at the Zaragoza Expo in 2008.
Lucy was identified as a female based on her size, who died in her 20s. She may have given birth to a baby. Lucy's brain size is much smaller than that of today's normal adult.
Lucy obtained her name from The Beatles' song, Lucy in the Sky with Diamonds, which is often played in celebration of her discovery.
相关阅读
(Agencies)
Vocabulary:
fossil: 化石
replica: 复制品
(中国日报网英语点津 编辑:蔡姗姗)