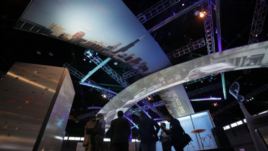 This is IN THE NEWS in VOA Special English.
NATO leaders will meet Sunday and Monday in President Obama's hometown of Chicago, Illinois. Afghanistan will be the top issue at the meeting of the 28 member North Atlantic Treaty Organization.
The United States last hosted NATO leaders in 1999. That was two years before al-Qaida launched attacks on the United States. Those attacks led to the first use of the common defense provision of the North Atlantic Treaty of 1949.
As a result, for more than ten years now, the coalition has directed its attention on Afghanistan. The United States and NATO have about 130,000 troops serving in the International Security Assistance Force, or ISAF.
They plan to withdraw all of those troops by the end of 2014. The Afghan government is supposed to lead the country's security beginning next year. President Obama talked about the change when he flew to Kabul this month to sign an agreement with the Afghan government.
BARACK OBAMA: "International troops will continue to train, advise and assist the Afghans and fight alongside them, when needed. But we will shift into a support role as Afghans step forward."
President Obama is to meet this Sunday with Afghan President Hamid Karzai. Pakistani President Asif Ali Zardari also plans to attend the NATO summit. But President Obama's national security adviser, Tom Donilon, says there are no plans for a private meeting with Mr. Obama.
NATO has identified a support level of four billion dollars a year for Afghanistan. Stephen Flanagan of the Washington-based Center for Strategic and International Studies says the question is who will pay it.
STEPHEN FLANAGAN: "Most allies have not met their pledges to the existing NATO training mission in Afghanistan over the past four years, so their willingness to do so after the ISAF forces are withdrawn, when they are even more dependent on Afghan forces for their security, particularly given the incidents we have seen of late, that is a key question."
The United States has paid an increasing share of the costs of NATO operations. A year ago, Robert Gates, in his last major speech as defense secretary, criticized cuts in European defense spending. He warned of what he called "the very real possibility of collective military irrelevance" for the alliance.
The NATO summit will include France's new president. Francois Hollande was sworn in Tuesday as the first Socialist president in almost 20 years. In Chicago, Mr. Hollande will have to defend plans for an early French troop withdrawal from Afghanistan. He promised during his election campaign to remove troops by the end of this year. Former president Nicolas Sarkozy had announced plans to remove them by the end of 2013.
Charles Kupchan is a NATO expert at the Council on Foreign Relations. He says the leaders in Chicago will once again discuss how to make sure European powers carry their fair share of NATO's military work. Mr. Kupchan says the issue takes on a new importance for several reasons.
CHARLES KUPCHAN: "One is that the United States is pivoting out of Europe, putting more emphasis on the Middle East and East Asia -- our footprint in Europe is going down to about 30,000 troops. Number two, the US is constrained fiscally and its own defense budget is going down. And that makes the US more sensitive to what its partners in the NATO alliance are doing. And then you have the financial crisis in Europe."
Experts say a good example of sharing responsibility was the intervention last year in the Libyan conflict. The Europeans took a leading military role. But they needed a lot of help. And that's IN THE NEWS in VOA Special English. I'm Mario Ritter.
Pakistan eyes US drawdown in Afghanistan
Afghanistan eyes reconstruction
Admiral Mullen: Afghanistan can 'turn' by Obama deadline
(来源:VOA 编辑:旭燕)