On the night of May 30, 1941, Manolis Glezos and a friend secretly tore down the swastika flag from the Acropolis in Athens, an act that inspired the resistance movement across Europe. Now he is fighting for a place in the Greek parliament with the left-wing Syriza coalition.
At 90 years of age, Manolis Glezos is still putting himself on the front line. During anti-government protests in March 2010 and again in February this year, he was tear-gassed by riot police outside parliament.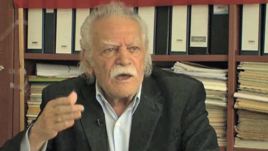 Now Glezos is battling to win a seat in parliament with the left-wing Syriza coalition - where he intends to fight a European Union austerity plan.
"We don't fight [the election] so that we can ascend to power, but so that power is given to the Greek people," said Glezos. "This is what we fight for and this is our goal. The people will decide everything, not us."
The Syriza bloc won 17 per cent of the vote in the first election. The party's rejection of the austerity program the EU and International Monetary Fund imposed in return for financial bailouts has made it a major contender to lead a coalition after the next election in June.
Glezos says the choice between austerity or leaving the euro -- the scenario threatened by countries like Germany - is a "false dilemma".
"At this moment we are not discussing whether we will exit the eurozone or not," he said. "We ask that the powers within the eurozone change their policy toward Greece. And of course the [austerity] Memorandum is not even up for discussion. We will abolish it."
Glezos is well practiced in direct action.
Sixty-one years ago he tore down the swastika flag from the Acropolis with the help of a friend. He was captured by the Nazis in 1942 and tortured in jail.
Glezos spent many more years in prison under Greece's right-wing military junta. Only an international outcry prevented his execution. Glezos says his fight has not ended.
"All these friends... all these friends that I lost, all these comrades told me: 'Don't forget me.' Therefore, in order not to forget them, it is my obligation to participate in this struggle," said Glezos.
His is a remarkable history. But Glezos says he has never seen such rapid changes as those that are now befalling Greece, where the huge government debt threatens the country's economy.
military junta: 军事执政团
Greeks face decisive vote as anti-German sentiment soars
Greek political deadlock fans Eurozone worries
Greeks clean up after riots against austerity vote
G8 summit ends with consensus on Eurozone reforms
(来源:VOA 编辑:旭燕)