This is IN THE NEWS in VOA Special English.
United Nations observers in Syria have visited the site of this week's killings near the city of Hama. Activists said at least 78 people, including women and children, were killed in the village of Mazraat al-Qubeir.
Earlier attempts by observers to enter the village had failed. The UN says gunmen had shot at the unarmed observers and blocked them from investigating.
(SOUND)
A woman who said she lives in the village spoke in an amateur video. She said government-supported militiamen from nearby villages were responsible for the attack.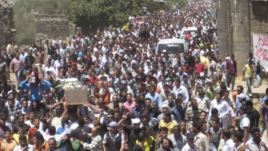 Syrian President Bashar al-Assad has blamed the recent attacks on foreign-supported terrorist groups. These include the killings last month in Houla.
(SOUND)
The violence appeared to intensify across parts of Syria on Friday. Opposition activists reported fresh government attacks in several areas. Large opposition protests also took place around the country.
Peter Harling is an analyst with the International Crisis Group. The group works to prevent and solve conflicts. He says the conflict in Syria will likely move increasingly to Damascus.
PETER HARLING: "What we see now is a looming battle for the big cities -- for the capital in particular. The regime has scored a number of very superficial, symbolic victories in terms of cracking down on armed groups, but without ever being able to hold the ground it regained through these military operations."
In Geneva Friday, the International Committee of the Red Cross called the humanitarian situation in Syria "extremely tense." Spokesman Hicham Hassan said people throughout Syria are finding it more and more difficult to get food and medicine. He said a million and a half civilians need long-term assistance.
HICHAM HASSAN: "People who are being displaced are in need, for example, of bread even. This is something now that is difficult to get for many people who are fleeing or who are still staying or not able or refusing to leave their homes."
A nine-week-old ceasefire is supposed to be in effect. United Nations and Arab League negotiator Kofi Annan met Friday in Washington with Secretary of State Hillary Clinton.
There are fears that the conflict in Syria may be crossing into Lebanon. The neighboring country has yet to recover from its civil war more than 20 years ago. The war split Lebanon along religious lines.
There have been recent clashes between two neighborhoods in Lebanon's second largest city, Tripoli. Two gun battles killed 25 people in Tripoli and then spread to Beirut where two people died.
Many Lebanese Sunni Muslims sympathize with the 15-month-old uprising in Syria. Syria's majority Sunnis have led the uprising.
The Lebanese government has an official policy of neutrality in Syria. But Lebanese Sunnis have been holding weekly demonstrations in Tripoli to protest what they say is support by their government for the Syrian government. The Sunnis are also angry about cross-border raids by Syrian troops.
American University of Beirut Professor Hillal Khashem says he does not believe the Syrian conflict will explode into Lebanon.
HILLAL KHASHEM: "I don't expect the security situation to reach an alarming level because the various factions in the Lebanese political system understand the implications of insecurity."
And that's IN THE NEWS in VOA Special English. I'm Steve Ember.
Observers unable to reach site of killings
Syrian smugglers' operations booming in Jordan
UN's Ban pushes Annan Syria plan
(来源:VOA 编辑:旭燕)