Lawmakers and political advisers have called for legislation that would require micro bloggers to register their real names, and laws that would further safeguard personal information.
Starting from March 16, users must register their real identities on Chinese micro blogs to post messages, according to regulations set by the Ministry of Industry and Information Technology.
But several members of the National People's Congress and the Chinese People's Political Consultative Conference National Committee told China Daily that they want to see the rules made law.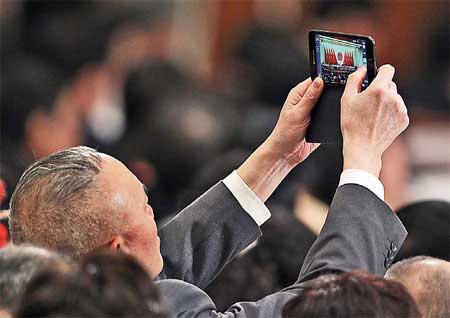 A deputy to the National People's Congress takes a picture during the second plenary meeting of the Fifth Session of the 11th NPC at the Great Hall of the People in Beijing on Thursday morning. [Wu Zhiyi / China Daily]
"Registering real names on micro blogs would curb the spread of rumors and establish online credibility. It is definitely a good thing," said Guo Wei, a CPPCC member and chairman of IT company Digital China Holdings. "But personal information also needs to be protected, so I think China should introduce laws to safeguard Internet information."
China has 513 million Internet users, according to a China Internet Network Information Center report in January. About 300 million are using micro blogs, a massive increase since 2010.
China currently has about 300 million micro-bloggers, says Liu Zhengrong, deputy director of the Internet department of the State Council information office.
There is a noticeable gap between the actual number of micro blog subscribers and the number of micro blog IDs, Liu said. Many subscribers have more than one ID and use dummy IDs to increase the number of micro blog followers or to spread rumors.
Tong Guohua, 54, an NPC deputy and a researcher from Wuhan Research Institute of Posts and Telecommunications, said the Internet as a public communication platform posed risks to netizens' privacy.
His motion declares that in cyberspace where there is no real-name system, anyone can reveal another's private details or slander them, and it is difficult to trace the source.
"The dubious credibility of online news has resulted in a loss of trust. Therefore, identity authentication is a global and necessary trend," Guo said. He explained that the US-based social network company Facebook implemented real-name registration a long time ago.
"A person should take responsibility for his or her behavior, even on the Internet. We need a trustworthy environment," said Yang Yuanqing, a CPPCC member and president of China's largest PC maker, Lenovo Group.
"But even if a netizen uses his or her real name, problems still exist," Tong said.
Tong suggests that to better protect netizens' privacy, more effective legal protection and stricter monitoring are necessary.
In future, online information will not just be micro blog identification but also other personal information, such as social security data, tax status and medical condition, said Xu Xiaolan, head of Beijing CCID Information Technology Testing, a subsidiary of the Ministry of Industry and Information Technology.
She called for the government to introduce legislation that would safeguard the sharing and use of this confidential personal information.
Xu and Guo said that China in effect needed to build a nationwide "e-platform" to manage and regulate the gathering and dissemination of personal information.
Gao Chiyang, executive president of Beijing CCID, said that according to the company's latest research, the online security situation regarding personal information at 105 popular Chinese websites was "not looking good", and on mobile devices was "very serious".
"China's online information security standard will be published this year to help advance legislation," Gao said.
(China Daily)