影片简介: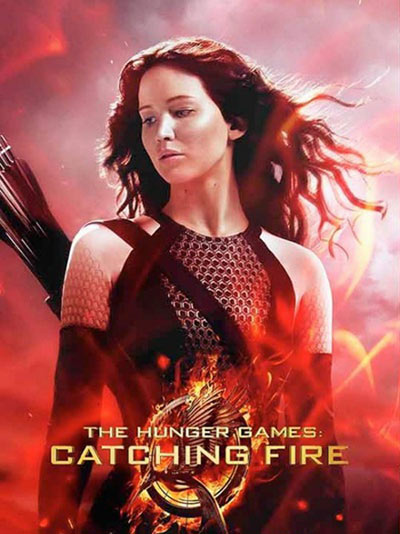 第七十四届饥饿游戏已经结束,凯特尼斯出人意料地活了下来,她和"恋人"皮塔将会过上安定闲适的生活。然而,噩梦才刚刚开始。因为此时,十二个区也暗波涌动,凯特尼斯竟然成了反叛的象征。并且情窦初开的凯特尼斯陷入爱情的纠结中不能自拔,狩猎伙伴盖尔和竞技场"恋人"皮塔让她难以取舍。
盖尔和皮塔都深爱着凯特尼斯,为了不让凯特尼斯痛苦,他们不约而同地冷落疏远她。第七十五届饥饿游戏"世纪极限赛"的赛制是,选手是历届获胜者,他们中只有一人能存活。这就意味着凯特尼斯又将重返杀戮赛场,而皮塔代替了黑密斯重返竞技场。凯特尼斯没有未来,她只有一死,才能挽救皮塔,这是对皮塔深情的最后报答,爱情与友谊,真诚与猜忌,血腥与牺牲,越来越扑朔迷离……
精彩词句学起来:
1. Well, you've now stepped over the line.
这问题有点太深入了。
2. A fairy tale ending for two star-crossed lovers.
这是一对不幸又幸运的恋人。
3. Peacekeepers were gunning them down.
治安官们用枪来镇压他们。
4. I don't want anyone looking to me.
我不想谁对我抱有期望。
5. They won back-to-back games.
他们分别是接连两届比赛的胜者。
6. Let's her get her hands dirty first.
等着看她开始杀人吧。
7. He is a peacock.
他是一个花花公子。
8. I haven't dealt in anything as common as money in years.
我很多年都不用金钱这种庸俗的东西了。
9. He would have blown you to bits then and there.
他应该当场就把你们两个炸成碎片。




精彩对白欣赏:
1. -You saved us. I know that. But I can't go on acting for the cameras, and then just ignoring each other in real life. So if you can stop looking at me like I am wounded, then I can quit acting like that. And then maybe we have a shot at being friends.
-I've never been very good at friends.
-For starters, it does help when you know the person. I hardly know anything about you except that you're stubborn and good with a bow.
-That about sums me up.
-No, there's more than that, you just don't want to tell me.
-It's like I said, I'm…
-See, Katniss, the way the whole friend thing works is you have to tell each other the deep stuff.
2. –Try one of these. They are divine
-No, I can't eat another thing.
-Here.
-What's this?
-It's for when you are full.
-It makes you sick. So you can go on eating.
-How else could you taste everything?
-I think it's time for a dance. Katniss? (music) People are starving in 12. Here, they're just throwing it up to stuff more in.
3. -But she's become a beacon of hope for the rebellion. And she has to be eliminated.
-I agree she should die, but in the right way, at the right time. It's moves and countermoves. And that's all we gotta look at.
4. -How can we live like this? How can anybody live like this?
-It's not living,but…since the last Games, something is different. I can see it.
-What can you see?
-Hope.
-You understand whatever I do comes back to you and mom. I don't want you to get hurt.
-You don't have to protect me or mom. We're with you.
5. -You could live 100 lifetimes and never deserve that boy.
-Come on, Haymitch.
-Nobody decent ever wins The Games.
-Nobody ever wins The Games. Period. They are survivors. There's no winners.
读对白秀口语:
总是发愁口语学不好?不练又怎么会提高?在这里我们节选了电影的精彩片段,供大家欣赏,同时欢迎大家模仿片中对话,并把模仿音频上传到我们的鬼马英语论坛。我们会不定期选出模仿达人,并有精美礼品送出哦!
精彩片段对白:
Mother:Did you have a good walk, dear?
Katniss:Walk? I was just out...
Primrose:We have visitors.
Policeman:Miss Everdeen, this way, please.
Snow:Such bravery. Such spirit. Such...contempt.
Katniss:President Snow. What an honor.
Snow:My dear, I think we can make this so much simpler if we agree not to lie to each other. What do you think?
Katniss:Yes. I think that would save time.
Snow:Sit down, please. I have a problem, Miss Everdeen. A problem that began the moment you revealed those poison berries in the arena. If that Head Gamemaker, Seneca Crane, had had any brains at all, he would have blown you to bits then and there. But here you are. I expect you can guess where he is.
Katniss:Yes, I think so.
Snow:After that fiasco, there was nothing left to do but to let you play out your little scenario. And you were very good. That whole love-crazed, besotted schoolgirl routine. Impressive. Truly. You convinced the people in The Capitol. Unfortunately, not everyone in the districts fell for it. I mean, you can't know this, but in several of them, people views your little trick with the berries as an act of defiance. Not as an act of love. And if a girl from District 12of all places can defy The Capitol and walk away unharmed, what is to prevent them from doing the same? What is to prevent, say, an uprising? That can lead to revolution. And then, in a fraction of time, the whole system collapses.
Katniss:It must be a fragile system if it can be brought down by just a few berries.
Snow:Yes, it is, indeed. But not in the way you imagine it.
Katniss:How should I imagine?
Snow:You should imagine thousands upon thousands of people dead. This town of yours reduced to ashes. Imagine it gone. Made radioactive. Buried under dirt as if it had never existed, like District 13. You fought very hard in The Games, Miss Everdeen. But they were games. Would you like to be in real war?
Katniss:No.
Snow:Good. Neither would I. Did you mother make these?
Katniss:Peeta.
Snow:Oh. He's a lovely boy. Tell me. At what point did he realize the depth of your indifference towards him?
Katniss:I'm not indifferent.
Snow:Don't lie! You promised.
Katniss:Why don't you just kill me now?
Snow:I don't want to kill you. I want us to be friends. But if not friends, then allies.
Katniss:What do I need to do?
Snow:When you and Peeta are on tour, you need to smile. You need to be grateful. But above all, you need to be madly, prepared to end it all in love. You think you can manage that?
Katniss:Yes.
Snow:Yes, what?
Katniss:I'll convince them.
Snow:No, convince me. For you, Miss Everdeen. Do convince me. For the sake of you loved ones.
Effie:Stop! Take it all in. This is sacred ground. History was made here. Oh. You'll get used to the smell. Hello! There she is. My greatest triumph! Our little superstar.
Neighbor A:Sweetie, we've missed you.
Neighbor B:What a cute little house. So quaint, isn't it?
Effie:Of course, you've heard about Cinna?
Katniss:What happened to Cinna?
Effie:Oh, dear, he's a fashion star. You're his muse. Everyone in the Capitol is wearing him. Everyone.
相关阅读
(中国日报网英语点津 实习生 李艳荍 张紫燕 编辑 陈丹妮)