农转非 Change From Rural Residents to Urban Residents
[ 2009-08-27 10:14 ]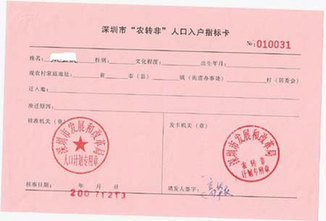 A change in the residential status of people under the household registration system.
Since the household registration system was established in the 1950s, residents were put into two categories, urban and rural, according to where they lived. While urban residents enjoyed relatively better social security as industrial workers, rural residents had to depend on farming for a living.
Rural people could obtain urban registration under special circumstances, like entering universities or becoming army officers. This was difficult to achieve, but viewed as a quick way to a better life, especially in the 1970s and 1980s.
As the country began to reform, so did the household registration system. The supply of commodities became more abundant on the market, and the difference in welfare of urban and rural residents was narrowed.
相关阅读:
基层群众自治制度 System of Community Level Self-Governance
(英语点津 许雅宁编辑)
点击查看更多新闻热词