王毅国务委员兼外长2020年两会记者会(双语全文)
外交部新闻发言人办公室 2020-05-26 09:36
分享到微信 2020年5月24日,十三届全国人大三次会议在人民大会堂举行视频记者会,国务委员兼外交部长王毅就中国外交政策和对外关系回答中外记者提问。
On 24 May 2020, a press conference was held via video link on the margins of the Third Session of the 13th National People's Congress, during which State Councilor and Foreign Minister Wang Yi answered questions from Chinese and foreign media about China's foreign policy and external relations.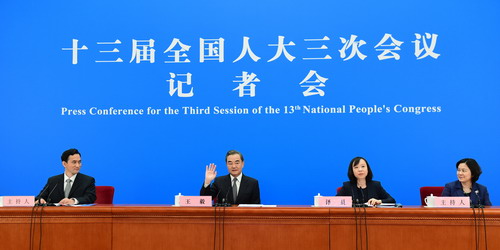 王毅:各位记者朋友,大家好!今年的记者会是在一个特殊的时间节点召开的,世界各国正在奋力抗击新冠肺炎疫情。借此机会,我愿首先向全力拯救生命的各国医护工作者致以崇高敬意,向所有不幸逝去的罹难者表示深切哀悼。同时,我也要向在这场疫情中给予中国理解、关心和帮助的各国政府和人民致以衷心感谢。病毒打不倒人类,人类必将战胜疫情。至暗时刻终将过去,光明已在前方。下面,我愿回答大家的提问。
Wang Yi: Friends from the media, good afternoon. This year's press conference is held at a special time as countries around the world are battling COVID-19. I wish to take this opportunity to salute health workers worldwide who are doing their best to save lives and to mourn the lives tragically lost. I'd also like to say thank-you to all the governments and nations who have given understanding, care and assistance to China in its COVID-19 response. The virus cannot defeat humanity; we will eventually prevail. The darkest hour will pass. Looking ahead, we can see light and hope. With these words, I'm happy to open the floor for questions.
《人民日报》记者:人们从这场疫情可以得到的最重要启示是什么?
People's Daily: What's the most important thing people can learn from COVID-19?
王毅:这场疫情给我们带来的最大启示是:各国人民的生命健康从来没有像今天这样休戚与共、紧密相连;我们也从来没有像今天这样深刻意识到,各国生活在一个地球村,人类实际上是一个命运共同体。
Wang Yi: In my view, the most important thing we could learn from COVID-19 is that the life and health of people in different countries have never been so closely connected. Also, it has never been made so clear to us that all nations live in the same global village and that humanity is in fact a community with a shared future.
病毒不分国界和种族,对全人类发起挑战。政治操弄只会给病毒以可乘之机,以邻为壑只能被病毒各个击破,无视科学只会让病毒乘虚而入。因此,习近平主席多次向全球呼吁,病毒是人类共同的敌人,只有团结起来,才能战而胜之。团结合作是战胜疫情最有力的武器。
The virus respects no borders or races. It poses a challenge to all humans without distinction. Political manipulation will give the virus loopholes to exploit; a beggar-thy-neighbor approach will leave each of us more vulnerable; rejection of science will allow the virus to wreak greater havoc. With this in mind, President Xi Jinping has made the case to the world time and again that the virus is the common enemy of mankind, and that the only way to defeat it is to pull together with solidarity and cooperation, which are the most effective weapons against the virus.
疫情以生命作为代价告诫我们,各国应超越地域种族、历史文化乃至社会制度的不同,携起手来构建人类命运共同体,共同维护好我们人类唯一可以生存的这个星球。而其中一个重要目标,就是加快建设人类卫生健康共同体。中国作为世界上负责任的国家,愿意为此作出自己的贡献。
Having claimed so many precious lives, COVID-19 serves as a stark reminder that countries must rise above differences in geography, race, history, culture and social system. We must work together for a community with a shared future and jointly preserve Planet Earth, the only home we have. One important goal in this regard is to speed up efforts to build a global community of health for all. As a responsible country, China will contribute its share to the realization of this goal.
中国国际电视台记者:受疫情和美国大选影响,中美关系日益紧张。您是否担心中美关系进一步恶化?
China Global Television Network: COVID-19 and the upcoming US presidential election are straining China-US relations. How concerned are you that China's relations with the United States could further deteriorate?
王毅:当前,美国已经成为世界上疫情最严重的国家,每天都有无辜的生命被病毒夺走。对于美国人民遭受的不幸,我们深表同情,由衷希望和祝愿美国人民能够尽快战胜疫情,早日恢复正常生产生活。
Wang Yi: The US has become the worst affected country; with every day that passes, many innocent lives are taken by the virus. I would like to express deep sympathy for what the American people are going through, and our sincere hope and best wishes that they will defeat the virus and resume normal life and work soon.
新冠肺炎疫情是中美两国的共同敌人。相互支持帮助是两国人民的共同心愿。疫情之初,美国很多社团、企业和民众向中国伸出援手。在美国陷入疫情后,中国政府、地方和各界人士也积极回报,向美方捐赠了大量急需的医疗物资。我们还为美方在华采购提供支持和便利,仅口罩一项就向美方出口了120多亿只,相当于为每个美国人提供了将近40只口罩。
COVID-19 is a common enemy for China and the US. Mutual support and assistance are the shared preference of our two peoples. Early on in China's response, many American organizations, companies and citizens extended a helping hand. When the US was hit by the virus, the government, local authorities and people of China reciprocated their kindness, generously donating large quantities of needed supplies. We also supported and facilitated US procurement of medical supplies in China. Take face masks for example. More than 12 billion masks have been exported to the US, which roughly means 40 masks for every American.
但令人遗憾的是,除了新冠病毒的肆虐,还有一种政治病毒也正在美国扩散。这种政治病毒就是利用一切机会对中国进行攻击抹黑。一些政客无视最基本的事实,针对中国编造了太多的谎言,策划了太多的阴谋。最近,人们把这些谎言汇编成册,晒在互联网上公诸于世。如果再有新的谎言,还会继续记录在案。这本谎言录越长,就越拉低造谣者的道德水平,越在历史上留下更多的污点。
It is most regrettable that while the coronavirus is still out there, a "political virus" is also spreading in the US and jumping at any opportunity to attack and slander China. Some politicians ignore the basic facts and make up countless lies and conspiracy theories concerning China. A list of these lies has been compiled and debunked online. New lies will be added to the list. The longer the list, the more it says about how low the rumor-mongers are willing to go and the more stains they will leave in history.
我要在此呼吁:不要再浪费宝贵时间,不要再无视鲜活的生命。中美两国当前最需要做的事情,首先是相互借鉴和分享抗疫经验,助力两国各自的抗疫斗争;第二是顺应国际社会期待,共同参与和推动抗疫多边合作,为全球抗疫发挥积极作用;第三是着眼疫情长期化和防控常态化,及早就如何减少疫情对两国经济以及世界经济的冲击展开宏观政策的协调沟通。
I call on the US side to stop wasting precious time and stop costing people's lives. China and the US need to work together on a number of urgent things. First, we may share our experience and learn from each other's best practices to bolster our respective responses to COVID-19. Second, we must do what the world expects of us, jointly participate in and advance multilateral cooperation against COVID-19 and make active contributions to the global response. Third, while getting prepared for a long fight against COVID-19 and maintaining our ongoing response, we must start to communicate and coordinate our macro-policies to mitigate the impact of COVID-19 on our economies and the world economy.
对于中美关系的现状和前景,中方历来主张,作为世界上最大的发展中国家和最大的发达国家,我们对世界和平与发展都承担着重大责任,应该本着对人类负责、对历史负责、对人民负责的态度,认真对待和妥善处理两国关系。中美合则两利,斗则俱伤,这是从几十年经验教训中得出的最精辟概括,需要双方谨记在心。
As for where we are and where we need to be in China-US relations, our position is consistent. As the largest developing country and the largest developed country, China and the US shoulder great responsibilities for global peace and development. It is imperative for us to seriously and properly handle our relations out of a strong sense of responsibility to humanity, to history and to our peoples. Both China and the US stand to gain from cooperation and lose from confrontation: this best captures what we have learned, positive and otherwise, from the past decades. Both sides should take this lesson to heart.
中美社会制度不同,但这是两国人民各自作出的选择,应当彼此予以尊重。中美之间确实存在不少分歧,但这并不意味着没有合作空间。当今世界上几乎所有全球性挑战,都有待中美两个大国协调应对。
China and the US have different social systems, but this is the result of the different choices made by our people, which we must respect. It's also true that we have many disagreements, but that doesn't preclude cooperation. When you think about the challenges facing today's world, almost all of them require coordination between China and the US.
中方始终愿本着不冲突不对抗、相互尊重、合作共赢精神,与美方共同建设一个协调、合作、稳定的中美关系。同时,我们也必须维护中国的主权和领土完整,维护自身的正当发展权利,维护中国人民历经磨难赢得的地位和尊严。中国无意改变美国,更不想取代美国;美国也不可能一厢情愿改变中国,更不可能阻挡14亿中国人民迈向现代化的历史进程。
China remains prepared to work with the US in the spirit of no conflict or confrontation, mutual respect and win-win cooperation and build a relationship based on coordination, cooperation and stability. At the same time, China will defend its sovereignty and territorial integrity, its legitimate right to development, and its dignity and place in the world which the Chinese people have worked so hard to earn. China has no intention to change, still less replace, the US. It's time for the US to give up its wishful thinking of changing China or stopping 1.4 billion people's historic march toward modernization.
现在要警惕的是,美国一些政治势力正在绑架中美关系,试图将中美关系推向所谓"新冷战"。这种危险的做法是在开历史倒车,不仅会葬送两国人民多年积累的合作成果,也将损害美国自身的未来发展,危及世界的稳定与繁荣。两国各界有识之士都应当站出来予以制止。
It has come to our attention that some political forces in the US are taking China-US relations hostage and pushing our two countries to the brink of a "new Cold War". This dangerous attempt to turn back the wheel of history will undo the fruits of decades-long China-US cooperation, dampen America's own development prospects, and put world stability and prosperity in jeopardy. People with wisdom and foresight on both sides must step forward to stop it.
还是那句话,为了中美两国人民的根本和长远利益,为了人类的未来与福祉,中美双方应当,也必须找到一条不同社会制度、不同文化背景国家在这个星球上和平共存、互利共赢的相处之道。
In short, for the fundamental and long-term interests of the Chinese and American people and the well-being and future of humanity, China and the US should and must find a way of peaceful co-existence and mutually beneficial cooperation, demonstrating that this is possible between two countries with different systems and cultures.
新华社记者:疫情使世界回不到过去,中方如何看待后疫情世界和全球化未来?
Xinhua News Agency: The world may never be the same again after COVID-19. How does China view the post-COVID-19 world and the future of globalization?
王毅:世界当然回不到过去,因为历史在向前迈进。纵观世界发展史,人类正是在与大灾大难的一次次抗争中得到发展和进步的。中方认为,只要各国作出正确选择,坚持正确方向,我们这个世界就一定能够在战胜疫情后迎来更光明的未来。
Wang Yi: The world will certainly not be the same again; history always moves forward. Throughout world history, humanity has progressed by wrestling with one disaster after another. In China's view, if countries make the right choice and stay on the right path, the world will triumph over the virus and embrace a brighter future.
首先,全球化需要更加包容和普惠的发展。全球化是推动世界发展的必然趋势,也是促进人类进步的强大潮流。经济全球化犹如百川汇成的大海,不可能再退缩为相互隔绝的湖泊。拒绝全球化、重拾保护主义,注定没有前途。
First, globalization needs to be more inclusive and beneficial to all. Globalization represents an inevitable trend in the development of the world and a strong tide driving human progress. It has turned the global economy into an ocean, to which every river flows. It's simply not possible to channel the water in the ocean back into isolated lakes. Likewise, attempts to reject globalization and fall back on protectionism will have no future.
我们在坚持资源全球合理配置、确保最佳成本效益的同时,也要更加注意缓解全球化引发的贫富差距扩大、地区发展不平衡等弊端。全球化存在的问题只能在全球化的发展中加以解决。这就需要我们积极引导全球化的走向。习近平主席在2017年达沃斯演讲中就全面阐述了中方对经济全球化的看法,提出应当推动经济全球化朝更加开放、包容、普惠、平衡、共赢的方向发展。今天我们重温这一论断,更加深感其中蕴含的丰富内涵和巨大力量。
Even as we continue to maximize cost efficiency through optimizing global allocation of resources, we must pay more attention to addressing the issues that have accompanied globalization, such as the widening wealth gap and regional imbalances. The solution lies in the further advancement of globalization. This requires us to steer globalization in the right direction. In early 2017, President Xi Jinping gave a speech in Davos in which he comprehensively laid out China's views on economic globalization and called for making it more open, inclusive, balanced and beneficial to all. Three years on, his words are more relevant and inspiring than ever.
第二,多边主义需要更加坚定地维护弘扬。这次疫情用事实证明,不管多么强大的国家,都不可能独善其身。隔岸观火最终会殃及自身,落井下石到头来将信誉扫地。唯我独尊、推卸责任,不仅解决不了自己面临的问题,还会损害其他国家的正当权益。面对越来越频繁的全球性挑战,国际社会唯有奉行多边主义,才能形成合力;只有团结一致,才能共克时艰。
Second, multilateralism must be safeguarded and promoted even more firmly. COVID-19 drives home once again that no country, no matter how strong it is, can insulate itself from a global challenge. When a disaster wreaks havoc, watching from an apparently safe distance and sitting idle will eventually backfire. Pointing fingers at others will only end up damaging one's own reputation. Self-conceit and blame-shifting, instead of helping any country solve its problems, will only hurt other countries' legitimate rights and interests. In the face of mounting global challenges, only multilateralism can bring the world together. And only solidarity can see us through the current difficulties.
第三,全球治理需要更加精准地改革完善。这次疫情暴露出各国公共卫生体系的不足、全球产业链供应链的脆弱以及全球治理能力和治理体系的短板。改革和完善全球治理是国际社会的当务之急。为此,我们必须更充分地发挥联合国的核心作用以及世界卫生组织和各专门机构的应有职责;更有针对性地加强各国宏观政策协调以及治理能力的建设;更坚定地遵循国际法和国际关系基本准则。
Third, global governance needs to be reformed and improved where it is most lacking. COVID-19 has exposed weaknesses in national public health systems, the fragility of the global industrial and supply chains, and deficiencies in our global governance capacity and system. It calls for urgent improvement and reform of global governance. The United Nations must play a central role; WHO and other UN specialized agencies must be able to perform their mandates without hindrance. All countries must intensify macro-policy coordination where appropriate and strengthen governance capacity. And we must redouble our commitment to international law and the basic norms of international relations.
世界回不到过去,中国同样也不会停下前进的脚步。经此一役,中国的社会制度和治理能力经受住了全面检验,国家综合实力得到了充分彰显,大国担当作为发挥了应有作用。疫情过后,中国经济必将更加坚韧有力,中华儿女必将更加团结一心,中国人民必将更加坚定地走中国特色社会主义道路,中华民族实现伟大复兴的历史进程必将更加势不可挡。
The world will never be the same again, and China will never stop moving forward. COVID-19 has been an all-round test on China's social system and governance capacity. China has stood the test, displayed its composite national strength and shown itself to be a responsible major country. After COVID-19, our economy will emerge stronger and more resilient, our people more united and confident in socialism with Chinese characteristics, and our nation more unstoppable in its march toward rejuvenation.
今日俄罗斯国际通讯社记者:您如何评价疫情发生以来的中俄关系?是否同意有人认为中俄将联手挑战美国的领先地位?
RIA Novosti: How do you assess China-Russia relations in the context of COVID-19? Do you agree with some people's characterization that China and Russia may join force to challenge US predominance?
王毅:中方对俄罗斯疫情高度关注,已经并将继续为俄方抗疫提供一切可能的支援。我相信,在普京总统领导下,坚韧不拔的俄罗斯人民一定能够战胜疫情,伟大的俄罗斯民族也一定能在疫情后焕发新的活力。
Wang Yi: While closely following the COVID-19 response in Russia, we have done and will continue to do everything we can to support it. I believe under the leadership of President Vladimir Putin, the indomitable Russian people will defeat the virus and the great Russian nation will emerge from the challenge with renewed vigor and vitality.
疫情发生以来,习近平主席同普京总统多次通话,在主要大国中保持了最紧密的高层沟通。俄罗斯是第一个派遣防疫专家代表团来华的国家,中国是向俄罗斯提供抗疫物资支持最有力的国家。双边贸易逆势增长,中方自俄进口增速在中国主要贸易伙伴中排名第一。面对个别国家的无理攻击与抹黑,双方相互支持,彼此仗义执言,成为"政治病毒"攻不破的堡垒,体现了中俄高水平的战略协作。
Since the start of COVID-19, President Xi Jinping and President Putin have had several phone calls and kept the closest contact between two world leaders. Russia is the first country to have sent medical experts to China, and China has provided the most anti-epidemic assistance to Russia. Two-way trade has gone up despite COVID-19. Chinese imports from Russia have grown faster than imports from China's other major trading partners. The two countries have supported and defended each other against slanders and attacks coming from certain countries. Together, China and Russia have forged an impregnable fortress against the "political virus" and demonstrated the strength of China-Russia strategic coordination.
我毫不怀疑,中俄共同抗疫的经历,将转化为疫情后中俄关系提速升级的动力。中方愿同俄方携手化危为机,稳定能源等传统领域合作,办好"中俄科技创新年",加快开拓电子商务、生物医药、云经济等新兴领域,为疫情后两国经济复苏打造新的增长点。中方也愿同俄方以纪念联合国成立75周年为契机,坚定维护二战胜利成果,坚定捍卫联合国宪章和国际关系基本准则,坚决反对任何单边霸凌行径,不断加强在联合国、上合、金砖、二十国集团等国际机制中的协调合作,共同迎接百年变局的新一轮演变。
I have no doubt that the two countries' joint response to the virus will give a strong boost to China-Russia relations after COVID-19. China is working with Russia to turn the crisis into an opportunity. We will do so by maintaining stable cooperation in energy and other traditional fields, holding a China-Russia year of scientific and technological innovation, and accelerating collaboration in e-commerce, bio-medicine and the cloud economy to make them new engines of growth in our post-COVID-19 economic recovery. China and Russia will also enhance strategic coordination. By marking the 75th anniversary of the UN, we stand ready to firmly protect our victory in WWII, uphold the UN Charter and basic norms of international relations, and oppose any form of unilateralism and bullying. We will enhance cooperation and coordination in the UN, SCO, BRICS and G20 to prepare ourselves for a new round of the once-in-a-century change shaping today's world.
只要中俄肩并肩站在一起,背靠背密切协作,世界和平稳定就会有坚实保障,国际公平正义就能得到切实维护。
I believe that with China and Russia standing shoulder-to-shoulder and working back-to-back, the world will be a safer and more stable place where justice and fairness are truly upheld.
中国日报网英语点津版权说明:凡注明来源为"中国日报网英语点津:XXX(署名)"的原创作品,除与中国日报网签署英语点津内容授权协议的网站外,其他任何网站或单位未经允许不得非法盗链、转载和使用,违者必究。如需使用,请与010-84883561联系;凡本网注明"来源:XXX(非英语点津)"的作品,均转载自其它媒体,目的在于传播更多信息,其他媒体如需转载,请与稿件来源方联系,如产生任何问题与本网无关;本网所发布的歌曲、电影片段,版权归原作者所有,仅供学习与研究,如果侵权,请提供版权证明,以便尽快删除。