Par excellence? 出类拔萃
中国日报网 2020-06-12 17:59
分享到微信 Reader question:
Please explain this sentence and "par excellence": The moon-god is par excellence the god of nomadic peoples, their guide and protector at night when, during a great part of the year, they undertake their wanderings, just as the sun-god is the chief god of an agricultural people.

My comments:
Nomads are people who move like migrating birds. They move in search of greener pastures, so to speak. And a lot of times they move at night, when they don't have the scorching sun to deal with. That's why nomadic peoples worship the moon like no other. To them the moon-god is what the sun-god is to agricultural people, people who grow crops and stay in the same place year after year.
Hence the statement that the moon-god is par excellence the god of nomadic peoples. In other words, the moon-god is in a class of its own, more revered than all other gods.
Par excellence? That's actually French in origin, literally by excellence, by the standard of excellence; par meaning by, as in Par Avion, by airplane.
The young generation no longer sent love letters by mail and so may be excused for not knowing what "Par Avion" is about; It's, writ large, on many envelops. Used to be the case, at any rate, in the not too distant past, 1990s, for instance.
Anyways, par excellence means by the standard of excellence, excellence being the adjective form of excel and excellent. We talk of performances that are excellent and we talk of people who excel in sports and other walks of life. And when we do that, we mean to say that the said performance or person is better than anyone else.
Hence and therefore, and in short, par excellence means better or more than all others, all others, that is, of the same kind.
In our example, the moon-god lords it over all other gods. It's more revered and more honored and loved than other such deities.
All right?
All right. Oh, do not use "par excellence" in your own writing – unless you know exactly what you're doing. After all, "par excellence" is formal language and it is, don't forget, French in origin.
If you have to use it, make sure you are using it in a formal setting and make sure that as adjective it follows a noun. For example, say a good cook is a chef par excellence or a politician is one par excellence.
Never say someone is a par excellence chef or somebody is a par excellence politician. No, it doesn't sound right.
You may say, though, that the chef is par excellence or that the politician is par excellence in honesty.
Odd? Well, after all, par excellence is French.
Here are "par excellence" examples in the media:

1. An actor par excellence, Pankaj Kapoor has been around since the early days of soaps and comedy shows on television in the country. Generations who have grown on Karamchand and Zabaan Sambhaal Ke are still hooked on his Office Office, currently running on Sabe TV.

Although largely identified with comedy, the hugely talented actor has regularly shunned mainstream cinema for fear of being slotted. He is choosy about the characters he has to portray and is a self-acknowledged stickler for perfection. Despite his stellar performances and the awards these have drawn, Kapoor has always shied away from the limelight, preferring his work to speak for him instead. Hetal Adesara spent time with Kapoor between shoots to find out what makes the actor tick. Excerpts -
What brought you to acting?
I completed my engineering course in 1973 where I topped my college before joining the National School of Drama and bagging the 'Best Actor Award' in 1976. I did theatre for four years till a point when Gandhi came my way. I was to play Gandhiji's second secretary in the movie and my character was called Pyarelal. In the same movie I also dubbed for Ben Kingsley. I have worked in over 74 plays and a score of movies and television serials. As a director, I have serials and plays like Mohandas B.A.L.L.B, Wah Bhai Wah, Sahabji Biwiji Ghulamji and Drishtanth, Kanak Di Balli, Albert's Bridge and Panchvan Savaar to my name.

Are you a method actor or do you go by your instincts?
In our country, people do not understand the term "method actor" and they don't know much about it. In India, actors who wanted to find out more about the characters they were going to play were termed as method actors! This is a completely wrong way of looking at it. Every actor has a way of working. Those actors who speak only the lines given to them are surface performers who by a stroke of good luck have become successful. Actually, the term method actor comes from a book An Actor Prepares written by a Russian actor-director Stanis Lewesky, in which he writes about how he prepares for a part and that is what is called method acting. In our country people use this term very loosely.
...
What is your dream role?
There is no specific role that I have in my mind as a dream role. I would like to play different kinds of people. I believe in projecting people as they are and not presenting a fantasized version of human beings.

How do you perceive the television industry as a medium?
It is a great medium but unfortunately since the last couple of years what is being show on television has appalling content and is very mediocre. Television has been converted into a dwarf brother of the hard-core commercial cinema. It is a version of a pale kind of bad commercial cinema.
- "TV today is a paler version of bad commercial cinema": Pankaj Kapoor, IndianTelevision.com, October 13, 2002.

2. Henri Belolo, who was a co-founder of the Village People and co-wrote a number of hit songs, died at age 82.
Belolo died Saturday, with the death announced by Scorpio Music on Wednesday. No further details about the cause of death or location were provided.
The French producer was born in Casablanca, Morocco, in 1936. In his 20s, he moved to Paris where he began work in the music industry as a DJ and music producer. In 1973 he moved to the United States, partnering with fellow Moroccan Jacques Morali. He and Morali frequented the club scene during the 1970s and helped fuel the disco movement.
Despite not being gay like his colleague, Belolo saw an opportunity in the club scene and he and Morali assembled the six-person band Village People, who were known for their flamboyant and over-the-top costumes that included a construction worker, biker, cowboy, sailor, American Indian, and a police officer.
The group spun out hits with Belolo's help, including memorable hits such as YMCA, In the Navy, and Macho Man. Belolo was approached by the Pentagon to use In the Navy as a recruiting jingle, and Belolo agreed to license the tune to the Navy in exchange for filming a music video. In 1979, the group filmed the video dancing aboard a Knox-class frigate in San Diego.
Lead singer of the group, Victor Willis, told Rolling Stone in a statement that a private funeral was already held in Paris but that there are plans for a public memorial service.
"I am devastated by the untimely death of Henri Belolo who was my former producer, mentor and co-creator of Village People," Willis said. "Henri who actually died on August 3, 2019, leaves an impressive body of work that helped shape the disco genre, and as a record executive, he was par excellence."
- Village People founder who co-wrote YMCA and In the Navy dies at 82, WashingtonExaminer.com, August 08, 2019.

3. According to the Independent, Manchester United legend Ryan Giggs has been awarded the 'one-club man' award by La Liga side Athletic Bilbao.
The Welshman was awarded the honour for his loyalty and commitment to United. One of United's most decorated players, Giggs served the club for 24 years, making 963 appearances.
The award was started by Athletic in 2015 to commend those who spent the entirety of their playing careers with one team.
Athletic are famous for their Basque-only policy. The club only signs players who hail from the Basque region and therefore, rely heavily on players developed through their youth system.
The likes of Aymeric Laporte, Fernando Llorente, Javi Martinez and former Red Ander Herrera all came through the famed system.
In a statement made by Athletic's official site, Giggs has been described as a player par excellence.
- Man United legend receives prestigious award from La Liga club, June 4, 2020.
本文仅代表作者本人观点,与本网立场无关。欢迎大家讨论学术问题,尊重他人,禁止人身攻击和发布一切违反国家现行法律法规的内容。
About the author: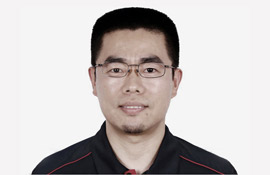 Zhang Xin is Trainer at chinadaily.com.cn. He has been with China Daily since 1988, when he graduated from Beijing Foreign Studies University. Write him at: zhangxin@chinadaily.com.cn, or raise a question for potential use in a future column.
(作者:张欣 编辑:丹妮)
中国日报网英语点津版权说明:凡注明来源为"中国日报网英语点津:XXX(署名)"的原创作品,除与中国日报网签署英语点津内容授权协议的网站外,其他任何网站或单位未经允许不得非法盗链、转载和使用,违者必究。如需使用,请与010-84883561联系;凡本网注明"来源:XXX(非英语点津)"的作品,均转载自其它媒体,目的在于传播更多信息,其他媒体如需转载,请与稿件来源方联系,如产生任何问题与本网无关;本网所发布的歌曲、电影片段,版权归原作者所有,仅供学习与研究,如果侵权,请提供版权证明,以便尽快删除。