Have a platform? 有话语权
中国日报网 2020-06-05 15:03
分享到微信 Reader question:
Please explain "have a platform" in this sentence: Celebrities who have a platform should speak out (against social injustice).

My comments:
Celebrities, first of all, are famous people, people who are well known, people who are celebrated, i.e. widely admired, renowned.
Platform, on the other hand, is literally a raised floor used by public speakers or performers so that they can be seen by their audience. The stage on which actors perform in the theater, for example, is a typical platform. The actors have the platform. The audience down the stage don't have that platform. In other words, they don't have the visibility, along with the privilege of speaking to the audience or showing off their skills.
And the better the actors are, the bigger the stage they usually have. Away from theater, anyone who has an audience or following can be described as having a platform. For example, if you have 200,000 followers on WeChat, you have a platform. That's not suggesting you are using your platform in a socially constructive manner, but if you want to, and you should want to, you have a platform to do so. You may, for example, use your WeChat messages to advocate for recycling or for equal pay between men and women for equal jobs.
Anyways, to say celebrities have a platform is to acknowledge that they have this stage to do what they can do and say what they want to say - with a lot of people watching and listening to them. In other words, they have the power to influence. Their loyal fans and followers are always ready to listen to their words and tend to follow their footstep.
Hence, if a celebrity speaks out on the issue of social injustice, a lot of people will listen and together they may be able to make a difference.
Therefore, "celebrities who have a platform should speak out (against social injustice)" translates to this: those who have an opportunity to speak out should actively do so, taking full advantage of their celebrity status in order to effect change.
Change for the better, that is.
All right, here are media examples of people who have or don't have a platform, figuratively speaking:
1. Editor's note: This is a transcript from 49ers quarterback Colin Kaepernick's media session Sunday Aug. 28, 2016 – his first public appearance since telling NFL Media why he decided to sit during the national anthem during the first three preseason games.
Questions are in italics.
Colin Kaepernick: People don't realize what's really going on in this country. There are a lot things that are going on that are unjust. People aren't being held accountable for. And that's something that needs to change. That's something that this country stands for freedom, liberty and justice for all. And it's not happening for all right now.
Is this something that's evolved in your mind?
CK: It's something that I've seen, I've felt, wasn't quite sure how to deal with originally. And it is something that's evolved. It's something that as I've gained more knowledge about, what's gone in this country in the past, what's going on currently. These aren't new situations. This isn't new ground. There are things that have gone on in this country for years and years and have never been addressed, and they need to be.
Will you continue to sit?
CK: Yes. I'll continue to sit. . . I'm going to continue to stand with the people that are being oppressed. To me this is something that has to change. When there's significant change and I feel like that flag represents what it's supposed to represent, this country is representing people the way that it's supposed to, I'll stand.
There's a lot of things that need to change. One specifically? Police brutality. There's people being murdered unjustly and not being held accountable. People are being given paid leave for killing people. That's not right. That's not right by anyone's standards.
So many people see the flag as a symbol of the military. How do you view it and what do you say to those people?
CK: I have great respect for the men and women that have fought for this country. I have family, I have friends that have gone and fought for this country. And they fight for freedom, they fight for the people, they fight for liberty and justice, for everyone. That's not happening. People are dying in vain because this country isn't holding their end of the bargain up, as far as giving freedom and justice, liberty to everybody. That's something that's not happening. I've seen videos, I've seen circumstances where men and women that have been in the military have come back and been treated unjustly by the country they have fought for, and have been murdered by the country they fought for, on our land. That's not right.
Do you personally feel oppressed?
CK: There have been situations where I feel like I've been ill-treated, yes. This stand wasn't for me. This stand wasn't because I feel like I'm being put down in any kind of way. This is because I'm seeing things happen to people that don't have a voice, people that don't have a platform to talk and have their voices heard, and effect change. So I'm in the position where I can do that and I'm going to do that for people that can't.
- Transcript: Colin Kaepernick addresses sitting during national anthem, USAToday.com, August 28, 2016.

2. Cleveland Cavaliers forward LeBron James spoke earlier in the year of how, as a global superstar and sports icon, he has "a voice" and "platform" that can be used to "lead" others and call out "injustice" in the world.
James cited himself as someone whom others can look to when "their voice isn't powerful" in a July 20, 2019 interview with SportsCenter:
"I have a voice, I have a platform and I have so many kids … and not only kids but also adults and everyone who kind of look for guidance and look for someone to lead them at a time when their voice isn't powerful," he told the network.
"When you see something that's unjust, or you see something that's wrong or you see something that's trying to divide us as a race or as a country, I feel like my voice can be heard and can speak volumes," James continued.
LeBron James: 'I Have A Platform' To Speak Out Against 'Something That's Unjust', DailyCaller.com, October 15, 2019.

3. The college basketball season has not been this irrelevant to an upcoming NBA draft in a long time. Since the one-and-done era began in 2006, almost every American prospect has played in the NCAA. Those days are coming to an end.
In the past few years, several players have skipped college without harming their NBA stocks. In 2019, the trickle of prospects taking an unconventional path to the league turned into a flash flood. It's no longer just less-heralded ones projected to go in the back half of the draft. Now the best players are doing it, too.
As many as four of the top five picks in the 2020 NBA draft could already be done playing college basketball. Two—LaMelo Ball and R.J. Hampton—never played at all; they went to Australia as part of the NBL's Next Stars Program. James Wiseman played only three games at Memphis before his season was short-circuited by eligibility issues. And Cole Anthony injured his knee after playing just nine games at UNC. He's expected to miss at least another month, but there's no guarantee that he'll return when he's healthy.
...
The NBL, based in Australia and New Zealand, is trying to make going overseas much more viable. Terrance Ferguson, who was taken by the Thunder with the no. 21 pick in 2017, was the first to play in the Next Stars Program. And now Hampton and Ball are seeing their draft stocks rise there. The NBL has a couple of things working in its favor for players waiting out the one-and-done rule. It occupies a middle ground in terms of level of play among international leagues. It's one step below Europe, where many teams can't afford to develop a teenager, and above China, where elite prospects aren't challenged enough. There's also less of a culture and language gap for American teenagers in Australia than almost anywhere else in the world.
After a winding journey through the basketball underworld, LaMelo needed a platform to showcase his game in a professional setting. In the NBL, he's averaging a near triple-double (17.1 points, 7.5 rebounds, and 7.0 assists) this season for the Illawarra Hawks and showing a well-rounded skill set for a 6-foot-7 point forward. There are still red flags in his profile in terms of his funky shooting mechanics and poor shooting percentages, but he has put himself in the running to be the no. 1 pick.
- There's No Right Way to Enter the NBA Draft Anymore, TheRinger.com, December 31, 2019.
本文仅代表作者本人观点,与本网立场无关。欢迎大家讨论学术问题,尊重他人,禁止人身攻击和发布一切违反国家现行法律法规的内容。
About the author: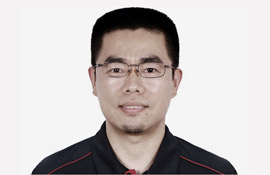 Zhang Xin is Trainer at chinadaily.com.cn. He has been with China Daily since 1988, when he graduated from Beijing Foreign Studies University. Write him at: zhangxin@chinadaily.com.cn, or raise a question for potential use in a future column.
(作者:张欣 编辑:丹妮)
中国日报网英语点津版权说明:凡注明来源为"中国日报网英语点津:XXX(署名)"的原创作品,除与中国日报网签署英语点津内容授权协议的网站外,其他任何网站或单位未经允许不得非法盗链、转载和使用,违者必究。如需使用,请与010-84883561联系;凡本网注明"来源:XXX(非英语点津)"的作品,均转载自其它媒体,目的在于传播更多信息,其他媒体如需转载,请与稿件来源方联系,如产生任何问题与本网无关;本网所发布的歌曲、电影片段,版权归原作者所有,仅供学习与研究,如果侵权,请提供版权证明,以便尽快删除。