Out of hand? 立即
中国日报网 2020-10-16 16:39
分享到微信 Reader question:
Please explain "out of hand" in this headline (Yahoo.com, August 22, 2020):
Pence Claims He Doesn't 'Know Anything' about QAnon, Dismisses It 'Out of Hand'.
My comments:
"Out of hand" means immediately, without hesitation. This means Pence, Vice President of the United States, doesn't entertain conspiracy theories, which is what QAnon is about in a nutshell. He said doesn't believe them. He said he doesn't have time for them.
I have dug out the story, as follows, to enable us to have a closer look (The story was originally published by National Review, a conservative magazine and website):
Vice President Mike Pence said Friday that he doesn't "know anything about" the QAnon conspiracy theory and that he dismisses it "out of hand" while denying having heard President Trump's recent embrace of its followers.
On Friday morning CNN's John Berman questioned the vice president on the conspiracy theory, which claims Trump and his allies are secretly working to expose a deep-state ring of child sex traffickers. While the theory was labeled a domestic terrorism threat by the FBI last year and many Republicans have publicly denounced it, Trump and Pence have been largely uncritical of the movement.
Pence claimed to have no knowledge of QAnon, saying he had no time for conspiracy theories as he heads the White House's coronavirus task force. When asked if he would denounce QAnon specifically, Pence said only, "I dismiss conspiracy theorists out of hand."
All right. That helps. Still, what's QAnon? Well, in not so many words, according to USAToday.com (July 22, 2020), "QAnon is a growing, yet baseless, conspiracy theory that falsely alleges the existence of a satanic 'deep state' apparatus that supports a child sex trafficking ring."
Without delving further into it, let me just point out why Pence's position regarding QAnon is important, or newsworthy. Pence's positon is different from that of President Donald Trump, that's why. President Trump's position, by the way, is that whoever they are, if they support Trump, they're welcome. The same National Review story reports:
President Trump on Wednesday had said he didn't "know much about the movement other than I understand they like me very much, which I appreciate."
All right, let's get back to the idiom "off the hand".
Phew! All the politics above has been getting in our way, hasn't it?
Anyways, if we reject an idea or something else "off the hand", it means we do it readily, without hesitation, in the same way a magician produces a card "out of hand", immediately and seemingly without effort or difficulty.
The origin of "off the hand" is unclear, but I think the picture of a magician producing a card "out of hand" may help, in the same way that a magician effortlessly produces a pigeon "off the cuff", or from "up their sleeve".
Off the cuff?
Yeah, that's a similar expression meaning almost exactly the same.
Up their sleeve?
All right, no more explanation, because further explanation seems to only lead to more questions. Let's stop here before the situation really gets "out of hand", which, by the way, means something quite different. To wit, out of control.
Here are media examples of "out of hand" in the immediate and unhesitating sense:

1. Liberals were dancing on what they saw as the tea party's grave after Jim DeMint, one of its champions, decided to quit the Senate and take the Heritage Foundation's top job. But although 2012 has been, at best, a mixed bag for the tea party, the movement isn't dead.
The first test of its vitality comes as Washington tries to deal with the nation's short- and long-term budget and debt crises, issues that top the tea-party agenda.
Anti-tax hardliner Grover Norquist predicts a tea-party revival if the U.S. goes over the so-called fiscal cliff this month, which would happen if President Obama and Congress can't reach agreement by Dec. 31 on how to avert the mandated tax increases and across-the-board spending cuts. Polls show that most Americans would blame Republicans more than the president -- but most of those voters don't live in House Republican districts.
"I don't see any dilution in the enthusiasm and determination" of tea-party supporters around the country, said Sal Russo, a veteran California political consultant and chief strategist of Tea Party Express. In Washington, "the tea party is probably stronger in the House today than it was before."
The vast majority of House Republicans have little incentive to favor compromise with Democrats, at least in terms of their own survival. Only six (out of 234 in the new House) will represent districts where the electorate leans Democratic, according to David Wasserman of the Cook Political Report.
...
To the extent that they, and others, edge away from the tea-party base, space could open up for a purist tea-party contender. DeMint hasn't ruled out a 2016 run. And though at least one person close to him played down that possibility on the day he announced his resignation, Republicans in the earliest presidential states didn't dismiss the idea out of hand.
Iowa's Republican National Committeeman, Steve Scheffler, said that if DeMint were to run for president, "he'd have some support out here." Added the social-conservative activist: "He certainly would be high on my list."
- Tea party isn't dead by any means, LATimes.com, December 7, 2012.

2. President Donald Trump escalated his ongoing attacks on the mail-in voting process Thursday, suggesting in a tweet that the November election should be delayed.
The statement came five days before Michigan's primary election, which will be marked by a huge number of absentee ballots because of fears of spreading coronavirus at polling places. It garnered a massive and immediate backlash from Republicans and Democrats, including Michigan Gov. Gretchen Whitmer.
"It's clear that the president is more focused on his chances in the 2020 election than on protecting families from a virus that has killed more than 150,000 Americans," said Whitmer, a Democrat. "The truth is that mail-in absentee voting is safe, simple, and patriotic — so much so that the president and more than a dozen of his closest advisers have done it."
Hours later, Trump appeared to backpedal on the date change, but not the attacks on mail-in voting.
"Do I want to see a date change? No," Trump said at the White House. "But I don't want to see a crooked election."
Trump posted the tweet Thursday morning after railing against mail-in voting — which is the same as absentee voting, despite the president's claims to the contrary — on Wednesday. In it, he said, "With Universal Mail-In Voting (not Absentee Voting, which is good), 2020 will be the most INACCURATE & FRAUDULENT Election in history."
"It will be a great embarrassment to the USA. Delay the Election until people can properly, securely and safely vote???"
...
Republicans who were asked about the president's remarks appeared to dismiss the idea out of hand.
Speaking on Fox News, Sen. John Barrasso, R-Wyoming, said, "We will not delay the election." U.S. Rep. Adam Kinzinger, R-Ill., said in a tweet, "Election dates are set by Congress. And I will oppose any attempts to delay the #2020Election." Senate Judiciary Chairman Lindsey Graham, R-S.C., said delaying the election "probably wouldn't be a good idea."
But, for some, the damage has already been done by undermining confidence in the election.
U.S. Rep. Andy Levin, D-Bloomfield Township, said he expects more to come. "We are in the midst of a dystopian nightmare caused by the greatest failure of executive leadership in the modern history of the presidency. Given Trump's poll numbers, I'm afraid we can expect a lot more efforts to sow fear, confusion and conspiracy theories."
- Gov. Whitmer, cast of others blast President Trump over suggestion to delay election, FreeP.com, July 30, 2020.

3. Just what the nation needs: a looming government shutdown.
As though the ongoing global pandemic that closed large swaths of the economy and cast millions into the ranks of the unemployed weren't bad enough, Congress is again staring straight into the face of a possible shutdown of much of the federal government. Without both houses of Congress agreeing on a spending plan that can be signed by President Donald Trump, much of the federal government will begin to be shuttered at midnight on Sept. 30.
To be sure, a shutdown isn't a sure thing, but on Monday, soon after House Democrats released their plan to fund operations into early December, Senate Majority Leader Mitch McConnell said it didn't stand a chance in the upper chamber.
And here we go again.
House Democrats, led by Speaker Nancy Pelosi, of California, want to keep the government operating past the election and into December, before the Christmas and New Year holidays. What they don't want is to plow a ton of federal money -- taxpayer funds, one might otherwise say -- into bailing out Midwestern farmers who've been hurt by Trump's trade war. Is that so unreasonable?
In the eyes of Kentuckian McConnell, apparently.
And so, it's time for yet another version of no one's favorite Washington, D.C., thriller: "Shutdown Chicken, Part XXVII." Or maybe it's Part XXVIII. After all, it's easy to lose track.
While normal people -- Republicans and Democrats alike -- had been hoping that lawmakers might actually consider a new coronavirus relief package, the Congress is instead on the verge of shuttering the federal government. Once again.
There's a word for this kind of governance: "nincompoopery."
If McConnell doesn't like the House's chosen path -- a short-term spending plan that will let the nation get past the election and past Thanksgiving without some needless interruption -- he can marshal his forces to fight against an extension of same come December. After agreeing to the bill -- the not-unreasonable bill -- that comes to the Senate. But to reject it out of hand is flat out wrong.
Pelosi correctly sees the money for Midwestern farmers as Trump's effort to buy the votes of those hurt by his ill-conceived trade policies. As such, she's rightly balking.
There's one easy way out of this jam: McConnell should suck it up, let the Senate pass the House bill, and move on.
- Government shutdown fight won't benefit the citizenry, MassLive.com, September 22, 2020.
本文仅代表作者本人观点,与本网立场无关。欢迎大家讨论学术问题,尊重他人,禁止人身攻击和发布一切违反国家现行法律法规的内容。
About the author: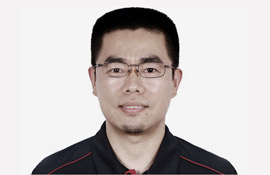 Zhang Xin is Trainer at chinadaily.com.cn. He has been with China Daily since 1988, when he graduated from Beijing Foreign Studies University. Write him at: zhangxin@chinadaily.com.cn, or raise a question for potential use in a future column.
(作者:张欣 编辑:丹妮)
中国日报网英语点津版权说明:凡注明来源为"中国日报网英语点津:XXX(署名)"的原创作品,除与中国日报网签署英语点津内容授权协议的网站外,其他任何网站或单位未经允许不得非法盗链、转载和使用,违者必究。如需使用,请与010-84883561联系;凡本网注明"来源:XXX(非英语点津)"的作品,均转载自其它媒体,目的在于传播更多信息,其他媒体如需转载,请与稿件来源方联系,如产生任何问题与本网无关;本网所发布的歌曲、电影片段,版权归原作者所有,仅供学习与研究,如果侵权,请提供版权证明,以便尽快删除。