Up in the air? 悬而未决
中国日报网 2021-07-09 12:48
分享到微信 Reader question:
Please explain "up in the air", as in this sentence: People's international travel plans are still up in the air.

My comments:
This means people haven't made a firm plan yet as to where to visit internationally. They may have a faint idea of all the beautiful places they want to see abroad, but they don't know exactly where to go and when.
Not yet.
"Up in the air" means it's unsettled.
Unsettled as the dust in the air is unsettled. Indeed, when the proverbial coronavirus dust is settled, and when travel restrictions are all lifted, people will have a clearer idea.
When the dust is settled is also an idiom meaning that when things clear up, we'll know what to do. Imagine, for example, that you're being swarmed in a sandstorm. What are you going to do? Well, probably nothing. You'll probably hide indoors and wait for the sandstorm to pass… wait for all the dust in the air to settle (fall to the ground).
Until that happens, everything is still up in the air. Anything can happen. Yet, nothing is certain. Nothing is settled or finalized.
In our example, with the Delta variant of the coronavirus raging on in some areas and with a lot of people still unvaccinated in others, people's travel plans remain an unresolved issue.
In other words, people are unsure, undecided, full of uncertainty.
All right?
All right, here are media examples of things that are (still) up in the air:

1. The Uber test driver who was responsible for monitoring one of the company's self-driving cars that hit and killed a pedestrian in 2018 was charged with negligent homicide this week.
Rafaela Vasquez was watching television on her smartphone when the Uber self-driving vehicle struck Elaine Herzberg, who was crossing a road in Tempe, Arizona, according to a National Transportation Safety Board investigation. It was the first fatality involving a fully autonomous vehicle.
Vasquez pleaded not guilty to the charge, according to the Maricopa County Attorney's Office, and the court ordered her released with ankle monitoring. Vasquez's attorney did not immediately respond to a request for comment.
The NTSB investigation released in November 2019 concluded that the crash was caused because Vasquez was distracted by her phone, and that Uber's inadequate safety culture contributed to the crash. Furthermore, the NTSB found that Uber's system could not correctly classify and predict the path of a pedestrian crossing midblock, which occurred in the incident involving Vasquez.
Uber had also deactivated a forward collision warning and automatic emergency braking system on the Volvo, according to the NTSB. Uber made revisions to its program following guidance from the NTSB.
"Over the last 20 months, we have provided the NTSB with complete access to information about our technology and the developments we have made since the crash," Uber's Nat Beuse, who leads self-driving safety efforts, said in a statement at the time. "While we are proud of our progress, we will never lose sight of what brought us here or our responsibility to continue raising the bar on safety."
A grand jury in Maricopa County, Arizona charged Vasquez with the felony long after Uber had been cleared of any potential charges. In March 2019, the Yavapai County Attorney's Office concluded there was no basis for criminal liability against Uber. It declined to detail how its decision was made, or answer any questions on the case. Uber also declined to comment.
Liability questions surrounding self-driving cars continue to be up in the air, but experts say this case is unlikely to set a significant precedent for the future of self-driving laws, given the circumstances.
Vasquez was an Uber employee who was supposed to be monitoring the vehicle's performance, and taking control if necessary for safety's sake. If self-driving vehicles go mainstream, there won't be test drivers behind the wheel, and experts expect companies to be liable for crashes. Some companies are developing vehicles without human controls, making it impossible for passengers to control a vehicle.
- Uber self-driving car operator charged in pedestrian death, CNN.com, September 18, 2020.
2. It was announced on Monday, January 18 that country superstar Garth Brooks will be performing for President-elect Joe Biden's inauguration on Wednesday, January 20 after having to turn down the chance to play at President Donald Trump's inauguration in 2017. Here's what he said about Biden's inauguration and why Brooks had to decline four years ago.
"The message they're pushing is unity, and that's right down my alley, man," Brooks said. "If we're gonna get anywhere, we're gonna get there together. … This is not a political statement. This is a statement of unity.
This is the second presidential inauguration that included Brooks as a performer. In 2009, he performed at President Barack Obama's first inauguration. He was part of the "We Are One: The Obama Inaugural Celebration at the Lincoln Memorial," performing a medley of "American Pie" by Don McLean, "Shout" by the Isley Brothers, and "We Shall Be Free" by Brooks himself.
In 2017, Brooks was asked to play President Donald Trump's inauguration but he had to decline due to scheduling conflicts.
During a live video from Studio G, several commenters were asking about Brooks playing the inauguration because TMZ had gotten him on camera saying that it would be an honor to serve. Brooks clarified that when TMZ asked him that, he hadn't yet been asked to perform for Trump's inauguration, but if he was, "it's always an honor to serve."
Then when former Republican National Committee chairman and businessman Steve Wynn took over running point on the inauguration, he approached Brooks and they had to leave it up in the air because of Brooks' tour at the time. From September 2014 to December 2017, Brooks was headlining his "Garth Brooks World Tour," which was started in conjunction with his 2014 Man Against Machine album and continued through the release of his 2016 album Gunslinger.
"[Wynn and I] sat down and talked about it and we left it up to karma. We said, 'If Cincinnati goes two weekends instead of one, then, of course, we're out.' Sure enough, Cincinnati did five shows, two weekends, and backed us up into there. So we got knocked out of [the inauguration]," explained Brooks.
But he went on to say that he has nothing but love and prayers for any president.
"I'm going to tell you with this whole presidential thing — we got one going out, I pray for him and his family. And for the president going in, I pray for him and his family to guide this nation. Let's stay together. Love. Unity. That's what it's all about," said Brooks.
- Garth Brooks Said No to Trump's Inauguration, Yes to Biden's, Heavy.com, January 19, 2021.
3. New York's Democratic mayoral primary may still be up in the air, but Eric Adams has already proclaimed himself the new face of the party.
But others say not so fast, ranked choice voting hasn't kicked in yet.
As CBS2's Marcia Kramer reports, there are still tens of thousands of votes to be counted, but Eric Adams is talking like his victory in the Democratic mayoral primary is in the bag.
"I am the face of the new Democratic party," Adams said.
With no small amount of bravado, Adams said that he did well in all five boroughs because his life story – a blue collar guy who has faced adversity and made mistakes – resonated here, and across the country.
He said if Democrats don't follow his example, they will lose the midterms and the presidency.
"America is saying we want to have justice and safety and end inequalities," Adams said.
Maya Wiley and Kathryn Garcia, the second and third place finishers, say they still have a path to victory. Garcia put out a long memo showing how she can prevail.
"The math is definitely there. Just to start with, we have more than 100,000 absentee ballots that we don't even know their first choice yet. That's 10%," Garcia said.
George Fontas, whose firm did polling in the race, points out that, according to research into ranked choice voting, Adams' current lead of nearly 10 points is hard to beat.
"When a candidate is leading by more than 5%, that candidate wins 98% of the time," Fontas said.
- Eric Adams Says He's 'The Face Of The New Democratic Party,' But Fellow Candidates Remind Him The Race Isn't Over, CBSLocal.com, June 24, 2021.
本文仅代表作者本人观点,与本网立场无关。欢迎大家讨论学术问题,尊重他人,禁止人身攻击和发布一切违反国家现行法律法规的内容。
About the author: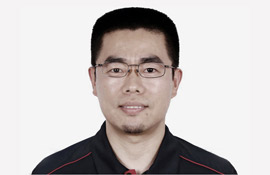 Zhang Xin is Trainer at chinadaily.com.cn. He has been with China Daily since 1988, when he graduated from Beijing Foreign Studies University. Write him at: zhangxin@chinadaily.com.cn, or raise a question for potential use in a future column.
(作者:张欣 编辑:丹妮)
中国日报网英语点津版权说明:凡注明来源为"中国日报网英语点津:XXX(署名)"的原创作品,除与中国日报网签署英语点津内容授权协议的网站外,其他任何网站或单位未经允许不得非法盗链、转载和使用,违者必究。如需使用,请与010-84883561联系;凡本网注明"来源:XXX(非英语点津)"的作品,均转载自其它媒体,目的在于传播更多信息,其他媒体如需转载,请与稿件来源方联系,如产生任何问题与本网无关;本网所发布的歌曲、电影片段,版权归原作者所有,仅供学习与研究,如果侵权,请提供版权证明,以便尽快删除。