Pull the rug out from under the Afghans? 拆台
中国日报网 2021-08-27 12:44
分享到微信 Reader question:
Please explain "pull the rug out" in this headline: Former Trump official says US 'pulled the rug out from under the Afghans'.

My comments:
This former Trump Administration official, whoever that is, is effectively saying the United States tripped up the Afghans – by pulling troops out of Afghanistan and leaving the Afghans high and dry.
If you follow what's happening in Afghanistan, you will know that former President Donald Trump negotiated with the Taliban to pull US troops out of Afghanistan after 20 years. Joe Biden, the current president, has implemented that deal which resulted in the Taliban now taking control of the nation. The Afghan president, Ashraf Ghani, fled the country.
That's why a former Trump official says the United States "pulled the rug out from under the Afghans", meaning they have removed the crucial support the Afghans used to have, in the form of having US troops working alongside the government.
Whose fault is it?
The Taliban won, big time, that's for sure. Otherwise, the blame should be put in equal measure on the Afghans, the Biden Administration and Donald Trump, who negotiated with the Taliban, an enemy, in the first place.
But we're not here to assign blame, we're here to talk about the term "pulling the rug out from under someone", and we want to focus on that.
Pulling the rug out from under someone?
That means, literally, pulling the rug out from under the feet of someone, which comes as a surprise and usually leads to the person who has been standing on the rug or carpet falling awkwardly, inevitably and helplessly to the floor.
Picture that image. You're standing on a piece of rug. Someone comes over and pull the rug out suddenly with great force but without your notice….
Who'd they do something like that?
Well, never mind that. As an idiom, if you do something like that, pulling out the rug from underneath someone, you are taking away the important support they have.
In other words, you're deceiving that person, because they don't see it coming.
Well, now, they realize, after the fact, what kind of a friend or ally you are, now that you've pulled the rug out from under their feet.
In other words, you've betrayed them. You've undermined them. You've thrown them under the bus, so to speak, if worse comes to worst.
All right, media examples of people pulling the rug out from under someone:

1. The Lakers have made some big moves in the off-season, but NBA Analyst Skip Bayless has found another reason to bash the purple and gold. He attacked the decision to let certain players go, while also under-selling their new acquisitions.
"You have lost your two key pieces who gave you some real mental toughness, who brought you some grey area nastiness that the Lakers don't have because they don't have that dog in them.
"You lost Rondo… He's out of the LA picture. You lost Dwight and I still don't understand it. He even posted that he was going to stay with purple and gold, and five minutes later he's deleting [the tweet] because they pulled the rug out from underneath him."
He also attacked them for dealing Danny Green. "You don't have Danny Green. Do not underestimate what a cerebral and tough defender he is. Wesley Matthews is a physical defender, but he does it with physicality, not with his mentality."
The Lakers saw Green, Rondo, Howard, JaVale McGee, and Avery Bradley part ways with the team. Till now, new players include Montrezl Harrell, Wesley Matthews, Dennis Schroder, and Pau Gasol.
- "Pulled the Rug Out From Underneath": NBA Analyst Baffled How Lakers Lost Rajon Rondon and Dwight Howard, EssentiallySports.com, November 23, 2020.

2. For a straight-set semifinal, Novak Djokovic's 7-6 (3), 7-5, 7-5 win over Denis Shapovalov had a lot going on. The match may or may not have been closer than the scores indicated, but it was certainly more explosive and suspenseful.
Shapovalov leapt out of the gate at top speed, broke serve early, and was the more dynamic and proactive player for the first nine games. A few of his early turbo-charged forehands brought a collective gasp from the Centre Court crowd, and his short-hop, one-handed backhand winners into the corners were met with looks of disbelief from his opponent. In the second set, Shapovalov continued to send Djokovic sliding into the corners to chase down his dive-bombing ground strokes, and earned five more break points.
Yet in both cases, and again in the third set, all of Shapovalov's dazzling derring-do, and his 40 winners, went for nought. Unfortunately for him, he was facing the one player who knew how to weather this shot-making storm, and who had the skills to survive it. Djokovic did what he has done so many times before: He found ways to disrupt his opponent and make him hit extra balls at just the right moments, and he saved his best shots for when they helped him the most. Each set was close, each set was exciting, each set seemed as if it could go either way: But in the end each set went Djokovic's way.
"In important moments I think I probably held my nerves better than he did," Djokovic said, "and just make him play an extra shot, make him do an unforced error, which was the case."
"But it was not a straightforward match, even though it was a straight-set victory. It was very close."
The match's first turning-point moment came with Shapovalov serving at 5-4 in the first set. Up to this stage, he had been dominant with his serve and from the ground. But on the first two points of this game, Djokovic tried something different. He hit hard slice backhands that elicited two errors into the net from Shapovalov for 0-30. Three points later, Djokovic made a seemingly impossible forehand get, and Shapovalov, forced to hit a ball he didn't think he would have to hit, made another error. Djokovic broke soon after, stopped Shapo's momentum, and stole the set away in a tiebreaker.
"He pulled the rug out from under Shapovalov," John McEnroe said.
- NOVAK DJOKOVIC PULLS THE RUG OUT FROM UNDER DENIS SHAPOVALOV IN CLAIMING THEIR WIMBLEDON SEMIFINAL, Tennis.com, July 9, 2021.

3. British ministers are now saying out loud what millions of Americans have come to believe behind closed doors: President Biden has gone "completely mad."
The Sunday Times reported on the development at Whitehall, a euphemism for the bureaucratic wing of the British government. Afghanistan descended into chaos shortly after the abrupt, unilateral decision of President Biden to withdraw military troops ahead of coordination with the U.S.'s NATO allies and the evacuation of diplomats, civil servants, and diplomats.
Earlier in the week, the Daily Mail reported that Great Britain had to deploy 300 special forces troops and other personnel to Afghanistan in order to rescue 6,000 British nationals and Afghan allies that were left in harm's way after Biden's decision. That the U.S. president overruled his generals' warnings and failed to even leave behind sufficient troops to secure U.S. citizens and military equipment has America's British allies openly questioning the president's sanity.
"In London ministers and their advisers watched with incredulity," the Sunday Times reported. "One minister said the president 'looked gaga'. An aide described the press conference as 'completely mad' and the president as 'doolally'. Such thoughts are normally never whispered in Whitehall, let alone briefed."
"Biden did not expect it to play out like this," the Times continued. "Shortly after lunch on Friday, August 13, the day after the Taliban had taken control of Kandahar, Afghanistan's second city, US embassy staff in Kabul began destroying sensitive documents. Biden, meanwhile, departed for his holiday."
"Behind the scenes national security officials were beginning to panic," the Times added. "Predictions about how long the Afghan army would hold out had been rapidly downgraded. One official told the website Politico: 'We thought we had months ahead of us to draw down the embassy and do processing and relocation'."
Meanwhile, top British officials are infuriated by the Biden administration's military withdrawal, which 'pulled the rug out' from underneath the feet of U.S. allies.
"Senior government officials in London have said that, in a meeting of the Cobra emergency committee last Sunday, Boris Johnson was 'extremely frustrated' by the turn of events," the Times said.
"This frustration grew more acute when the prime minister requested a conversation with Biden on Monday morning and the president did not return his call until 10pm on Tuesday," the report noted.
"The prime minister stressed the importance of not losing the gains made in Afghanistan over the last 20 years," his representative said.
"How is it possible that you don't speak to your allies while this is happening?" said a former US official. "I have never seen anything like this."
- British Ministers are Now Openly Stating Their Belief That Biden Has Gone 'Completely Mad', SGTReport.com, August 23, 2021.
本文仅代表作者本人观点,与本网立场无关。欢迎大家讨论学术问题,尊重他人,禁止人身攻击和发布一切违反国家现行法律法规的内容。
About the author: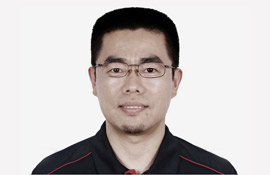 Zhang Xin is Trainer at chinadaily.com.cn. He has been with China Daily since 1988, when he graduated from Beijing Foreign Studies University. Write him at: zhangxin@chinadaily.com.cn, or raise a question for potential use in a future column.
(作者:张欣 编辑:丹妮)
中国日报网英语点津版权说明:凡注明来源为"中国日报网英语点津:XXX(署名)"的原创作品,除与中国日报网签署英语点津内容授权协议的网站外,其他任何网站或单位未经允许不得非法盗链、转载和使用,违者必究。如需使用,请与010-84883561联系;凡本网注明"来源:XXX(非英语点津)"的作品,均转载自其它媒体,目的在于传播更多信息,其他媒体如需转载,请与稿件来源方联系,如产生任何问题与本网无关;本网所发布的歌曲、电影片段,版权归原作者所有,仅供学习与研究,如果侵权,请提供版权证明,以便尽快删除。