Wake-up call? 警钟
中国日报网 2021-10-19 12:24
分享到微信 Reader question:
Please explain "wake-up call", as in this: Birds are dying, and that should be a wake-up call for us.

My comments:
In some places, birds are dying en masse, i.e. in groups, all together. And that should wake up us all to the effect of climate change and the steadily deterioration of the environment.
Once waken up, we humans perhaps can do something to put a stop to it. We must.
That's what a wake-up or wakeup call means.
Literally, a wake-up call is a shout or, preferably, a whisper in your ear to wake you up from sleep in the morning. Metaphorically speaking, a wakeup call can be any warning about something bad happening or to happen in the near future. It can be any situation that brings an important and emergency issue to our attention.
Without the wakeup call or warning made, things may get progressively worse fast, perhaps irretrievably, as is the case with climate change.
The idiom "wake-up call" is American in origin. It originally refers to the morning call hotels make to wake their clients up. In the old days, early 1900s, hotels didn't have alarm clocks installed in every room and so some clients asked servants to wake them up in the morning, lest they oversleep and miss an important business appointment.
Hence and by extension, the wakeup call later became synonymous with a warning that something bad is happening and that you should wake up to it and do something about it – immediately.
And that's it.
Here are a few recent media examples of wakeup call in the idiomatic sense:

1. The Bay Area's rocky marriage with Tesla is talking a different track. This, after shareholders learned the electric car manufacturer is moving its corporate headquarter from Palo Alto, to Austin, Texas.
"Wake-up call. Right, and I think that's really what we should be looking at and we should take it that way," said Derrick Seaver, president & CEO of the San Jose Chamber of Commerce.
Tesla CEO Elon Musk says Austin will now fly his corporate flag. The reason is that Texas, with lots of land and fewer regulations, is ripe for this company's brand of bullish expansion.
"These factories will have sale production in them as well. "So it'll kind of be, raw materials in, cars out. So really big," said Musk.
Tesla is the latest, and possibly not the last, major company in part or in whole, to move from the Bay Area. Hewlett Packard Enterprise and Oracle have also moved their headquarters to Texas.
"Headquarters costs are clearly higher here than they are in lots of other places. So it's a very sensible thing for him to be moving to Texas. For their headquarters," said San Jose State University strategic management professor Dr. Robert Chapman Wood.
Wood said costs related to housing and regulations are the two biggest factors for companies pulling up stakes. And that's too many hurdles for Tesla, which vies to be the largest car manufacturer in the world.
- Tesla relocating to Texas should be Silicon Valley wake-up call, critics say, KTVU.com, October 8, 2021.

2. Soaring energy prices are a stark reminder of how dependent Europe is on fossil fuels and should serve to accelerate the shift towards renewable forms of energy.
"This experience today of the rising energy prices is a clear wake up call... that we should accelerate the transition to clean energy, wean ourselves off the fossil fuel dependency," a senior EU official told reporters as the European Commission unveiled a series of measures aimed at tackling the crisis.
The European Union is facing a sharp spike in energy prices, driven by increased global demand as the world recovers from the pandemic and lower-than-expected natural gas deliveries from Russia. Wholesale electricity prices have increased by 200% compared to the 2019 average, according to the European Commission.
"Winter is coming and for many electricity costs are larger than they have been for a decade," Energy Commissioner Kadri Simson told reporters on Wednesday.
Wholesale gas prices – which have surged to record highs in France, Spain, Germany and Italy – are expected to remain high through the winter. Prices are expected to fall in the spring, but remain higher than the average of past years, according to the Commission. Most EU countries rely on gas-fired power stations to meet electricity demand, and about 40% of that gas comes from Russia, according to Eurostat.
Simson said that the Commission's initial assessment indicates that Russia's Gazprom has been fulfilling its long-term contracts "while providing little or no additional supply."
Kremlin spokesman Dmitry Peskov told journalists on Wednesday that Russia has increased gas supplies to Europe to the maximum possible level under existing contracts, but could not exceed those thresholds. "We can say that Russia is flawlessly fulfilling all contractual obligations," he said.
Measures EU states can take to help consumers and businesses cope with soaring electricity costs include emergency income support to households to help them pay their energy bills, state aid for companies, and targeted tax reductions. Member states can also temporarily delay bill payments and put in place processes to ensure that no one is disconnected from the grid.
- Energy crisis is a 'wake up call' for Europe to ditch fossil fuels, CNN.com, October 13, 2021.

3. William Shatner can now say he's gone boldly where no man (his age) has gone before – and he's still reeling from the emotional experience.
A day after his historic visit to space, he appeared virtually on "The Tonight Show Starring Jimmy Fallon" and said the trip offered him a "wake-up call."
"The message is … we all need a wake-up call every so often in our lives where your life is threatened by something. You may have a near accident or somebody you love has died," he told Fallon Thursday. "And all of a sudden you look at your life and say, 'Wait a minute, what's important here?'"
Those things, he said, include caring, loving and "doing something about" our planet that is "going to be inundated."
"I was overwhelmed by all the things we need to do and the loves and the losses. It was an enormous moment for me that I never expected," he shared.
On Wednesday, the "Star Trek" veteran became the oldest person to visit space. At 90, the actor joined Blue Origin, founded by Amazon founder Jeff Bezos in 2000, for its second human spaceflight. Shatner and three others were launched in a New Shepard rocket from the aerospace company's West Texas launch site just before 11 a.m. EDT.
- William Shatner is still reeling from his trip to space: 'We all need a wake-up call', USAToday.com, October 15, 2021.
本文仅代表作者本人观点,与本网立场无关。欢迎大家讨论学术问题,尊重他人,禁止人身攻击和发布一切违反国家现行法律法规的内容。
About the author: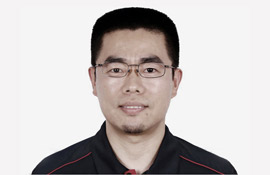 Zhang Xin is Trainer at chinadaily.com.cn. He has been with China Daily since 1988, when he graduated from Beijing Foreign Studies University. Write him at: zhangxin@chinadaily.com.cn, or raise a question for potential use in a future column.
(作者:张欣 编辑:丹妮)
中国日报网英语点津版权说明:凡注明来源为"中国日报网英语点津:XXX(署名)"的原创作品,除与中国日报网签署英语点津内容授权协议的网站外,其他任何网站或单位未经允许不得非法盗链、转载和使用,违者必究。如需使用,请与010-84883561联系;凡本网注明"来源:XXX(非英语点津)"的作品,均转载自其它媒体,目的在于传播更多信息,其他媒体如需转载,请与稿件来源方联系,如产生任何问题与本网无关;本网所发布的歌曲、电影片段,版权归原作者所有,仅供学习与研究,如果侵权,请提供版权证明,以便尽快删除。