Strong-arm their way? 用武力的方式
中国日报网 2021-09-10 13:28
分享到微信 Reader question:
Please explain this sentence: The Taliban was able to strong-arm their way into seizing control over the entire country.

My comments:
After the United States withdrew its troops, the Taliban was able to overpower government forces and take control over the whole of Afghanistan.
The Taliban overtook the country by force, not by peaceful negotiations.
That's what "strong-arm their way" means.
Now definitions. Strong-arm means, literally strong arm, meaning someone has strong arms, i.e. strength.
As verb, if someone tries to strong-arm you, they try to overpower you by sheer force, by demonstrating that they have strong arms, or stronger arms than you have. In other words, they want to bully you. They want to force the matter.
They will wrestle you to the floor, for example, if you don't agree with them because they are able to, because they have strong(er) arms.
Idiomatically, then, if someone strong-arm their way to a position or situation, they do it by sheer force, by violence, not by peaceful means.
By using what's known as strong-arm tactics, in other words.
All right?
Okay, here are media examples of this American idiom – of people who try to strong-arm others:

1. Journalist and documentary film maker Alexandre Trudeau travels to some of the world's most troubled and dangerous places in an effort to understand what is really going on, from the ground up.
A self-proclaimed loner, Alexandre Trudeau would probably not describe himself as a leader. Trudeau is fast making a name for himself as an important Canadian journalist, travelling to the world's most strife-ridden areas to bring us accounts of ordinary people struggling to survive the ravages of war.
He has also become a passionate supporter of international experience for young Canadians, encouraging them to take a more active role on the world stage.
In both cases, his approach is the same: communication - and then understanding – has to start from the ground up, by sharing a roof and a meal, and all the day to day concerns that make us human.
He'd better watch out – if he's not careful, someone's going to ask him to run for office.
In the meantime, the eloquent middle son of Canada's most beloved former prime minister has a message for young Canadians: get out there and see the world. Experience it firsthand.
Trudeau, whose deep love for travelling extends far beyond his professional life, has a related message for Canada's decision-makers: spend more money on developing Canadian exchange programs, programs specifically designed to help turn young Canadians into conscientious global citizens.
"I constantly bark at government or anyone who will listen: more, more, more," Trudeau says during a recent interview in Montreal. "Let's get more kids out there, let's learn more about this world so we can continue to peace-keep, so we can continue to nation-build, continue to help find a path towards a better life abroad, and do what we feel proud doing as Canadians.
"The world is such a mess these days," Trudeau adds, providing a hint of the feeling one must eventually get after visiting places like the ones he has written about lately. "Youth definitely have every reason to worry about it, and they have to think about how to fix it."
But thinking about fixing the world is one thing. Actually trying to fix it is a more daunting task. In Trudeau's opinion, young Canadians have to learn how to view themselves and their country as participants in the bigger picture before they can act effectively. And to achieve this, there is no substitute for meaningful travel.
These days, when he's not filing reports from a refugee camp or final editing one of his documentaries, Trudeau is working as a member of the board of directors of Canada World Youth, one of this country's largest youth exchange programs.
"The fact that people want to do these programs and cannot is my motivating principle," he says. "Every young Canadian who wants to should be able to. The youth educational experience is our collective responsibility, and it's our competitive advantage as a nation. It's our investment in our own future, and a more solid investment than traditional forms of education or any material investments in my mind."
Like a lot of public figures, Trudeau can talk, but he's reluctant to talk at length about himself or his own experiences. Still, after a little gentle prying, it becomes fairly obvious his many travels abroad have done much to shape his own values and motivations.
"I always travel with purpose," he says, quoting the subtitle of this magazine. "I started travelling very young. As soon as I was 17, I started hitchhiking in North America. I turned 19 in the Sahara…Whenever and however I could, I went off.
"I guess it was a part of my identity, being out there. It just became part of me. I continue to do it," he adds.
Since he started pitching stories and selling documentaries, Trudeau has moved the focus of his travels to those places that appear in the headlines. He admits he's had somewhat of a breakthrough as a result. His written dispatches from countries such as Iraq, Liberia, Haiti, and most recently Israel/ Palestine – regularly fill the pages of Maclean's magazine. His documentary-making work from such regions is also starting to receive a lot of attention.
When asked what motivates him to visit and report from the world's most dangerous areas, Trudeau explains that he is on a search for understanding.
"I tackle these places wanting to get behind the clouds, the misunderstandings of politics, geopolitics, wanting to get to the humans at the bottom of this. Figure out what they're all about, and where the problems start – and, therefore, where they could end."
"I'm a humanist," Trudeau explains. "If you want to deal with the problems in the human world, you've got to start with some humanist basics. We're all the same, more or less. We're all in this ship together. Sharing a roof, sharing a meal – these are the most basic experiences of communication. That's where it starts. This is where I build from."
Peace-brokering seems simple when it's explained in such a way, but Trudeau could hardly be deemed a foolhardy optimist, not after one reads his reports from countries like Liberia or Haiti.
These are countries, he says, that have been at war with themselves for so long now that it's hard to know how long before a semblance of peace and order will be possible. But while there are no easy answers, that's no reason for larger nations to strong-arm their way into these trouble spots in order to try to impose their own visions of law and order.
- Alexandre Trudeau Gets Down to Basics, VergeMagazine.com, August 13, 2009.

2. A little while back, I celebrated the release of Without Compromise, an anthology of the work of the irreplaceable Wayne Barrett of The Village Voice, much of which details with great precision the slime-encrusted rise of our current president* throughout the wild kingdom of New York real estate in the 1980s and 1990s. One of the great unexplored areas of this saga is the relationships the president cultivated with members of what we like to call organized crime. To be fair, it was impossible to have a career in New York real-estate development in that period without coming to some kind of modus vivendi with mobsters of one sort or another, just as it was impossible to make a fortune in post-Soviet Russia without being a towering crook.
I was cruising the 'Toobz recently, and I came upon a piece that Barrett wrote in 1991 about the curious arrangements that the president made with some curious tenants in his pride and joy, Trump Tower in Manhattan. The piece is studded with the kind of small details that made Barrett's reporting so essential and, take it all in all, it's the entire natural history of a corrupt ecosystem entirely contained in a single building in midtown. For example:
Well, actually, your Trump Tower neigh­bors are as likely to be Medicaid cheats, coke dealers, mobsters, or those who may have gotten a touch too friendly with mobsters. Take, for example, Verina Hixon, a strikingly beautiful Austrian divorcee with no visible income (or alimony), who, in 1982, bought six apartments on the tower's 64th and 65th floors for about $10 million. (Trump Tower is really 58 stories high, but Donald had juggled the floor numbers, skipping 10 flights and renumbering it as if it were a 68-story structure.)
Hixon's good friend was the powerful concrete union boss John Cody, a balding, bulky, 60-year-old who had weathered eight arrests, including one for attempted rape, and three convictions. Since Donald had decided to build the tower of concrete, he and Cody became closely inter­twined. But before the building was finished, Cody was indicted in an eight­count federal racketeering case, charged with taking $160,000 in kickbacks. His mob associations were so strong that the FBI claimed that Carlo Gambino, the most powerful mobster in America, came to the $51,000 wedding of Cody's son in Long Island in 1973. The concrete boss's bodyguard, indicted on a murder rap and bailed out by Cody's investment banker son, was later shot to death. The Justice Department's Organized Crime Strike Force questioned Trump about information it had received indicating that the union leader had strong-armed him and won a commitment for an apartment in Trump Tower in exchange for labor peace during its construction.
- Trump Tower Was an Entire Ecosystem of Criminal Sketchballs in the '80s and '90s, by Charles P. Pierce
November 2, 2020.

3. Last week, Aurora City Council member Juan Marcano posted a message on Twitter that just a few weeks ago would have caused an online stampede among hordes of Coloradans desperately seeking a coronavirus vaccine.
"We still have a ton of openings to fill for the #COVID19Vaccine event at the Aurora Municipal Center this Saturday and Sunday!," he wrote. "Please share these links out to everyone you know so we can get #COVID behind us!"
By Saturday morning, though, the stampede hadn't materialized.
"This is still true!" Marcano wrote again on Twitter, referencing his earlier message about available appointments. "Please get vaccinated if you are able!"
Colorado has reached a critical pivot point in its vaccination efforts. Approximately 2.5 million people — roughly 43% of the state's total population and 53% of the population eligible to receive a shot — have gotten at least a first dose of vaccine.
But the number of shots given per day appears to be falling, after hitting a high of 79,480 doses administered on April 9. Colorado vaccine providers administered more than 411,000 doses during the week of April 4. The following week, the number dropped to just under 399,000 doses. More recent data is not yet available because of reporting delays.
...
Dr. Gabriel Lockhart is a critical care pulmonologist at National Jewish Health in Denver. His specialty means he has been on the coronavirus front lines since the pandemic began, both in Colorado and in New York, where he volunteered to help out during the worst of that state's early wave.
But he also assumed another role early on in the pandemic. He became his own family's most trusted source of information about COVID-19.
His father's side of the family is African-American. His mother's side is Puerto Rican. Local and national polls have shown that vaccine hesitancy is especially high among communities of color. And both sides of Lockhart's family were skeptical of the coronavirus vaccines, beginning while they were still being developed.
Lockhart's first step was simply one of understanding.
"I'm not trying to label folks who are nervous about the coronavirus vaccine," he said in July, when he first began talking to his family about the vaccines. "There's so much anger and fear and confusion about what's going on with this pandemic things get messy and they kind of blend in together."
Lockhart also knew why distrust of the health care system and the government ran deep within his family.
Communities of color have long suffered from health inequities in the United States. Black patients are less likely to be selected to receive kidney transplants than white patients, and Black mothers are more likely to die during pregnancy than white mothers. Puerto Ricans have low birth weight rates twice that of whites. Lockhart, himself, has asthma — something that disproportionately affects communities of color.
Lockhart once held a fellowship at Washington University in St. Louis, where the hospital for decades had been segregated. While white patients went to various specialty clinics on the hospital's main floors, black patients were sent to the basement, regardless of their ailments.
The hospital remained segregated until the 1950s. But the impacts lasted far longer. Stories of mistreatment at the hospital were passed down through families. When Lockhart attempted to enroll patients in a clinical trial focused on reducing sedation levels in the intensive-care unit, white patients jumped at the opportunity. Black patients didn't.
"When they heard the word research, they had no interest in learning more about it," he said.
So, when speaking to his own family, Lockhart came prepared.
During the pandemic, his extended family began holding weekly dinners over the video-conferencing program Zoom. Lockhart prepared a 2-hour PowerPoint presentation on vaccines. It covered how they are developed, tested and checked to be sure they're safe. It addressed conspiracy theories.
After he got his first dose of vaccine, he sent his family updates on how he was feeling — sore arm, no doubts about getting his second shot. He continued to send videos and links to articles.
He also expanded his information campaign. CDPHE enlisted Lockhart to help speak at community events. Health organizations tapped him to help conduct outreach to Black Coloradans. He had become the trusted voice in the community, the person who was the right messenger with the right message to address the right concerns.
But, while he won over some in his family, others remained skeptical — including his mother, who is also a physician. Concerns about racial discrimination subsided, but worries over the vaccines' speed of development remained.
"That's still been a little bit hard to overcome," he said in January, just before he received his second shot.
Still, Lockhart vowed to continue trying to persuade her and others. The longer the vaccines are around, the more people who look like him receive them and vouch for their safety, the more the wall might come down, he believed. It will just take time.
Most recently, he's spoken at an American Thoracic Society conference about racial disparities in the health care system. He spoke at the Cleo Robinson Parker Dance academy about the vaccine.
And, after more than six months of work, he convinced his mother to get vaccinated — "strong armed" her, he joked. His brother helped, making an appointment for himself and their mother at the same time.
- Almost everyone in Colorado who eagerly wanted a coronavirus vaccine has gotten one, ColoradoSun.com, April 26, 2021.
本文仅代表作者本人观点,与本网立场无关。欢迎大家讨论学术问题,尊重他人,禁止人身攻击和发布一切违反国家现行法律法规的内容。
About the author: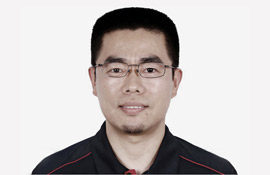 Zhang Xin is Trainer at chinadaily.com.cn. He has been with China Daily since 1988, when he graduated from Beijing Foreign Studies University. Write him at: zhangxin@chinadaily.com.cn, or raise a question for potential use in a future column.
(作者:张欣 编辑:丹妮)
中国日报网英语点津版权说明:凡注明来源为"中国日报网英语点津:XXX(署名)"的原创作品,除与中国日报网签署英语点津内容授权协议的网站外,其他任何网站或单位未经允许不得非法盗链、转载和使用,违者必究。如需使用,请与010-84883561联系;凡本网注明"来源:XXX(非英语点津)"的作品,均转载自其它媒体,目的在于传播更多信息,其他媒体如需转载,请与稿件来源方联系,如产生任何问题与本网无关;本网所发布的歌曲、电影片段,版权归原作者所有,仅供学习与研究,如果侵权,请提供版权证明,以便尽快删除。