Down the road? 日后
中国日报网 2021-09-03 13:21
分享到微信 Reader question:
Please explain this sentence, with "down the road" in particular: I don't see an estate tax or inheritance tax in place until a little further down the road.

My comments:
The speaker doesn't see the adoption of an estate or inheritance tax right now or in the immediate future, but a little later in the future.
That's what "further down the road" means.
Literally, "further down the road" means further down the same road, the road we're trekking on now. For example, you are a tourist looking for a bank in a new city, and you ask someone for direction. They may tell you: "There's one at the corner you just turned from. You missed it. But don't worry. There's one a little further down the road. Walk straight down this road and you'll be able to see it. It's a big office. You won't miss it."
Okay. Idiomatically, on the other hand, "down the road" means in future, at a further point in time. If you keep doing what you've been doing, you'll encounter what you're looking for some time in the future, a little further down the road.
In our example, this means the inheritance tax is being initially discussed. It's not on the table yet, but it will be here in future. If they keep talking about the inheritance tax, it will happen. Otherwise, they will have stopped talking about it by now.
In reality, this means, some time in future, if you want to pass on the house you own to your child or children or someone else, the government will levy a tax on it.
All clear?
All right, here are media examples of "down the road" as an idiom:

1. In 2019, Universal Orlando Resort announced that they would be building a third theme park gate (fourth if you count Volcano Bay) to add to Universal Studios Florida and Islands of Adventure.
Epic Universe will be the next theme park to join Universal Orlando Resort, and currently, is being built behind ICON Park. The theme park hit a snag during the height of the pandemic as construction came to a halt and the theme park was put on an indefinite pause.
However, most recently it was announced that construction would resume and that the park would open in 2025. That being said, during today's virtual financial conference, reporter Gabrielle Russon (@GabrielleRusson) took to Twitter to share that Comcast CFO Michael J. Cavanagh withheld an opening timeline when asked.
No confirmation from Comcast on when Epic Universe is going to open other than in a few years down the road, CFO says during this morning's virtual financial conference. #universalorlando
— Gabrielle Russon (@GabrielleRusson) May 26, 2021
The interesting thing here is that a 2025 deadline has already been confirmed by Mayor Jerry Demings, but now that number has turned into "a few years down the road". Although Universal has not yet noted that there will be another delay in the build of their new theme park, it seems that the goal of 2025 may not be as confident as it once was.
It is likely that Comcast and Universal are intentionally keeping the projected opening date of Epic Universe as vague as possible as the construction is still in its early phases and many potential problems could still arise. We may not get a firm opening date for Epic Universe until the construction process has moved forward more significantly.
- Epic Universe Will Be Built in "a Few Years Down the Road", InsideTheMagic.net, May 26, 2021.

2. Dodgers top prospect Josiah Gray would have been a candidate to be called up to the majors to help fill in when Dustin May injured his elbow, but then Gray was scratched from his start for Triple-A Oklahoma City on May 11 with a right shoulder impingement.
Gray is on the minor league injured list and still remains in the Dodgers plans to potentially fill major league innings this year if needed. But he hasn't pitched for Oklahoma City since the injury, and his throwing activity has been limited.
"I think he's just maybe playing catch. I don't think he's thrown any 'pens or let alone facing hitters," Dodgers manager Dave Roberts said Saturday. "He's sort of a ways down the road. Hopefully we can revisit this conversation, and he can be a part of things."
The 23-year-old Gray had the best average ranking among Dodgers prospects on various national lists this offseason, and was the club's top prospect per FanGraphs, ESPN, The Athletic, and Baseball Prospectus.
"It would be hard to say [prospect rankings] don't strike my interest from time to time, but I truly try not to pay any attention to it," Gray said in May. "Those things, I try not to get too caught up over. You can be number one in all of baseball, but if you're not going out there every night and putting up the numbers and helping your team win, then that stuff doesn't mean so much."
- Josiah Gray still 'a ways down the road' from returning with shoulder impingement, TrueBlueLA.com, June 20, 2021.

3. While it's certainly possible to party at a Trump hotel with just a Tony Montana-sized berm of cocaine while your girlfriend shouts "THE BEST IS YET TO COME!" over and over from the bathroom (and as she vainly struggles to find any whiff of motivation to put in her diaphragm), it's pretty clear you can't really run a hotel without a liquor license. I imagine that's true pretty much everywhere in America, from Milwaukee to Salt Lake City.
So the fact that indictments against the Trump Organization may come as soon as next week, as The New York Times recently reported, represents a potential death knell for some of Trump's businesses.
Manhattan DA Cy Vance appears to be moving against the Trump Organization and its longtime CFO, Allen Weisselberg, over fringe benefits he may have received tax-free from the company.
But never mind the legal minutiae. The only detail that really matters is that this could ratchet Trump's diaper rash up to five-alarm fire territory.
In a recent interview with MSNBC's Yasmin Vossoughian, Pulitzer Prize-winning journalist David Cay Johnston, a longtime Trump observer and author of The Making of Donald Trump and It's Even Worse Than You Think: What the Trump Administration Is Doing to America, enumerated some of the ways this indictment could royally screw over Trump and his sundry suck-ups.
VOSSOUGHIAN: "David Cay Johnston. How lethal is this for the Trump Organization?"
JOHNSTON: "Well, the Trump Organization will have enormous difficulty signing any new contracts. So long as Donald meets his servicing of his many loans, I don't think banks are likely to foreclose on him, they're going to look at how much of our money are we going to be able to get back, but he's not going to be able to obtain any new finance whatsoever, and it may affect licenses that he has for various kinds of businesses, including liquor licenses at his establishments. So this is a very painful, troubling development to go after the Trump Organization, although not in the least bit unexpected."
VOSSOUGHIAN: "I wonder how it is the former president will plan on paying some of these loans back, David Cay, considering how highly leveraged he is from all the financial disclosure documents that we have seen in reporting on his financial disclosures over the last couple years."
JOHNSTON: "You know, billions and billions of dollars have flowed through Donald Trump's books, and he's always desperately short for cash and leveraged. It's like money flowing down the drain because you left the tap open. Absolutely he's going to face serious problems. I just don't think his refinance problems will be as soon as there's an indictment. They're likely to come a little further down the road. His immediate problems are likely to be with any licenses—particularly liquor licenses in New York. He has one in Trump Tower, he's got liquor licenses at his Westchester golf course, for example. Things like that. Those could be very troublesome for him. But in the long run, I don't know how he's going to refinance these properties that are underwater."
- Likely Trump Org indictment could mean big trouble for Trump hotels, liquor licenses, DailyKOS.com, June 27, 2021.
本文仅代表作者本人观点,与本网立场无关。欢迎大家讨论学术问题,尊重他人,禁止人身攻击和发布一切违反国家现行法律法规的内容。
About the author: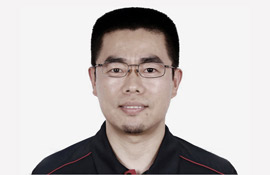 Zhang Xin is Trainer at chinadaily.com.cn. He has been with China Daily since 1988, when he graduated from Beijing Foreign Studies University. Write him at: zhangxin@chinadaily.com.cn, or raise a question for potential use in a future column.
(作者:张欣 编辑:丹妮)
中国日报网英语点津版权说明:凡注明来源为"中国日报网英语点津:XXX(署名)"的原创作品,除与中国日报网签署英语点津内容授权协议的网站外,其他任何网站或单位未经允许不得非法盗链、转载和使用,违者必究。如需使用,请与010-84883561联系;凡本网注明"来源:XXX(非英语点津)"的作品,均转载自其它媒体,目的在于传播更多信息,其他媒体如需转载,请与稿件来源方联系,如产生任何问题与本网无关;本网所发布的歌曲、电影片段,版权归原作者所有,仅供学习与研究,如果侵权,请提供版权证明,以便尽快删除。