On brand? 符合品牌定位
中国日报网 2021-10-22 13:22
分享到微信 Reader question:
Please explain "on brand", as in this: Most of his films were on brand but there were times he shocked us.

My comments:
Most of the films were consistent with his style. In other words, you could see they were his movies. But sometimes, he shocked us by making movies we couldn't recognize as his.
Clearly, we're talking about a prolific filmmaker or actor. And most of the time, they make films that are typical of their style.
That's what on brand (or on-brand) means.
On brand?
Originally, on brand refers to products that conform to or are consistent with a company's style and values. Brand, of course, is the particular name of a company producing its particular types of product. Nike and Adidas, for example, are two big brands in sportswear. Coca Cola and Pepsi, on the other hand, are two big soft-drink brands.
For these companies to be on brand, then, is for them to keep churning out products that are consistent with their style and their values. For example, Nike and Adidas will keep making shoes and apparel for you to wear while exercising but won't be making formal suits for, say, lawyers to wear in the courtroom.
If they do that, they'll be doing something that's off-brand.
In short, if things we say or do are consistent with what type of person we are, then they're on-brand.
I have a friend who's always late for appointments. It gets to a point where we're no longer surprised if he's late. In fact, we begin to expect him to be late. And when he is late, we'll say, oh, he's late again, so on brand – and leave it there, without voicing further complaint.
All right, here are recent media examples of "on brand":

1. Yes, you read that correctly. The Mini Cooper is getting bigger. This seems to be the exact opposite of what's expected for the classic, tiny SUV. That's because the Mini Cooper Countryman is just too small.
The name Mini could be dropped from the upcoming larger SUV because the Mini Cooper is getting larger. After decades of maintaining their small yet powerful attitude, they have caved. In order to sell more vehicles in America, they need to grow.
To increase sales, Mini is planning to go beyond the subcompact vehicle segment by crafting electrified powertrains for each vehicle line. They also want to get in on the growing crossover SUV segment by adding two more SUVs to join the Mini Cooper Countryman.
According to MotorAuthority, one new Mini will be an EV that is similar in size to the Countryman. The other new Mini will offer gas powertrains as well as an electric-battery option. This new model will also be bigger than the Countryman.
To try and stay on-brand, Mini suggests that each vehicle they offer will still have the smallest footprint in every class. So, we don't expect the new Mini Cooper SUVs to grow by that much in size.
- The Mini Cooper Is Getting Large and in Charge, MotorBiscuit.com, November 1, 2020.

2. The Curse of Cora is loosening its grip on the Yankees, who stayed on brand with a pair of white-knuckle victories in Tuesday's doubleheader sweep that allowed them to pull even with the Red Sox for the AL wild card – and a share of second place in the division.
In the span of three weeks, the Yankees have wiped out a nine-game deficit to Boston, which was atop the AL East back on July 25 after taking three of four at Fenway, a series that was supposed to bury Aaron Boone & Co.
That didn't happen. Instead, the Yankees are on a 22-9 roll since the All-Star break and it's the Red Sox now in freefall with a 14-17 record over that same span. During the first four months of this season, the Yankees couldn't do anything right against their ancient rivals in dropping 10 of the first 13 meetings. But in Tuesday's doubleheader, they were always just a step or pitch ahead of the Sox. A stunning role reversal.
"The bottom line is, that's great, we've climbed back in, but we've got a long way to go," Boone said. "We are focused on the task, we're focused on the daily grind, and I like where our club's at. We're playing with a lot of confidence."
- Karma is moving in the Yankees' direction instead of the Red Sox's, NewsDay.com, August 17, 2021.

3. When President Joe Biden received a coronavirus vaccine booster shot recently, some social media users sought to paint it as a fake event, pointing to the backdrop behind Biden. The posts include photographs of the event showing Biden on a stage, sitting in front of a backdrop of white columns and windows, with reporters and photographers nearby.
One Instagram post captioned it this way: "Fake president, in a fake White House, receiving fake booster."
Another Facebook post showed a different view of the event with the caption, "Joe Biden using a fake White House backdrop is so on brand for him." And another Facebook post alleged, "They created a fake set for Biden to get his booster shot. The entire Biden presidency is one giant charade."
The posts were flagged as part of Facebook's efforts to combat false news and misinformation on its News Feed.
Our research uncovered no evidence that the White House intended to mislead anyone by using the windows-and-white-columns background. The backdrop had already been used in one official event five days before Biden received his booster shot.
The booster shot was held in the South Court Auditorium of the Eisenhower Executive Office Building, which is part of the White House complex but separate from the White House itself.
The auditorium is used often for White House media events. Since early this summer, it has hosted Biden's remarks on the June jobs report, a bill signing, a meeting on Western wildfires, and Vice President Kamala Harris' remarks on broadband. It's bigger than the White House press room where the press secretary's daily briefings are held, so it's better suited to some events.
Raw footage of the booster shot event uploaded by NBC News shows Biden making remarks on vaccinations at a lectern in the auditorium, then walking across the stage to a chair where he received the vaccination. Behind him was a backdrop featuring white walls and columns, along with "windows" seemingly looking out toward the White House itself. After the event, Biden took a few questions.
- No, White House didn't create fake set just for Joe Biden's booster shot, PolitiFact.com, September 30, 2021.
本文仅代表作者本人观点,与本网立场无关。欢迎大家讨论学术问题,尊重他人,禁止人身攻击和发布一切违反国家现行法律法规的内容。
About the author: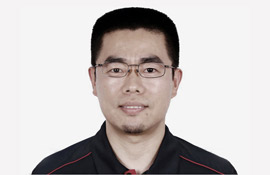 Zhang Xin is Trainer at chinadaily.com.cn. He has been with China Daily since 1988, when he graduated from Beijing Foreign Studies University. Write him at: zhangxin@chinadaily.com.cn, or raise a question for potential use in a future column.
(作者:张欣 编辑:丹妮)
中国日报网英语点津版权说明:凡注明来源为"中国日报网英语点津:XXX(署名)"的原创作品,除与中国日报网签署英语点津内容授权协议的网站外,其他任何网站或单位未经允许不得非法盗链、转载和使用,违者必究。如需使用,请与010-84883561联系;凡本网注明"来源:XXX(非英语点津)"的作品,均转载自其它媒体,目的在于传播更多信息,其他媒体如需转载,请与稿件来源方联系,如产生任何问题与本网无关;本网所发布的歌曲、电影片段,版权归原作者所有,仅供学习与研究,如果侵权,请提供版权证明,以便尽快删除。