Who is the trouble shooter? 故障检修员
中国日报网 2021-10-29 12:57
分享到微信 Reader question:
Who is "the trouble shooter"?

My comments:
The trouble shooter is also called the trouble man.
The trouble man is not to be confused with the trouble maker, the latter being someone who causes trouble, who makes a mess of things for us and who is, generally speaking, a nuisance.
The trouble man, as a matter of fact, is the opposite of the trouble maker. Instead of causing trouble, the trouble man is one who solves problems for us. Instead of causing inconvenience or annoyance to us, the trouble man is someone we go to when we're in trouble or difficulty.
Literally, the trouble man is someone who we come to see when we're in trouble, whatever that is. He or she is like the doctor whom we come to see when we're ill.
Trouble shooter, likewise. We go to the trouble shooter, so that he or she can raise their proverbial trouble-shooting gun and shoot our trouble down. Bang! Problem solved.
Trouble shooter is the newer name for the trouble man, who used to be, for example, the electrician in an old factory. The trouble shooter nowadays is, say, any techie in a computer company. In the old days, if there were and electricity outage, the whole factory would be down. So you can see how important the factory's trouble man was then. He had to solve the problem, and do it quickly, in order for production to resume.
Trouble shooters are the same. Whenever your computer breaks down, for example, you run to the techie. Without their help, you won't be able to get anything done.
Yes, but why trouble SHOOTING?
I don't know. I don't know whether an analogy to the shooting gun or rifle is appropriate, but it sounds plausible. In gun shooting, bullets come out of the barrel fast and perhaps that is the reason why trouble shooting has replaced the trouble man in contemporary usage. Shooting implies that you run to the trouble shooter fast, and he is, hopefully, able to solve the problem for you in similar fashion.
To wit, fast.
The trouble shooter's job, by the way, is called trouble shooting.
Now, that makes perfect sense.
All right, here are a few media examples of trouble shooter or troubleshooter (one word), who can be anyone who's skilled at solving problems:

1. When Peter Dennis of Potomac, now 22, walked into the Dean's office at Boston College and told them he wanted to take a year off to work on Rep. Chris Van Hollen's (D-8) campaign after he won the primary election, it was one of the best decisions of his life, he said.
"I never felt so good," Dennis said.
Dennis started working on the campaign in Van Hollen's basement the summer after his sophomore year in college, in 2001. He did everything from fundraising to stuffing envelopes to working with the database, he said.
Dennis was the first volunteer on the campaign, Van Hollen said.
He came back to work on the campaign the next summer, after his junior year in college, in a new campaign office, with a new campaign manager. From that point on Dennis acted as the campaign's Web master, he said.
Dennis went back to Boston College in the Fall of 2002, but flew in for the primary. In the excitement after winning the primary, Dennis decided to stay and help Van Hollen win Maryland's 8th Congressional District.
Dennis was originally undecided on whether he was going to apply to work on the campaign for Mark Shriver or Van Hollen, he said. But then Van Hollen attended a small, 30-person or so town hall meeting in Bethesda, and Dennis was hooked.
"I knew right then and there that this was the guy I wanted to work for," Dennis said. "I was really impressed that he was willing to get down on a personal level with the community."
About a month after Van Hollen won the general election, he called Dennis and asked him to come work in the Congressional office. On Capitol Hill, Dennis continued to act as Webmaster and to help with constituent correspondence.
"He was here to get us off to a great start here on Capitol Hill," Van Hollen said.
"He is our systems administrator and legislative correspondent," said Van Hollen's Chief of Staff Kay Casstevens. "What that means is that he is our troubleshooter should anything malfunction or go wrong in terms of the computers and equipment and machinery."
"He created and maintained our Web site, which is a very important communications tool," Casstevens said.
- It Started in the Congressman's Basement, ConnectionNewspapers.com, August 12, 2003.

2. The troubleshooter appointed by President Barack Obama to overhaul a bungled health care website rollout said Sunday that improvements had made a "night and day" difference in handling online traffic.
The White House has admitted previously that the launch of Healthcare.gov, where people can sign up for health insurance, was a debacle and the Obama administration pledged that the vast majority of potential customers would be able to enroll online by the end of November.
Jeffrey Zients, an Obama advisor recently given the job of finding fixes to end the website woes and get the president's signature policy achievement back on track, said technical problems were being overcome.
"The site now has the capacity to handle 50,000 concurrent or simultaneous users at one time … so the site will support more than 800,000 consumer visits a day," he said during a conference call with reporters.
"We've doubled the system's capacity and Healthcare.gov can now support its intended volume," he added.
Additionally, the website is up and running successfully more than 90 percent of the time – up from an estimated 42.9 percent through most of October, when people routinely experienced delays or could not gain online access at all.
"The bottom line: Healthcare.gov on December 1 is night-and-day from where it was on October 1," Zients said, citing improvements that include a technical support center monitoring the website 24 hours a day.
Some 400 bugs that were harming the website's operation have been eliminated, he said, though he did not provide data on how many people were signing up for insurance.
"We developed a prioritized punch-list of software fixes, hardware upgrades and user enhancements with the prioritization based on what has the biggest impact on system stability, capacity, speed and user experience," Zients added.
Julie Bataille, communications director for the Centers for Medicare and Medicaid Services said during the call with reporters that 80 percent of users are now able to apply for health insurance successfully on the site.
- Obamacare Website Vastly Improved, Bugs Fixed, AFP, December 1, 2013.

3. The much-anticipated biopic among United Nations watchers, "Sergio," a drama relating the tale of Sergio Vieira de Mello, opened today on Netflix. It features the actors Wagner Moura as Sergio and Ana de Armas as his partner, Carolina Larriera.
Who was Sergio Vieira de Mello? And why is he the subject of a Hollywood production – surely a first for a UN official?
Sergio, as he was known, was by all accounts an extraordinary member of the international civil service. He was the UN's own James Bond, armed with only charisma and ideals, an archetype of a humanitarian and the troubleshooter of choice. He spent decades navigating the world's worst hot spots, dealing as deftly with heads of state as with génocidaires. In the process, he struck a good number of the UN's rare successes, earning him the admiration of many among its workforce and far beyond.
"Sergio was an inspiration to so many of us – and still is," says Michael Keating, a former UN special representative to Somalia who now leads the European Institute of Peace in Brussels.
Sergio died on Aug. 19, 2003, with 21 colleagues in a terrorist attack on UN headquarters in Baghdad. He was, at the time, the UN special representative to Iraq, on temporary leave from his post as the UN's human-rights chief, based in Geneva. He was 55 years old.
Since 2009, Aug. 19 is observed annually as World Humanitarian Day in honor of humanitarians killed on duty.
"I was personally close to some of those colleagues, including their leader, the incomparable Sergio Vieira de Mello," said UN chief António Guterres on World Humanitarian Day in 2018, marking the 15th anniversary of the attack in Baghdad. "This was a huge personal loss to so many of us."
The new Netflix film, which debuted on April 17, is based on a 2008 biography, "Chasing the Flame: Sergio Vieira de Mello and the Fight to Save the World," by Samantha Power, the Pulitzer Prize-winning author, academic and former war correspondent, who later served in President Obama's cabinet as the US ambassador to the UN.
She tells of how Sergio, the son of an itinerant Brazilian diplomat, begins his career with the UN Refugee Agency at the tender age of 21, in 1969, after graduating in philosophy from the Sorbonne in Paris. Failing to obtain a philosophy teaching position, he visits a friend in Geneva and winds up at the UN almost by accident, reluctantly and with no intention of staying for long. But he becomes a passionate humanitarian while on his first field mission, in newly independent and war-ravaged Bangladesh.
- Sergio, Legendary UN Troubleshooter, Gets His Own Hollywood Biopic, PassBlue.com, April 16, 2020.
本文仅代表作者本人观点,与本网立场无关。欢迎大家讨论学术问题,尊重他人,禁止人身攻击和发布一切违反国家现行法律法规的内容。
About the author: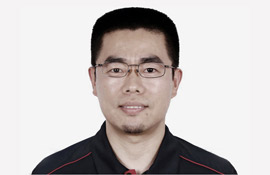 Zhang Xin is Trainer at chinadaily.com.cn. He has been with China Daily since 1988, when he graduated from Beijing Foreign Studies University. Write him at: zhangxin@chinadaily.com.cn, or raise a question for potential use in a future column.
(作者:张欣 编辑:丹妮)
中国日报网英语点津版权说明:凡注明来源为"中国日报网英语点津:XXX(署名)"的原创作品,除与中国日报网签署英语点津内容授权协议的网站外,其他任何网站或单位未经允许不得非法盗链、转载和使用,违者必究。如需使用,请与010-84883561联系;凡本网注明"来源:XXX(非英语点津)"的作品,均转载自其它媒体,目的在于传播更多信息,其他媒体如需转载,请与稿件来源方联系,如产生任何问题与本网无关;本网所发布的歌曲、电影片段,版权归原作者所有,仅供学习与研究,如果侵权,请提供版权证明,以便尽快删除。