Run out of road? 无路可走
中国日报网 2022-01-25 14:47
分享到微信 Reader question:
Please explain this headline: Boris Johnson has 'run out of road' as pressure mounts to resign.

My comments:
Boris Johnson, the British Prime Minister, has run out of options. He's run to the end of the road, so to speak. He may have to resign, as more and more people are asking him to do exactly that.
What happened?
Well, among other things, Johnson attended a "bring your own booze" party at his official residence during Britain's first coronavirus lockdown, a lockdown he authorized and put into effect.
The event happened in May 2020, i.e. more than a year and a half ago. But, to Johnson's dismay, the fallout from it is still brewing. Now, people are calling for his resignation.
Hence, analysts think, Johnson has "run out of road"?
Run out of road?
To run out of something is to be depleted of it, having used or sold all of it. The store has run out of bottled water, for instance.
Yes, but, run out of road?
Literally, to run out of road means one is at the end of the road, having nowhere to go.
Figuratively, as is the case with Boris Johnson, to run out of road means that he's reach a point where he cannot make any further progress.
In other words, he's lost the momentum. He's run out of support, or resources needed to continue as Prime Minister. He's helpless.
The party, for Johnson, may be over.
All right, here are media examples of "run out of road":

1. Talks with Russia over the Syria conflict have "run out of road" and new options including military intervention must now be explored, Boris Johnson said today.
The Foreign Secretary sought to galvanize the West to act to "end the hell" in the besieged city of Aleppo and other parts of the war-ravaged country.
He is to host an emergency summit of foreign ministers, including US Secretary of State John Kerry, in London on Sunday to discuss the crisis as the death toll in Aleppo rises.
"We have to do something," Mr Johnson told MPs.
Appearing before the Commons foreign affairs committee, he signaled that the West will consider more "kinetic action" in Syria, which could include enforcing a no-fly zone to stop the bombing and killings.
"Most people, and I think including John Kerry, feel that the process of discussion with the Russians has basically run out of road and on Sunday we will be talking about all the options that we think are available to us and to the West," he said.
- Boris Johnson says talks with Russia on Syria have 'run out of road', Standard.co.uk, October 13, 2016.

2. The number of people going financially insolvent across England and Wales jumped to a seven-year high in 2018, official figures show.
Some 115,299 people went insolvent during 2018 – marking the third year-on-year increase in a row and the highest annual total since 2011 when 119,943 cases were recorded.
The figures, released by the Insolvency Service, are made up of bankruptcies, which are often seen as a last resort; debt relief orders (DRO), which are aimed at people with lower debts but no realistic prospect of paying them off; and individual voluntary arrangements (IVAs), where money is shared out between creditors.
Of the people who went insolvent last year, 61.6% used an IVA, 24% used a DRO and 14.4% entered bankruptcy.
Meanwhile, the underlying number of company insolvencies increased to 16,090 last year – the highest level since 2014.
The Insolvency Service said the 16.2% year-on-year jump in personal insolvencies was driven by IVA numbers, which reached record levels last year.
There were 71,034 IVAs last year - an increase of 19.9% on 2017 and the highest annual level recorded, the Insolvency Service said.
There was also a spike in the number of people going insolvent in the run-up to Christmas.
Between October and December, there were 34,108 personal insolvencies – an increase of more than a third (34.8%) on the previous three months.
The Insolvency Service said personal insolvencies in the fourth quarter of 2018 were at their highest since the second quarter of 2010 - due to IVAs rising to a record high quarterly level, with 22,717 IVAs recorded.
Stuart Frith, president of insolvency and restructuring trade body R3, said: "As banks and other lenders have tightened their credit standards in response to the Bank of England's concerns around consumer over-indebtedness, many people have run out of road.
"In previous years, the 'helicopter money' provided by PPI refunds, along with generally less stringent lending requirements, helped to paper over the cracks that opened up as a result of a decade of persistently stagnant wage increases, but these avenues look to be closing themselves off.
"People are having to spend more of their income on housing and transportation, leaving less left over for savings and making budgets more vulnerable to shocks."
- 'Many people have run out of road' - personal insolvencies hit 7 year high, Mirror.co.uk, January 29, 2019.

3. Germany's new coalition government will take office two weeks from now, but already the country's newspaper caricaturists are rubbing their hands in glee.
After 16 years struggling for laughs with the dry Angela Merkel, the leaders of Germany's three-way "traffic light" coalition – named after its parties' respective colours – are a colourful embarrassment of riches.
Olaf Scholz
Social Democratic Party (SPD) politician Olaf Scholz, the man who will be postwar Germany's 10th chancellor, is a former finance minister and mayor of Hamburg who prides himself as a model of Hanseatic sobriety.
The balding 63-year-old copied Merkel's formula of restrained stability to win last September's election. But friends still remember him as a curly-haired student radical socialist who demanded politics to "overcome the capitalist economy".
Born in Osnabrück and married with no children, Scholz served as federal labour minister two decades ago under SPD chancellor Gerhard Schröder. His thankless task was to sell painful economic and social reforms that eventually turned around the country – but only after it doomed the SPD's coalition with the Greens.
...
Christian Lindner
Scholz's right-hand man in government is Christian Lindner, leader of the liberal Free Democratic Party (FDP). A pro-business politician, the 42-year-old future finance minister loves soaring rhetoric, slim-fit suits and classic cars – "or anything that can be filled with petrol".
He almost ran out of road in 2017 after walking out of advanced coalition talks with Merkel and the Greens. But Lindner is safer than ever now with a coalition deal that held two key lines for well-heeled FDP voters: no tax increases and a return in 2023 to the so-called fiscal brake.
- Germany's new leaders bring splash of colour after grey Merkel years, IrishTimes.com, November 27, 2021.
本文仅代表作者本人观点,与本网立场无关。欢迎大家讨论学术问题,尊重他人,禁止人身攻击和发布一切违反国家现行法律法规的内容。
About the author: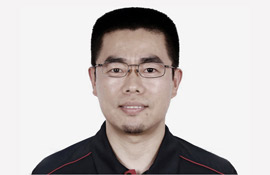 Zhang Xin is Trainer at chinadaily.com.cn. He has been with China Daily since 1988, when he graduated from Beijing Foreign Studies University. Write him at: zhangxin@chinadaily.com.cn, or raise a question for potential use in a future column.
(作者:张欣 编辑:丹妮)
中国日报网英语点津版权说明:凡注明来源为"中国日报网英语点津:XXX(署名)"的原创作品,除与中国日报网签署英语点津内容授权协议的网站外,其他任何网站或单位未经允许不得非法盗链、转载和使用,违者必究。如需使用,请与010-84883561联系;凡本网注明"来源:XXX(非英语点津)"的作品,均转载自其它媒体,目的在于传播更多信息,其他媒体如需转载,请与稿件来源方联系,如产生任何问题与本网无关;本网所发布的歌曲、电影片段,版权归原作者所有,仅供学习与研究,如果侵权,请提供版权证明,以便尽快删除。