Err on the side of being too early? 宁早勿迟
中国日报网 2022-01-21 10:56
分享到微信 Reader question:
Please explain this sentence: But if it's an important meeting, it's probably better to err on the side of being too early than too late.

My comments:
Under discussion here is obviously the subject of meeting appointments on time. Sometimes, people make it to the appointed spot right on time, sometimes arriving too early, sometimes too late.
But if it's an important meeting, you are advised to arrive a little early, well, a lot early. Running the risk of being too early is better than being too late. If you're early, you can take a deep breath and calm down. If you're too early, you can even take a little walk around.
If you're too late, well, you're late. And it's an important meeting which is attended by important people who may form a poor opinion of you based solely on the fact that you can't keep an appointment.
That's why it's considered better for you to err on the side of being too early than too late.
To err, of course, is human.
I'm joking.
But, no kidding, it's true. We err, i.e. make mistakes or errors from time to time, big and small.
On the side of being too early?
It's like taking sides in sports. Team A here is Too Early. Team B?
Yes, Team B is Too Late.
Which side do you take?
Team A.
You, too, would rather arrive at an appointed place too early than too late.
Being too early means you have options. You'll have to wait awhile being idle, true, but you remain flexible.
Being too late means, well, there's nothing you can do. You're late. There's really nothing more to say. So, don't make any excuses.
Anyways, what's for us to remember here is this expression, err on the side of one thing rather than its opposite. It means if worse comes to worst, one of two less-than-ideal or desirable options is still better than the other.
And here are recent media examples:

1. The 2021 Rockton World's Fair has again been cancelled.
In a statement, the Rockton Agricultural Society's board of directors said the event, which was slated to take place Oct. 8-11, was cancelled for safety reasons.
"Doing what the society does best: welcoming the world to Rockton for a first-class fair that's better than the one before and safe for everyone; patrons, volunteers and staff alike, has become next to impossible," said the statement, posted to the society's website and social media.
"Therefore, it is with sadness, but hope for a better tomorrow, that the society's board of directors has decided to err on the side of caution and cancel the 2021 edition of the Rockton World's Fair."
The society, which made the decision Sept. 9, said it is looking forward to holding a regular event in 2022.
Rockton Agricultural Society manager Lois James said the Ontario government's requirement for proof of double COVID-19 vaccination plus 14 days to access certain public settings, which comes into effect Sept. 22, played a role.
"As of Sept. 22 everyone is going to be required to have two vaccinations. You have to have proof of it — it's just a lot to handle, a lot to manage," she said. "Anybody that came through the gate would have to show proof of vaccination and identification and it's a lot to do and a lot to handle.
"For safety reasons, they had to cancel it."
- 'Err on the side of caution': 2021 Rockton World's Fair cancelled, TheSpec.com, September 11, 2021.

2. A defense attorney for embattled Theranos CEO Elizabeth Holmes raised the issue of a fair trial amid the possibility of releasing the personal information, beliefs and habits of the jury.
Eleven media companies, including NBCUniversal, are asking the judge to release the jury questionnaires. U.S. District Court Judge Edward Davila initially told jurors that their questionnaire, intended to identify potential bias when selecting a jury, would remain confidential.
Davila met individually with each juror to talk about the release of their personal information.
Kevin Downey, an attorney for Holmes, told the judge on Wednesday they're concerned that unsealing the jury questionnaires at this point may interfere with Holmes' right to a fair trial. "Some of the [juror] comments raise concerns," Downey said.
"We need to make sure we don't have jurors who are reporting a reaction to that that's affecting their ability to serve," Downey told the judge. Davila said he would set hearings over the course of the next five weeks to rule on whether the questionnaires would be unsealed.
The jurors completed an extensive 28-page questionnaire that asked them about their media exposure, views on healthcare, venture capital investing, religious beliefs and other topics.
The form also includes the juror's name, level of education, profession, criminal record and other personal information.
"I think the jurors will err on the side of being concerned about what's made public, this is a very high profile trial and they know that they're being scrutinized," said NBC News Legal Analyst Danny Cevallos.
Cevallos said it's not common to unseal juror questionnaires mid-trial but "the media is now interested in finding out what is going on with this jury."
The jury deciding Holmes' fate consists of eight men and four women as well as three alternates. Last week a juror was removed after disclosing she's a Buddhist and had concerns over voting for a prison sentence.
"When they answered the questionnaires they probably didn't have an idea that it would be on blast to the rest of the world," Cevallos said. "That could make them feel uncomfortable."
Holmes, a Stanford dropout who founded Theranos at 19 years old, is facing up to 20 years in prison and a $3 million fine if convicted. Prosecutors allege she engaged in a multi-million dollar fraud misleading investors and patients about her company's blood-testing technology. Holmes has pleaded not guilty.
- Jurors in Elizabeth Holmes' trial raise concerns about questionnaires with personal information being released, CNBC.com, October 13, 2021.

3. You can't go wrong with Champagne for the holidays, but why not treat your guests to something a bit more unexpected this season? With a few key ingredients – and the right bottles – your bar cart will quickly resemble your favorite cocktail bar. From winter classics like eggnog and hot toddies to twists on tradition like rooibos Rob Roy, here's how – and what – to shake up at your next holiday gathering. This is one holiday tradition your friends will be thanking you for.
Buttered Rum
"There's nothing like a good buttered rum to warm you up during the holidays. The key here is to make sure to really whip the butter so it's nice and soft. Stir a little into the warm cocktail and always add a dollop on top." — Peter Triolo, director of food & beverage at Archer Hotel Napa
Spiked Hot Chocolate
"I love making spiked hot chocolate during the chillier months and, especially, for the holiday season by a fire in the evening or after dinner. And while there are many delicious recipes for hot chocolate out there, I make a version called the Rococo with Casa Dragones Añejo and Chocolate Dust for a more decadent moment." — Yana Volfson, beverage director of Casamata Group (which includes Cosme and ATLA in NYC)
Mulled Wine
"Mulled wine is a fun and easy festive drink that can double as a group activity. Get a cheap bottle or two of red wine, hit it with a bunch of baking spices, some citrus, and honey, and give it a little cook. There's tons of recipes, and it won't cost you much to source the necessary ingredients." — Jesse Vida, head bartender of ATLAS in Singapore
Rob Roy
"During the holidays, I like to share large-batch cocktails with friends. My take on a Rob Roy follows its classic DNA—Scotch, vermouth, bitters—but introduces rooibos tea as a dilution element. I like the natural richness of this tea, with its chocolaty and vanilla notes, which works so well when paired with a softly smoked blended whiskey. I follow the 2:1:1 ratio using whiskey, vermouth (you can also swap this for an oloroso sherry), and cold-brewed rooibos tea. Batch everything together and keep it in the fridge. Pop the bottle and serve it up with a nice orange twist or maraschino cherry." — Lorenzo Antinori, beverage manager of Four Seasons Hotel Hong Kong
Coquito
"Coquito is traditionally enjoyed in Puerto Rico over the holidays, from late November until Los Tres Reyes (Three Kings Day) in early January. We make a vegan and dairy-free version, which isn't traditional. The base is usually coconut and condensed milk. It's often – and incorrectly—compared to eggnog, but the only thing they have in common is that they're rum-based." — Orlando Franklin McCray, bar director of Nightmoves in Williamsburg
"This is a perfect holiday cocktail but can sometimes err on the side of being too sweet. Replacing half the rum with a different yet complementary wine or spirit – such as a sake like HeavenSake's Junmai Ginjo – creates a lighter version and adds a complex minerality to the cocktail that balances it out for a tastier version of the Coquito." — Rammy Lavvi, mixologist
- 18 Festive Cocktails to Master for the Holidays, According to the Pros, FoodAndWine.com, November 29, 2021.
本文仅代表作者本人观点,与本网立场无关。欢迎大家讨论学术问题,尊重他人,禁止人身攻击和发布一切违反国家现行法律法规的内容。
About the author: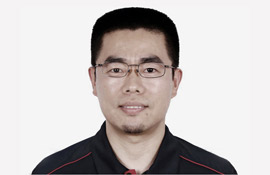 Zhang Xin is Trainer at chinadaily.com.cn. He has been with China Daily since 1988, when he graduated from Beijing Foreign Studies University. Write him at: zhangxin@chinadaily.com.cn, or raise a question for potential use in a future column.
(作者:张欣 编辑:丹妮)
中国日报网英语点津版权说明:凡注明来源为"中国日报网英语点津:XXX(署名)"的原创作品,除与中国日报网签署英语点津内容授权协议的网站外,其他任何网站或单位未经允许不得非法盗链、转载和使用,违者必究。如需使用,请与010-84883561联系;凡本网注明"来源:XXX(非英语点津)"的作品,均转载自其它媒体,目的在于传播更多信息,其他媒体如需转载,请与稿件来源方联系,如产生任何问题与本网无关;本网所发布的歌曲、电影片段,版权归原作者所有,仅供学习与研究,如果侵权,请提供版权证明,以便尽快删除。