Playing for keeps? 玩真的
中国日报网 2022-01-14 13:59
分享到微信 Reader question:
Please explain this sentence: Democrats are playing for keeps in 2020.

My comments:
This is about American politics.
Democrats are for real. They're serious. They're fighting hard.
So, the message is Republicans better fight hard also. Otherwise, as former President Donald Trump is wont to say, "We won't have a country left."
That's all I want to say about American politics, which is currently messy, as politics can be messy anyplace, anytime.
What we're here to talk about is the expression "play for keeps". This is colloquialism deriving from the children's game of marbles. Kids bring their own marbles to the game. A player wins a marble by knocking it out of a circle. When the game is over, the winner, who has garnered most marbles, gives the marbles he wins back to the loser, who originally owns them.
That's when the game is played for fair or for fun, and only for fun.
Sometimes, the game is played for keeps and that literally means the winner gets to KEEP the marbles he wins. In other words, he won't be giving back his winning loot and the loser will have to part ways with his treasures forever.
That's what "playing for keeps" means and metaphorically it means the game is now serious. The stakes are real and high.
So, as is the case in our example, let's get real and dedicate to the cause for the long haul. Let's aim for some lasing and permanent victories.
Let's quit fooling around. Let's fight harder. Take no chances. Leave everything out there. Give it our all.
Something like that.
And here are recent media examples of "playing for keeps":

1. Donald Trump's enemies are on the march.
And they are playing for keeps.
Now Sean Hannity's career at Fox News is in trouble because of this lawsuit.
As Great American Daily reports:
Trump ally attorney Sidney Powell and others floated allegations that Dominion Voting system machines switched votes from Donald Trump to Joe Biden and supposedly stole the election.
Other pro-Trump hosts on Fox News, One America News and Newsmax provided a forum for these allegations as well as other claims about Dominion being linked to foreign governments, George Soros and the Clinton Foundation.
Dominion denied these allegations and fired off a cease and desist letter to Sean Hannity and other hosts on those networks regarding allegations about the company being involved in a plot to steal the 2020 election from Donald Trump.
CNBC reported that "The voting machine company this week has sent 21 letters to the White House, Fox News, its hosts Sean Hannity, Lou Dobbs, Maria Bartiromo, the news outlets Newsmax, One America News Network, Epoch Times and others demanding they stop making defamatory claims about Dominion and that they preserve any documents they have relating to the firm."
Dominion made it clear that they intended to file a major defamation lawsuit against Hannity and others for claims about their voting machine software.
"We write to provide formal notice that litigation regarding these issues is imminent," Dominion's lawyers Thomas Clare and Megan Meier wrote to Fox News Media General Counsel Lily Fu Claffee in one of the letters, which were provided to CNBC," CNBC also reported.
Dominion's letter demanded the hosts and networks immediately stop airing allegations against the company.
"In their letters to individual news hosts, including Bartiromo, a former CNBC employee, the lawyers demanded that they 'cease and desist making defamatory claims against Dominion,' saying that they had 'featured and continue to feature the proponents of this misinformation campaign against' the company," CNBC also reported.
Trump supporters are convinced something happened during the 2020 Presidential Election.
A brand new USA Today/Suffolk poll found 78 percent of Republicans do not believe that Joe Biden legitimately won the election.
- Sean Hannity's Career At Fox News Is In Trouble Because Of This Lawsuit, DCDirtSheet.com, January 11, 2021.

2. Keith Fraundorf's book, "The Oedipus Conspiracy", was written out of what he called a "desperate need" and a "sheer determination."
The Bark River man recently published the book, which deals with a political setting.
In 1991, Fraundorf was store manager of the Antigo, Wisconsin, Spurgeon's store, a promotion he accepted in August 1978.
"My compensation was based on the annual operating profit of the store," Fraundorf said in an email. "By the mid-1980s we had turned the store around to such a degree that I was making $35,000 annually. Very well paid for the Antigo area. And we remained committed to both Antigo and to Spurgeon's."
However, his fortune turned when a Chicago investment company bought the chain.
"I had to do something, something to replace my salary," Fraundorf said. "But this rural small town offered very little corporate work and less professional work for a retail store manager whose educational background were the dual majors of journalism, news/editorial Sequence and philosophy, and complementary dual minors of theology and psychology. "And as my wife and I chose previously not to move when times were good, (up the corporate ladder to the Chicago office), we certainly weren't going to move as times were turning bad," he said.
The options, he noted, were limited.
The answer, he thought, would be to write a political thriller.
"Not my usual genre (humorous/satirical essays were my preferred expressions, and a far cry from my first philosophical everyman morality manuscript written from 1972 to 1974)," Fraundorf said. "But political thrillers were the hot sellers back then. Had to go that route."
He said he outlined a "good, subversive plot," which centers on the president of the United States facing re-election. However, his current vice president will not remain on the upcoming ticket by the president's choice. The VP learns of this clandestine plot against him, and directs his response to maintain the status quo.
"Being the former CIA director, he is well suited to do so. Whatever it takes to stay politically alive," Fraundorf said.
The title developed from his Greek literature studies.
"The next in the generational line wants what the president has," he said.
However, Fraundorf said he had to write fast. The manuscript was completed in the summer of 1991, and he spent months sending it to literary agents and publishing houses.
"Amazing how all of those various worded 'No Thank Yous' have stood the test of time in a tagboard shoe box, buried where, come the month of October, I would place my copy of 'The Oedipus Conspiracy,'" he said.
After losing his job in October, Fraundorf soon began training for a new job.
The manuscript remained buried during stints that included working the blackjack tables at a nearby casino, 20-plus years working for the U.S. Postal Service and family commitments.
Then came COVID-19.
"If I didn't find something to do, to occupy my time, to give my wife her alone time, away-time from me, I would surely die during the pandemic," Fraundorf said. "Yes, death, even with COVID as an indirect cause, was still death. My wife, I feared, would be the instrument, and I just couldn't live knowing that she ended our marriage with a butter knife, or on a freshly washed wooden stairway, or with a pillowcase inadvertently moved during the night. I wouldn't have been able to live knowing that."
So, he "did what any other writer would have done" – dug out the old manuscript.
"My oldest salvaged all the bits from the 5.25 floppies and the 3.5 disks, and it then was a hard six months of editing and editing and editing," he said.
During this period, Fraundorf reread the manuscript 20 to 30 times, he said, getting the story tighter, staggering the suspense within other interludes and discarding nearly 10,000 words.
"Deeper insights into the characters' state of mind, their psychological struggles, medical options explained in too great of detail, the poetic side of the protagonist – all needed and received cutting," Fraundorf said.
He acknowledged it was a steep learning curve to bring the manuscript to life as a Kindle e-book and in paperback.
"But I needed to," he said. "The story was just too good not to be read, to be enjoyed. And we did it."
Will he write another book?
"The stage is set for a prequel," Fraundorf said. "What happened to both Reagan and H.W. Bush, thus promoting Thomas 'Tip' O'Neill into the White House. But another political thriller has my better fancy at present. All I can divulge is that the storyline examines and involves a different branch of our government.
"Death is the choice method for removals, and it will be well played."
For now, Fraundorf said he has committed himself to a collection of the humorous and satirical essays written now and over the past years, with background information preceding each so any unfamiliar reader knows the situation that caused the essay.
Then they "can more easily garnish a laugh or two during their read," he said.
The other will be a compilation of poetic expression, Fraundorf said. "Observational, emotional, some strictly satirical but all from the heart of a writer who finds that touching the soul of another with the lyrics and images that words reflect is a welcomed respite for anyone," he said.
"The Oedipus Conspiracy" is available on Kindle and in paperback from Amazon, which includes this paragraph in the book's write-up:
"Even in the purest of non-adulterated forms, the political game is always played for keeps, especially when the prize is the Oval Office. Too much power always subverts even the best of intentions. Too much forever corrupts the most honorable of motivations. Too much will always blur even the noblest of visions."
- 'The Oedipus Conspiracy', MiningJournal.net, August 18, 2021.

3. Jeremy Swayman had a simple response for his coach on Friday morning.
After the Alaska native took a puck between the eyes during a practice drill, he didn't go down, he didn't shout, and he didn't skate off the ice. For Swayman, it was simply a part of the job.
"He's off to the next shot, he just keeps right on, whereas other guys might stop and pause, rightfully so," said Bruins coach Bruce Cassidy. "I mentioned something to him and he's like, 'Well, don't pick that position to play then.' It's like, 'All right then, we'll move on.'
"He's right, I guess. To me it's a little bit of his courage, fearlessness, composure…that tells me a little bit about his mindset out there."
It's that mentality that has turned Swayman into a Hobey Baker finalist, a top NHL goaltending prospect, and now, Boston's Opening Night goaltender. Cassidy announced on Friday afternoon that the 22-year-old will be the first rookie netminder to start the opener for the B's since Blaine Lacher in 1995.
"We obviously knew what he was capable last year but it's a new year," said Cassidy. "You sort of say, how did he spend his summer? Does he have the attitude of, 'Well, I've arrived now' or 'Hey, I'm fighting for the net every night and I want to be good in practice.' It was obviously the latter. He's a great kid that way.
"For us, I didn't think it would be a big concern, but you just don't know from year to year. He's a young - how would it shake out? He was here early in camp, working on his game, getting ready for the season. He played very well in preseason and hopefully that carries over."
...
After a 10-day break following the preseason finale, Cassidy cited hockey awareness when it comes to physicality as the area the Bruins will have to be most mindful of: "I have no doubt our legs will be there. I think we're skating well. Guys are excited. But hey, get your head up. This team has already played a game," said Cassidy. "They've been banging already for real; we've only been hitting each other. Don't put yourself in a vulnerable spot…guys are playing for keeps. Be careful in those high-traffic areas."
- Swayman is first rookie goalie since 1995 to get the Opening Night start for Boston, NHL.com, October 17, 2021.
本文仅代表作者本人观点,与本网立场无关。欢迎大家讨论学术问题,尊重他人,禁止人身攻击和发布一切违反国家现行法律法规的内容。
About the author: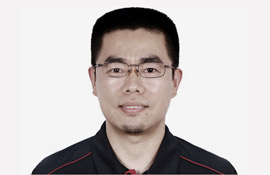 Zhang Xin is Trainer at chinadaily.com.cn. He has been with China Daily since 1988, when he graduated from Beijing Foreign Studies University. Write him at: zhangxin@chinadaily.com.cn, or raise a question for potential use in a future column.
(作者:张欣 编辑:丹妮)
中国日报网英语点津版权说明:凡注明来源为"中国日报网英语点津:XXX(署名)"的原创作品,除与中国日报网签署英语点津内容授权协议的网站外,其他任何网站或单位未经允许不得非法盗链、转载和使用,违者必究。如需使用,请与010-84883561联系;凡本网注明"来源:XXX(非英语点津)"的作品,均转载自其它媒体,目的在于传播更多信息,其他媒体如需转载,请与稿件来源方联系,如产生任何问题与本网无关;本网所发布的歌曲、电影片段,版权归原作者所有,仅供学习与研究,如果侵权,请提供版权证明,以便尽快删除。